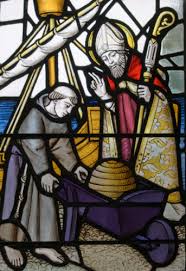 St David blessing the bees from a stained glass window in St Mary's

---
The weather remains variable, to say the least, but we are into March, and the opening day of Lent, Ash Wednesday is already a week in the past.  Yesterday was a fine spring day with sunshine and daffodils, a still and glistening sea in Swanage Bay, and a clear sky that made the lengthening days feel even longer.  At last the weather was turning better, so we thought, but today it has returned to drizzle and cloud.
There are many bright things happening however, not least our busy weekend just past with a kaleidoscope of activity for the children on Saturday morning, as we looked at diversity and difference in our world and amongst people, in a special Explore session.  Kevin Burke helped with magic too, and the children made stained-glass windows from card and coloured tissue paper, amongst other activities.
On Sunday evening was our monthly "Come and Sing" Choral Evensong, with guest director David Stevens, from the staff of Wells Cathedral.  We undertook some beautiful music and ended, as we should on St David's Day, with Guide me, O thou great Redeemer to Cwm Rhondda.  We nearly lifted the roof!  Interestingly, the BBC Wales news website had a little feature on St David - "ten things you may not know about the saint" - and the picture heading the article was the detail from a stained glass window.  From where?  You guessed it, not anywhere in Wales, but St Mary's, Swanage!
John Mann