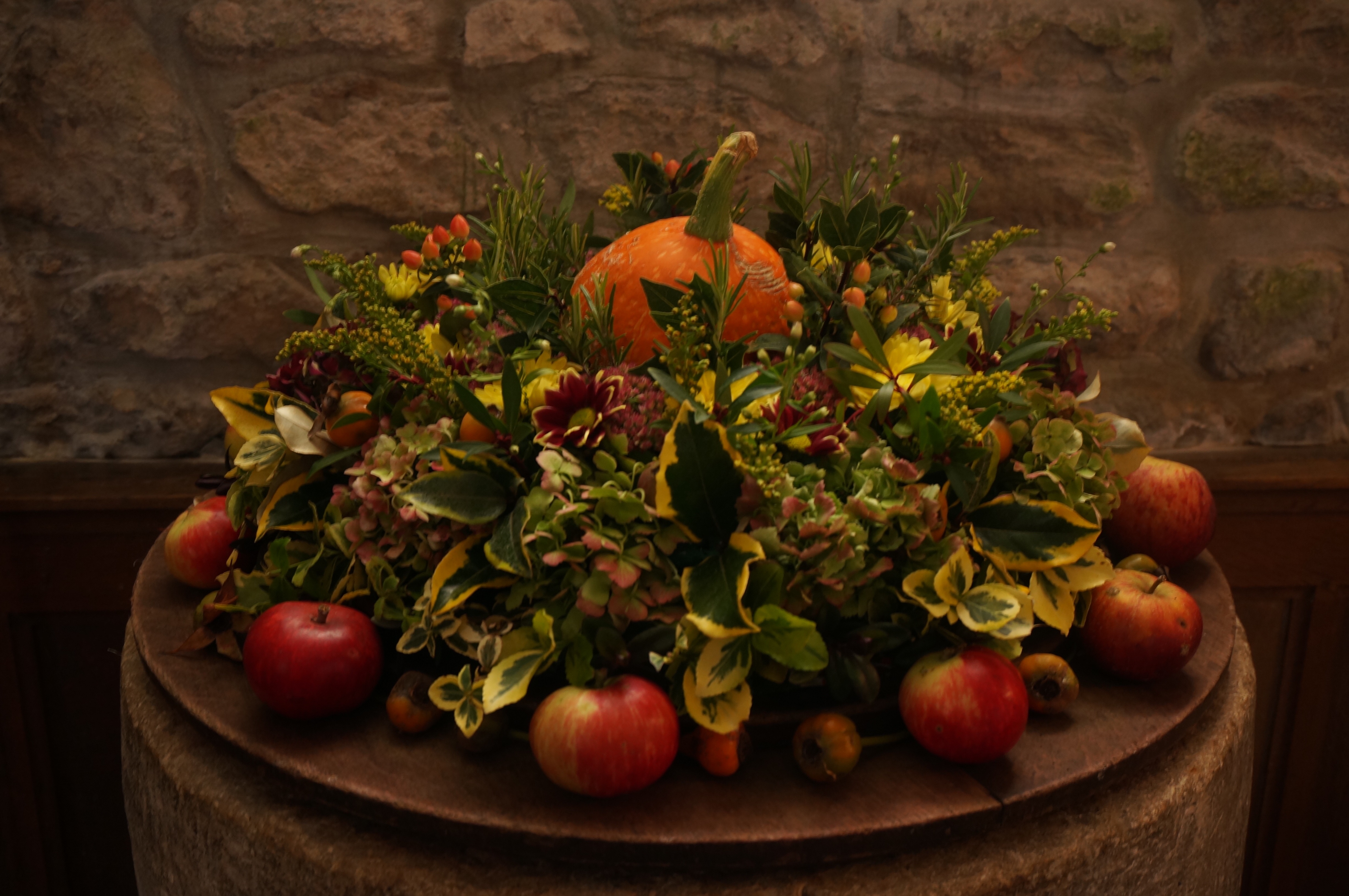 St Nicholas' font covered for Harvest Thanksgiving. One of many displays of fruit and flowers decorating the churches.

---
The weather has been beautiful in Swanage and the garden is crying out for attention, but much of it will have to wait, though we are enjoying the last few tomatoes, runner beans, courgettes and roses as well as the cyclamen and dahlias. The last of the harvest services is this coming Sunday, in St Mark's, but the photographs from St Mary's and St Nicholas' have captured the decoration and colour that was adorning the churches last Sunday.
Today in the Church's calendar we remember Thomas Traherne, seventeenth century poet and spiritual writer. His poetry was lost for two hundred years, and in a remarkable series of discoveries beginning at the end of the nineteenth century, with someone rooting about amongst some old manuscripts in a bookshop, gradually more and more has come to light, some comparatively recently in the archives of libraries.
Though we know comparatively little of Traherne's life, his writings show a very wide range of reading, and his essentially sunny and heaven-filled outlook on life being revealed through them. Christ's redemption was regaining what Traherne would see as humanity's lost innocence. He lived and wrote in a time of turmoil in political and Church life, his childhood being through the years of the Civil War, yet his themes are of innocence, infinity, desire, love and enjoyment of the world around us.
Here is a little piece of Traherne's translation of part of the Veni Creator Spiritus to end this blog:
He entitles it "Supplication"
Come, Holy Ghost, Eternal God,
Our hearts with Life inspire,
Enkindle zeal in all our Souls,
And fill us with Thy Heavenly fire.
Send forth Thy Beams and let Thy Grace
Upon my spirit shine,
That I may all Thy works enjoy,
Revive, sing praises, be Divine.
It is a rather lovely rendering of a little of that great Christian hymn.
John Mann