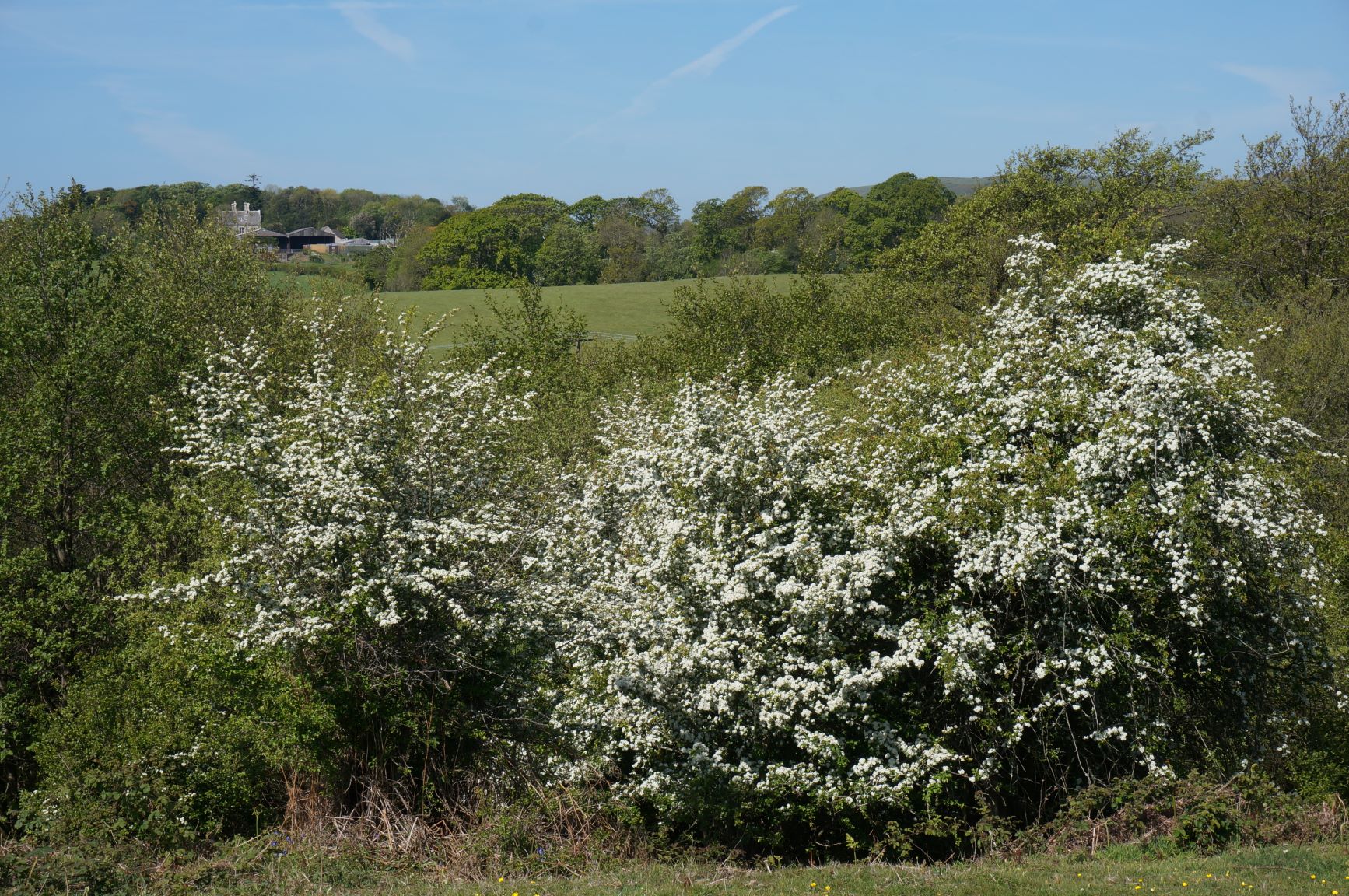 ---
The transition across the countryside is underway from the early to mid spring of primrose and the flowering of blackthorn and plum, giving way to that of hawthorn, crab apple, elder and cow parsley, with thrift along the coast and the yellows of bird's foot trefoil and dandelion (always supposedly at their best on St George's day) and the still fine celandines and cowslips, mixing with the blues of violet, squill and bluebell, moving us into late spring, as swallows and house martins arrive in numbers, and simply everything in nature is abundant.
The garden, meanwhile, is needing some attention too. If one can ignore the weevil damage to the broad bean leaves they seem to be fine; first peas are up and so far untouched by the ravages of creatures that have fancied pea shoots long before fine diners. Potatoes are ridged up, the first runner beans are sown, and more to come, and some lettuce seedlings show promise as well.  
One of the most startling transitions of all from seed to young shoot, I always think, is the pea.  In the autumn one stores wrinkled, dry, wizened-looking peas.  They go into the soil in spring, with a little watering, and two-weeks later up pop these shoots.  Little wonder St Paul in his great exposition on the resurrection in 1st Corinthians chapter 15 took the buried seed as death and the new shoots resurrected life as his visual aid.  
I was at Godlingston cemetery yesterday to lay Gina to rest, her friends watching for the hearse to pass through sunny Swanage streets, and with the permitted small family gathering at the graveside amidst the cherry blossom and bird song we spoke the eternal words of hope in Christ.  
Now I must prepare for Sunday.  We shall be thinking of the walk to Emmaus by two disciples who from anxious fear, discovered the risen Christ - in company, in word, and in the breaking of bread.
John Mann