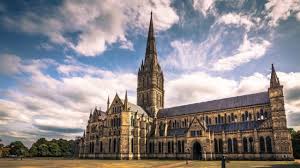 ---
One thing that could easily have passed us by is the 800th anniversary of Salisbury Cathedral.  I have been reminded of it several times in the past week, including by more than one person in Swanage, and I am very grateful to them.  This week is the 800th anniversary of the founding of what was a new cathedral for Salisbury.   
As you can imagine, a whole programme of events was planned, some in partnership with other institutions and groups in the city and the whole area, other things organised by the cathedral on its own.  Inevitably, none of this has been able to take place, however things are available online, and can be accessed via the cathedral's website, including a YouTube Service of Thanksgiving last Tuesday the 28th April.  Follow this link:
the YouTube Service of Thanksgiving
This coming Sunday, 3rd Mary, Sunday Worship on BBC Radio 4 at 8.10am will mark the 800th anniversary of the cathedral, and we can expect a well prepared and most uplifting celebration of this important event in the life of our diocese and cathedral.
John Mann