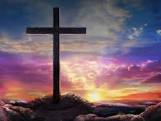 ---
A Service for the Fifth Sunday in Lent - Passion Sunday
Preparation:
Before beginning to read this short service, you may wish to find a space for prayer in front of a cross, a candle, or a special place
Reflect on the day and the beginning of Passiontide. Listen to Simon playing a quiet piece of music: Choral Prelude   https://youtu.be/wZZpoAH984M
and ask yourself
-  What good things are coming from God today?

-  Where have I fallen short?

-  What might I do this day? 

After this you may wish to say or pray:
 
Lord, have mercy. 
Christ, have mercy. 
Lord, have mercy.

Opening liturgy:
O Lord, open our lips and our mouth shall proclaim your praise.
The night has passed, and the day lies open before us;
let us pray with one heart and mind.
a moment of silence is kept
As we rejoice in the gift of this new day,
so may the light of your presence, O God,
set our hearts on fire with love for you;
now and ever.  Amen
The Collect for the Fifth Sunday in Lent 
Most merciful God,
who by the death and resurrection of your Son Jesus Christ
delivered and saved the world:
grant that by faith in him who suffered on the cross
we may triumph in the power of his victory;
through Jesus Christ your Son our Lord,
who is alive and reigns with you,
in the unity of the Holy Spirit,
one God, now and for ever.
Amen
First hymn
click on this link (if you are without a second device, you may find it difficult to see both the words and Simon playing. Try putting Simon on audio, or print the words, if you don't have a hymn book at home.  Otherwise listen first, then sing once you have the tune in your head!):
1 Glory be to Jesus,
who, in bitter pains
poured for me the lifeblood
from his sacred veins!
2 Grace and life eternal
in that blood I stand;
blest be his compassion,
infinitely kind.
3 Blest thro' endless ages
be the precious stream
which from endless torments
did the world redeem.
4 Abel's blood for vengeance
pleaded to the skies;
but the blood of Jesus
for our pardon cries.
5 Oft as it is sprinkled
on our guilty hearts,
Satan in confusion
terror-struck departs.
6 Oft as earth exulting
wafts its praise on high,
angel hosts rejoicing
make their glad reply.
7 Lift we, then, our voices,
swell the mighty flood,
louder still and louder
praise the precious blood!
Read any or all of the following:
Ezekiel 37: 1-14;   Psalm 130;  Romans 8: 6-11; 
and then the Gospel:  John 11: 1-45
Homily:
An image related to the story of the raising of Lazarus is one that has been many times attempted by stained-glass artists, and, in fact St Nicholas' Church in Studland has a fine window depicting the particular scene that is usually chosen, namely of Lazarus in his grave clothes emerging from the tomb before the instruction of Jesus is actioned: "Unbind him and let him go".  A text that has been preached on many times.
In a previous parish, St John's Malone in Belfast, I looked from the rector's stall at a much larger window in the north transept of that Church, that was trying to recreate the same scene.  I can place it quite easily in my mind, because of the striking pose of those weeping at the tomb.  The artist had chosen to show them all with their eyes, in fact, their whole faces, turned from Lazarus.  The creator of this picture read into the story a feeling that the mourners could not bear to look.  It is not so in Studland, rather the very opposite, they stare intently as Jesus raises his hand in calling Lazarus forth. This picture in St Nicholas' is partnered with one in which Jesus is speaking to the pleading sister Martha, reassuring her that her brother will rise again.  
These thoughts indicate that it is difficult to get into the minds of those who were with Jesus during this quite extraordinary experience.  I mention this because key to this passage is the indication of the emotional tension that it contains, not just for the onlookers, and even the closest mourners, but that demonstrated in Jesus himself.  He was deeply moved and troubled in spirit, and he wept.  As we tease out this profound moment of a profound miracle story, I think what we find ourselves considering is, "This is not just Jesus demonstrating compassion and human grief" - though it is that - but in addition, he is preparing himself to perform a staggering miracle, that is demonstrably emotionally draining.  
The sign that this miracle shows forth - for all the miracles recorded by St John are signs - is that Jesus is the resurrection and the life.  The fact that the lectionary couples this story with that of Ezekiel in the valley of dry bones, a psalm of intense hope crying from the depths, and a passage from St Paul indicating that the spirit of Christ within is is the spirit of life itself, in all its fulness, is not a matter of surprise.  Passiontide begins today, as Lent moves closer to Holy Week and Good Friday, but it is linked entirely to the life of Christ, which by extension is intimately bound up with each of us.  "Unbind him and let him go", remains the thought that releases this whole Gospel passage to be the transforming and uplifting story that it is.  Through emotion, turmoil and a mighty miracle, Christ announces that his life is offered to free us all.   Alleluia!  
John Mann
Second hymn
My song is love unknown,
My Saviour's love to me;
Love to the loveless shown,
That they might lovely be.
O who am I,
That for my sake
My Lord should take
Frail flesh, and die?
He came from His blest throne
Salvation to bestow;
But men made strange, and none
The longed-for Christ would know:
But oh, my Friend,
My Friend indeed,
Who at my need
His life did spend.
Sometimes they strew His way,
And His sweet praises sing;
Resounding all the day
Hosannas to their King:
Then "Crucify!"
Is all their breath,
And for His death
They thirst and cry.
They rise and needs will have
My dear Lord made away;
A murderer they save,
The Prince of life they slay.
Yet cheerful He
To suffering goes,
That He His foes
From thence might free.
Here might I stay and sing,
No story so divine;
Never was love, dear King,
Never was grief like Thine.
This is my Friend,
In whose sweet praise
I all my days
Could gladly spend.
Prayers
Merciful Lord,
you know our struggle to serve you:
when sin spoils our lives
and overshadows our hearts,
come to our aid
and turn us back to you again;
through Jesus Christ our Lord.
Amen
Lord Jesus Christ,
you taught us to love our neighbour,
and to care for those in need
as if we were caring for you.
In this time of anxiety, give us strength
to comfort the fearful, to tend the sick,
and to assure the isolated
of our love, and your love,
for your name's sake.
Amen.
For hospital staff and medical researchers
Gracious God,
give skill, sympathy and resilience
to all who are caring for the sick,
and your wisdom to those searching for a cure.
Strengthen them with your Spirit,
that through their work many will be restored to health;
through Jesus Christ our Lord.
Amen.
Lord Jesus Christ,
you have taught us
that what we do for the least of our brothers and sisters
we do also for you:
give us the will to be the servant of others
as you were the servant of all,
and gave up your life and died for us,
but are alive and reign, now and for ever.
Amen
Lord, in these days of mercy, make us quiet and prayerful; 
in these days of challenge, make us stronger in you; 
in these days of emptiness,
take possession of us;
in these days of waiting,
open our hearts to the mystery of your cross. 
Amen
(a prayer by Angela Ashwin)
God of love,
passionate and strong,
tender and careful:
watch over us and hold us
all the days of our life;
through Jesus Christ our Lord.
Amen.
The Lord's Prayer
The Grace.