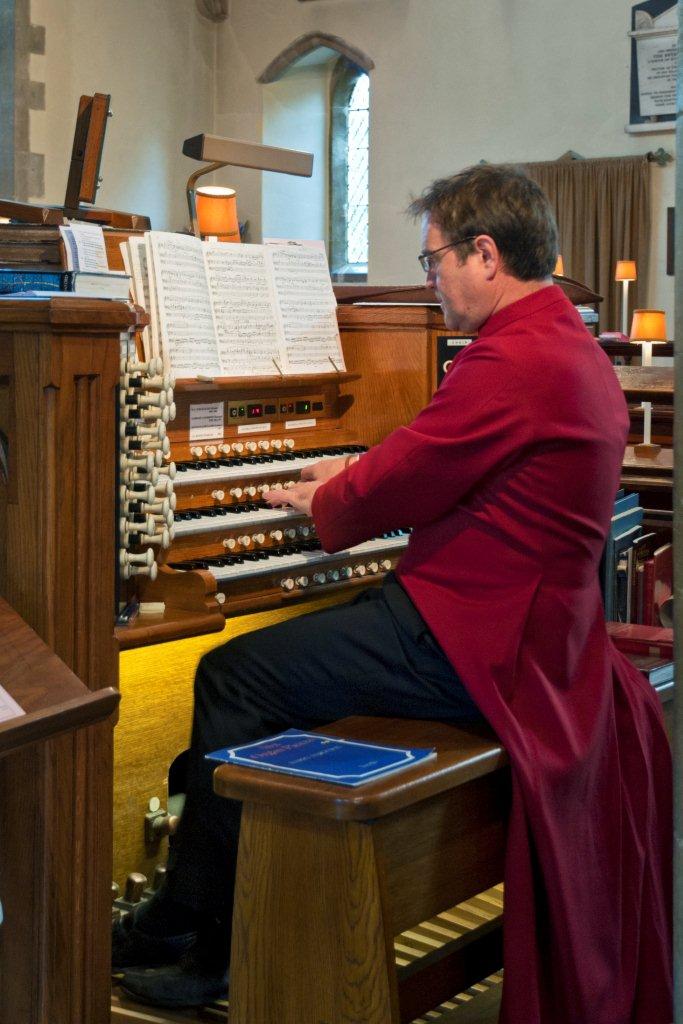 Simon at the organ of St Mary's Swanage

---
Simon Lole gave us a wonderful organ recital last night, and it was very well attended too.  He introduced the programme in two halves, giving us both personal reflection and some technical and factual information about the pieces and their composers.  It is so hard to pick absolute highlights, but from my own reaction, and in talking to others afterwards, there were shared moments when the music was taking us beyond ourselves.
After a sparkling and grand opening with Entree Pontificale by Enrico Bossi, we settled into an interesting Bach Composition entitled simply, "Piece D'Orgue" BWV 572, which Simon related to us had been his first voluntary as organ scholar at St Paul's Cathedral many years ago.  He spoke of its toccata-like opening and third section, with the beautiful middle part, something just to allow to wash over us.  It prepared us for the interesting Jean Guilain "Sonata du Second Ton", which has strong sections as well as those of lovely delicacy and echoes.  It finishes quietly too.  A big Parry work brought the first part of the evening to a rousing conclusion.
For me, the four pieces of the second part of the concert were the most memorable:  it began with Herbert Howells' instrumental meditation on verse 6 of Psalm 34, "Lo, the poor crieth, and the Lord heareth him: yea and saveth him out of all his troubles."  This has the most beautiful introduction, growing, then softer and softer, then gradually building to a climax, before settling back into softer, gentler, mostly lower-register music, before once again lifting and then ending quietly once again.  
Walter Alcock's "Introduction and Passacaglia" is a fine and complex piece that presents lots of passages of rippling notes and picked out melody beside.  Simon told us of the years Alcock had been at Salisbury cathedral, and prior to that at Westminster Abbey.  But it was Francis Jackson who fascinated us most, still alive and active at the age of 102, and living in the village of East Acklam, that gave him the name for this gorgeous prelude on the tune to the hymn, "For the fruits of his creation".  The peaceful meditative opening seems to evoke a pastoral scene of a bygone age: flower-filled meadows, swallows high in the summer sunshine, with background sounds of skylark and cricket - stand still and feel the breeze; the breath of God on his creation.  This piece has it all.
A great "Tocatta in G" by Theodore Dubois finished the concert with panache - well, not quite.  There was a little encore that brought us up with a smile of contentment, "Chelsea Fayre" by Goss Custard (you will hear it again on Sunday).  The audience had a treat last night.  No doubt about it.
John Mann