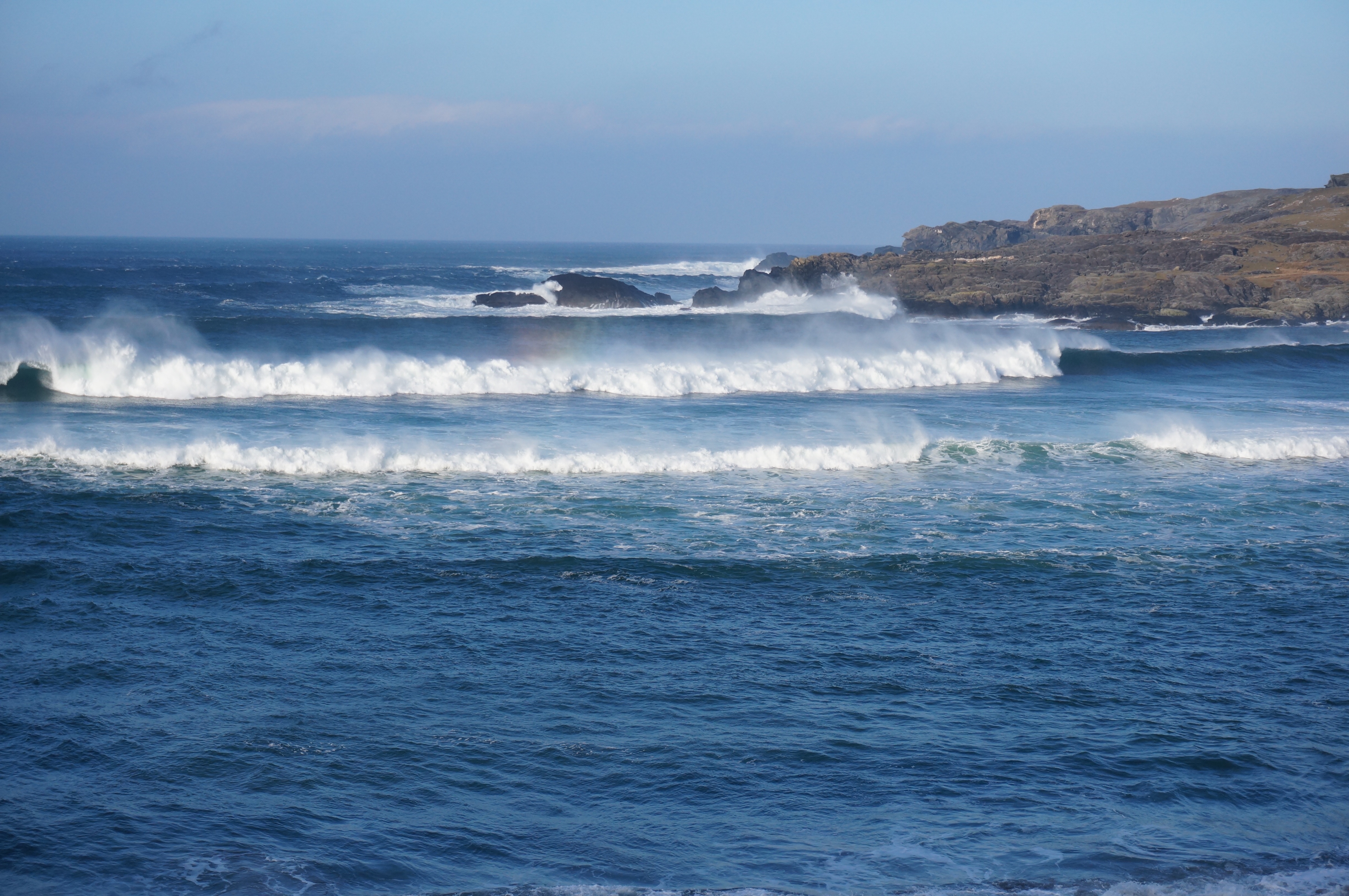 I am thinking of Cuthbert and his hermitage near the sea off the Northumbrian Coast. This picture was taken from a rocky headland off the west coast of Donegal, but we are lucky enough to have the sea a few minutes walk from home in Swanage and Studland.

---
Normal life is likely to be looking very different in the coming weeks, as the community adjusts to the pandemic that is today partially closing schools from today, on top of the cancellations and restrictions that have already been announced.  I was present at a meeting for two and a half hours last night that was achieved by none of us leaving our homes.  We could see one another; hear one another; interact in the usual way, but all through a computer screen.  Technology is helpful for those able to use it, which isn't everyone.  Believe me, I am learning new ways of doing things as and when I need them.
It seems rather odd, in the face of such enforced technological progress, to think back to Cuthbert today; one of the Celtic saints from long ago, whose simplicity of life was a mark of his Christian discipleship.  As a child he was said to have been brilliant at sports, and was a good swimmer, but at the age of eight he developed a very painful and swollen knee.  He was lifted to sit in the sun against a wall one day and a stranger passed, who asked for his assistance.  Cuthbert said that he would gladly minister to the man but for his knee, at which answer, the man (seen by the young boy as an angel of God) applied a hot poultice of flour boiled in milk to Cuthbert's knee.  He was miraculously healed within a few days.  Other miraculous stories are told of the young Cuthbert, and in time, at the age of sixteen having received a vision from God, he entered the monastery of Melrose, situated at a bend in the river Tweed. Later he lived as a hermit on one of the islands of Farne off the coast of Northumberland, near Lindisfarne.  Towards the end of his life he reluctantly became Bishop of Lindisfarne, but after two years resigned and returned to Farne Island, where he died on this day in 687.
During his life Cuthbert was known for his teaching and prayer.  He grew close to Prior Boisil of Melrose, who was his father in God while a young monk, and they spoke together of faith that works by love.  This he lived out, and they used the Gospel of John to focus their thoughts and hearts upon God.  After Boisil's death Cuthbert became prior himself, and one of his great joys was to lead missionary journeys through the country, allowing himself and an accompanying monk, to be away from the monastery for up to a month. 
1333 years after the death of Cuthbert on this day, we are being told by the Bishop of Salisbury, "We are not stopping church, we are not closing anything, we ARE saying 'church is changing'." Perhaps the inspirational love-inspired faith of Cuthbert and his willingness to step out from the security of his monastery on the one hand and withdraw to being alone on an island on the other, both represent the changing circumstances of the Church on Cuthbert's day, 20th March 2020.
John Mann
PS  I am indebted to David Adam's book Aidan, Bede, Cuthbert - Three Inspirational Saints for much of the information above.