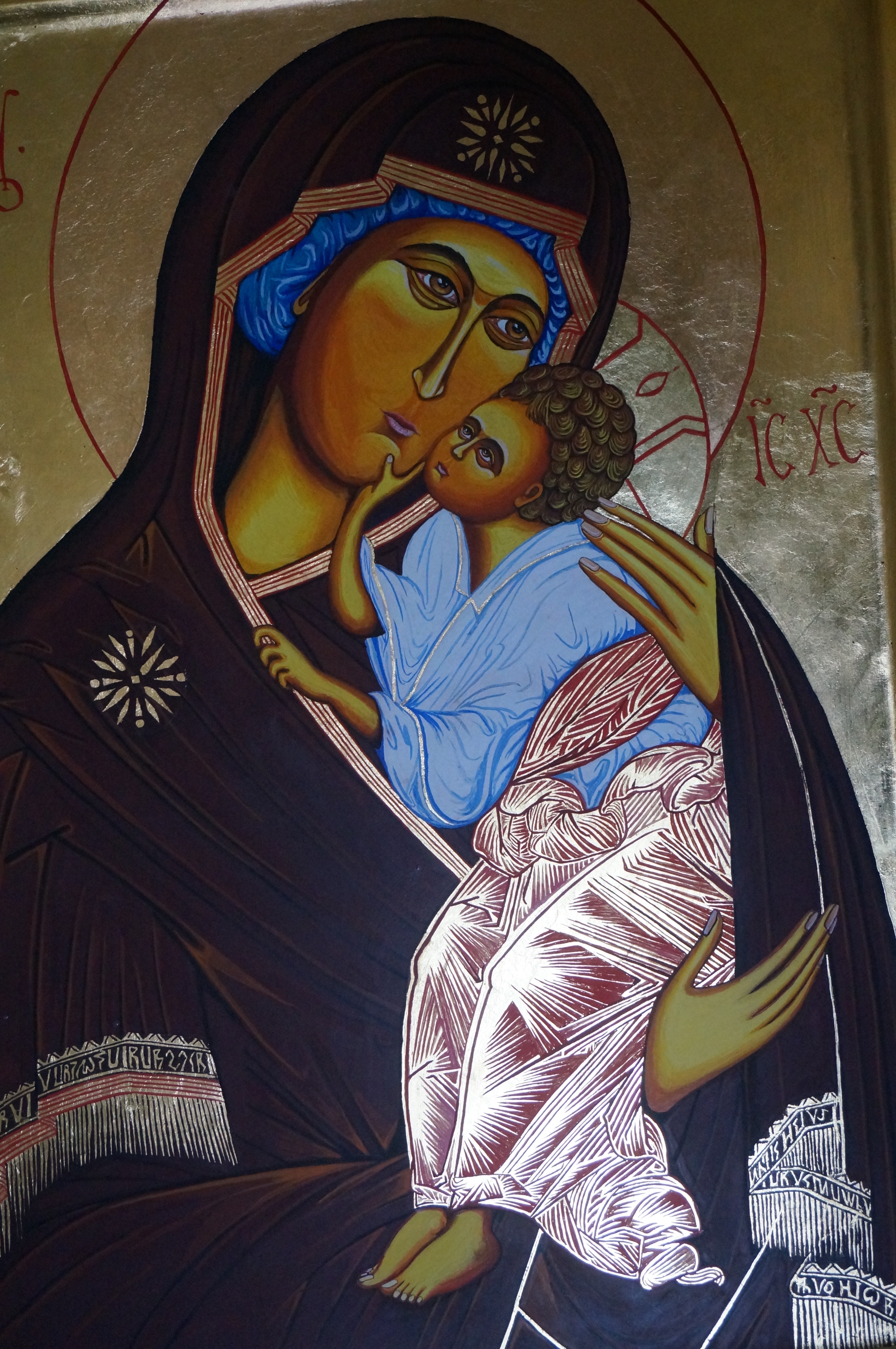 The Icon of the Virgin of Tenderness from St Mary's Church Swanage.

---
Sunday week ago, when the children were looking at the St Mary's icon, they were asked (by me) to look at Mary's eyes and describe how they thought she was feeling. They came up with a few thoughts around sadness, and yet tenderness too. She seems to be looking away from Jesus and away from us, out into the world. We considered carefully whether this was from the knowledge of her son's death on the Cross, or was it a concern for the tragic circumstances of the world - for which Jesus was to die? The violent clashes on the Gaza/Israeli border yesterday underlie just how conflict brings misery and death to the Holy Land still.
Mary's right hand not only cradles Jesus, but is drawing our attention to him - there is much to ponder as we pick up the lines of sight in the icon and are led by them. So last week, during the service on 6th May, we looked also at Jesus himself and especially at his hands: one up to Mary's face, one clinging to her mantle. We thought about what this might mean, and I mentioned another icon that I knew, where Jesus' legs were apparently moving too. There was a restlessness visible, and perhaps this indicates that his coming is not to be without its disturbance and challenge. Jesus is not passively lying in his mother's arms, he is actively engaging; injecting life and movement and, yes, disturbance. His eyes and hands are taking us to Mary's face, and from her, outward upon the world.
There are three stars on Mary's mantle (one of them is hidden by Jesus himself) on head and shoulders. These represent her virginity, before, during and after the birth of Jesus, and the other characteristics of the icon, which are common to many: small mouths, elongated fingers and noses, full hair on Jesus, and high foreheads, large eyes - reflective of the 'inner life' - and common with other ancient eastern representations of human beings - and then there is plenty of gold which gives the visual impact of the icon being more than just a picture, it is about something beyond and above what we are actually seeing.
We learnt of the paint; not actually paint but natural pigments mixed in egg yolk. Red is the colour of divinity, blue that of humanity. Mary's humanity, peeping through we see a blue shawl over her head, but the mantle clothes her whole person with a reddish/brown. Jesus is clothed half in a pale blue, half in red. The Greek letters beside Mary's head signify "Mother of God", beside her son "Jesus Christ". The merging of the haloes emphasises their unity, and radiates, as does the whole icon, the mystery that is the Word made flesh and living amongst us.
John Mann