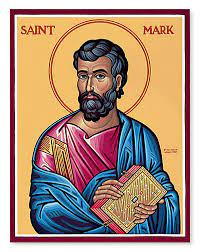 Starting St Mark
This week we are beginning a reading of the whole of St Mark's Gospel at Morning Prayer, which we shall not complete until 9th October.  It will be partnered from next Monday by the Book of Proverbs until the beginning of next month.  For me it is all to be in a different context and in a different place, for though I am leaving you blogs for the time that I am away, I have begun my sabbatical and I am out of email and phone contact for the next three months. 
Knowing that Morning Prayer continues each day in St Mary's is one of the touchstones of a different sort of contact, and one that is maintained without thought of distance and time and allows us all to offer one another thoughts of unity and the common bond of prayer and fellowship with Christ Jesus.
August can be a time when we are all thrown somewhat out of routine, but holidays and families coming and going, especially with children off school brings with it a fresh re-evaluation of how we are living and where lie our priorities.  Sabbaticals themselves are somewhat on this theme too, but are a lot longer and more structured.
Reading the New Testament brings so many and varied thoughts to our minds, and our carefully paced reading of St Mark's Gospel over the course of the next two months will remind us of many familiar passages that ignite interest and challenge us without fail, again and again.  Today we hear of John being imprisoned and the mantle of preaching being taken up by our Lord.  It is a progression that we acknowledge with understanding, as from elsewhere we appreciate that John had to find the path for Jesus, prepare the way and then face his own demise.  It is a passage that we have pondered on many times in the past, but brings to mind on every occasion the changing transition brought about whenever one person hands on a piece of work to another.  Rarely is it easy.  In this case it was to be brought about through John's arrest and subsequent execution, but his offering up of himself in this way is later paralleled in our Lord's own embracing of the Cross.  Such is the path of Forerunner and Saviour, and the story from Mark is only just beginning.
John Mann