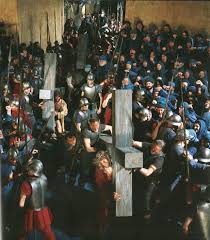 An image from the play that can have a thousand people on stage at one time!

The pilgrimage to see the Oberammergau Passion Play, from Swanage and Studland, took a further step today when half of the party of 42 met this afternoon with Andy Webster, a McCabe Travel representative to bring us all up to date on the plans for the journey, and the time to be spent in the Tyrol before and after the day of the play.
We leave on 17th June and return a week later, and have been looking forward to this group visit for nearly two years. Though the core group is representative of all four churches of the Swanage and Studland Team there are individuals joining us from other places, including two small sub-groups, one from Chandlers Ford and the other from Walton on the Naze.
We are now living with a heightened anticipation of seeing the play, having spent an hour and a half talking about it and meeting our fellow travellers. Naturally the subject of the Corona Virus raised its head, and we shall have to see how things go, but at present it is all going ahead, and our preparations are moving smoothly on.
As to the play itself, a number of the party have seen it in previous years, but for most it will be a first, and the descriptions alone show how, whilst there are marvellous Passion Plays performed in other places, Oberammergau is something special, and we hope and pray that our experience together will be a truly wonderful experience that will remain with us for a very long time.
John Mann