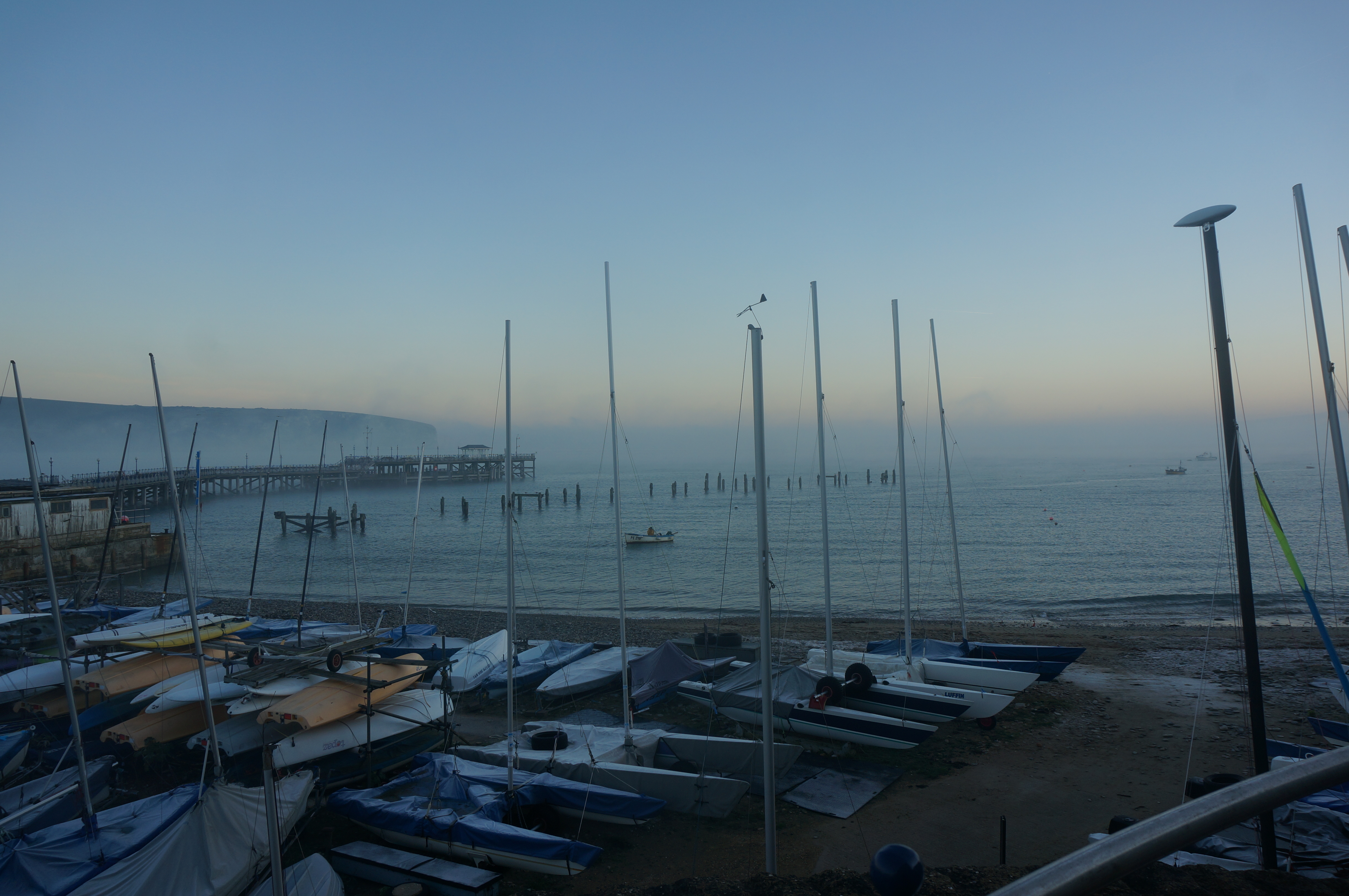 ---
We walked, fairly late in the day yesterday, on one of our standard circular routes that takes in Peveril Point, and, walking down from above it, we could see with the naked eye, terns diving for fish between there and the pier.  Even from this distance, they appeared quite large, and on closer inspection, confirmed by the black beak, that they were sandwich terns.  Having watched a documentary a few nights ago, with film of ospreys taking fish from the water as well, I remembered reading somewhere an interesting article about the techniques, and depth to which they reach, of birds catching fish.  The piece is in one of the very first books on birds that I ever bought, and it is still my 'go to' identification guide, but it has a great deal of other information in it also.  
In 1969 the Reader's Digest and the AA jointly published the Book of British Birds.  Just one endorsement on the back cover was necessary, from Peter Scott: "I strongly recommend anyone who has even a marginal interest in bird life to get hold of a copy of this really quite outstanding book.  Even if you're and old hand and think you know most of the answers, you should have one just the same."  
The sections at the back of the book are packed with useful information, which would be Googled today for facts and amazing photographs to pop up at the click of a mouse, rather than wade through, with the sheer pleasure of turning the thick pages and appreciating the fine drawings, and gain knowledge by the time-consuming, old-fashioned book method.  However, lodged in my mind was an article on the depth of diving of birds fishing.  I turned it up today, with the result that I can share the following interesting discoveries:
The terns that we were watching last night, though they seem to dive like gannets, fish from the very top of the water, just inches below the surface, and gannets go no deeper than two or three feet (Incidentally, remember this was from 1969, so all measurements are before we got into metres, and I don't mean to convert).  So those birds we saw off the shore in Swanage, as the sun was low in the sky and nearly blinding us looking back towards the town from Peveril Point, diving from, I suppose, twenty of thirty feet were merely breaking the surface, no more.  Somehow I expected them to be going deeper.
Last Thursday, I wrote in this blog of the guillemots under the water near their nests on ledges of the cliffs at Durlston. I now discover from these few paragraphs on 'depth of diving' that I have opened this morning, that razorbills and guillemots have a 'niche' feeding depth of "between 30 and 40 feet".  It is little wonder, in timing the gap between their disappearance and reappearance, that they are so long out of sight.  I had assumed that they were just below the surface but swimming in search of the fish there, not imagining that they were going down such a long way.  I shall look at them with renewed respect!  Mind you that is nothing to a cormorant, which will go much further; they have been caught in fishing nets 130 feet below.
It all adds to the walk doesn't it?  We may be putting the world to rights, deciding how we are going to respond to the easing of the lockdown, considering how the churches may eventually re-open, being challenged by the inequality and injustice of our world, and we glimpse a small bird achieving an amazing dive unconscious of the things that trouble us.  But then their lives are short and the struggle for survival is constant, and is that not why Jesus took their example as a message of our need to trust in following him?  As he says to his would-be disciples at Morning Prayer today, "Foxes have holes and the birds of the air have nests, but the Son of Man has nowhere to lay his head", finishing this discourse with, "No one who puts his hand to the plough and looks back is fit for the kingdom of God." (Luke 9: 51-end).
John Mann