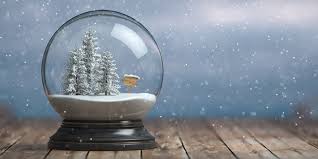 ---
I think that it is a robin, but a songbird anyway, has been singing these past three mornings, early, well before it is light.  The mild weather is bringing on early signs of spring in the garden too.  Robins are known to be confused by street lights and singing for the dawn by the light of a lamp in a tree nearby is quite common.  At the deanery in Belfast we had a street lamp right outside and a robin sang early every morning.
Robins are part of the traditional Christmas scene too, with numerous Christmas cards depicting them, with or without holly and snow.  We had one on our Advent calendar a few days ago, but that was no surprise, for the particular Advent Calendar that we have this year has an oddly random selection of pictures.  We have had everything from a star with a smiley face to a gingerbread man, and today, opening what was on the main picture the saddle bag of one of the wise men, we thought, "This will be gold, or frankincense", but no, it was a snow globe with a snowman and Christmas tree.  
We knew a clergyman once who, long before the days of the Vicar of Dibley, saw the Advent Calendar in very unstuffy ways, as a source of amusement in all the busyness and seriousness of the season - and believe me he was a worker - so he wasn't looking for Biblical texts or scenes from the Nativity story, he would have loved a snow globe or a sprig of holly, a mince pie or a parcel tied up with ribbon.  I am not entirely sure that I am with him in this, as I like to see a shepherd or a wise man, a donkey or a sheep, but, the chance to lighten up and laugh is good, and, maybe he is right.  In the midst of everything, a childish fascination in shaking a globe and seeing snow fall is not to be dismissed as of no value, nor the sound of a robin in a dark street well before dawn.
John Mann