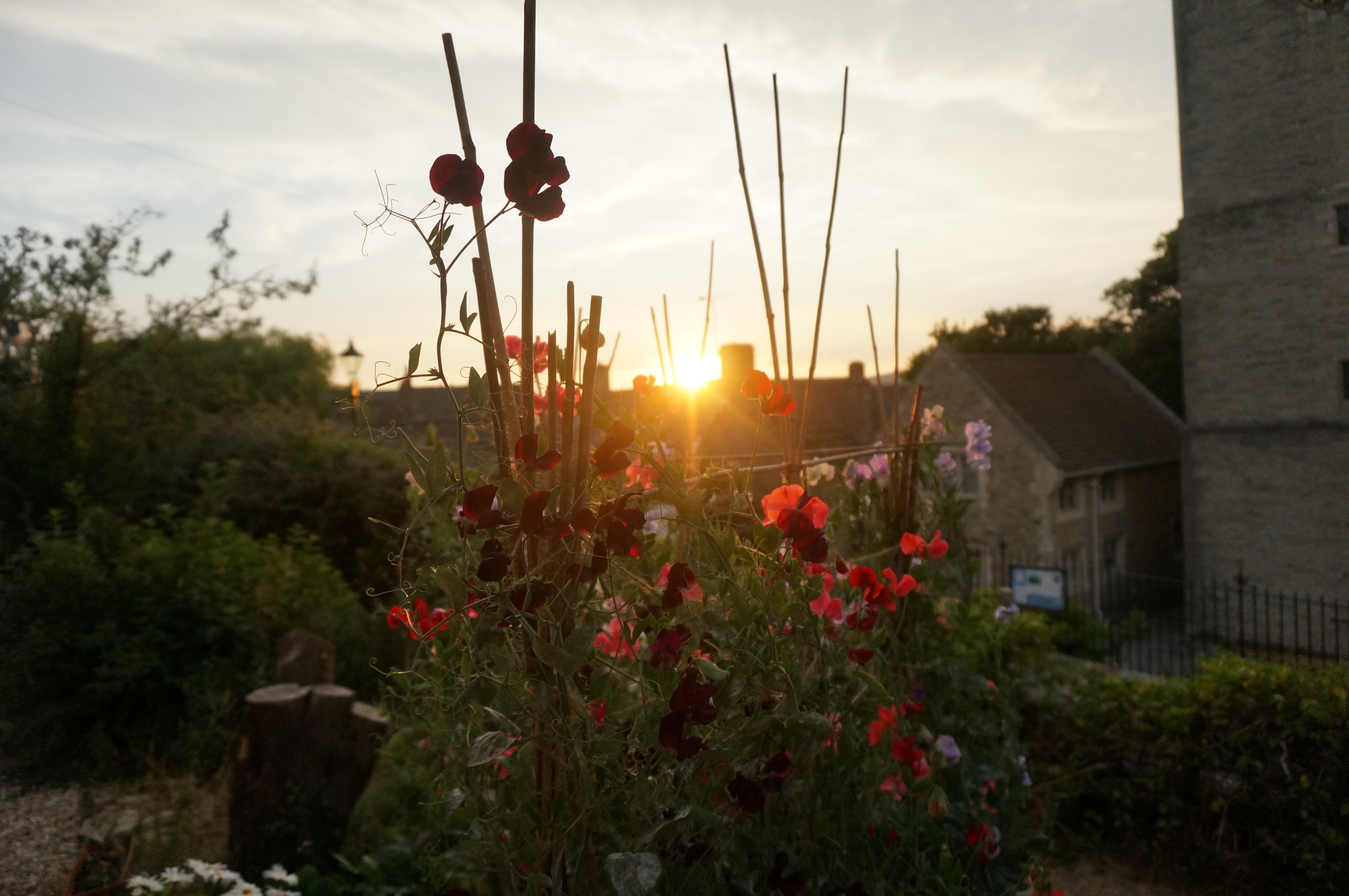 Sunset from the rectory gardens with sweet peas

---
The sweet peas are flowering profusely in the rectory garden now, and Helen is cutting them every day.  The countryside is full of flowers too, as we saw taking an early walk up Townsend Road and out towards the coastal path at the Durlston Country Park this morning.  The sunshine was glorious and we met a couple basking in it, taking photographs back across the town: "It is so difficult to capture the panorama", they said as we came up to them, lining up another frame for a memory to take away. "Swanage is like stepping back 50 years", the woman added, as her husband stared into the middle distance focusing on thought rather than sight.  I mumbled something about the grassland and its "unimproved" state, letting the flowers bloom so beautifully, as they would have done in meadows across the whole countryside in pre-war Britain.
Walking on, the marbled white butterflies flickering amongst the long grasses, the meadow browns and ringlets also, and, here and there, the comparatively tiny small skippers - more like hover-flies, but bright orange with contrasting black edges.  Small heaths, less eye-catching in a dusky way, settled on the grass path for a few moments before their wind-blown flight took them off, whilst small coppers rested until our shadows lifted them once more.
Looking for a refreshing coffee in the cafe we took the woodland path, and were rewarded with the first sighting this year of a silver-washed fritillary on a sunny bank of creeper.  The birds are still singing their hearts out: sky larks across the fields, woodland birds amongst the leafy branches, and at 4.00 a.m. while lying awake their music floats through the open windows of our bedroom.  
John Mann