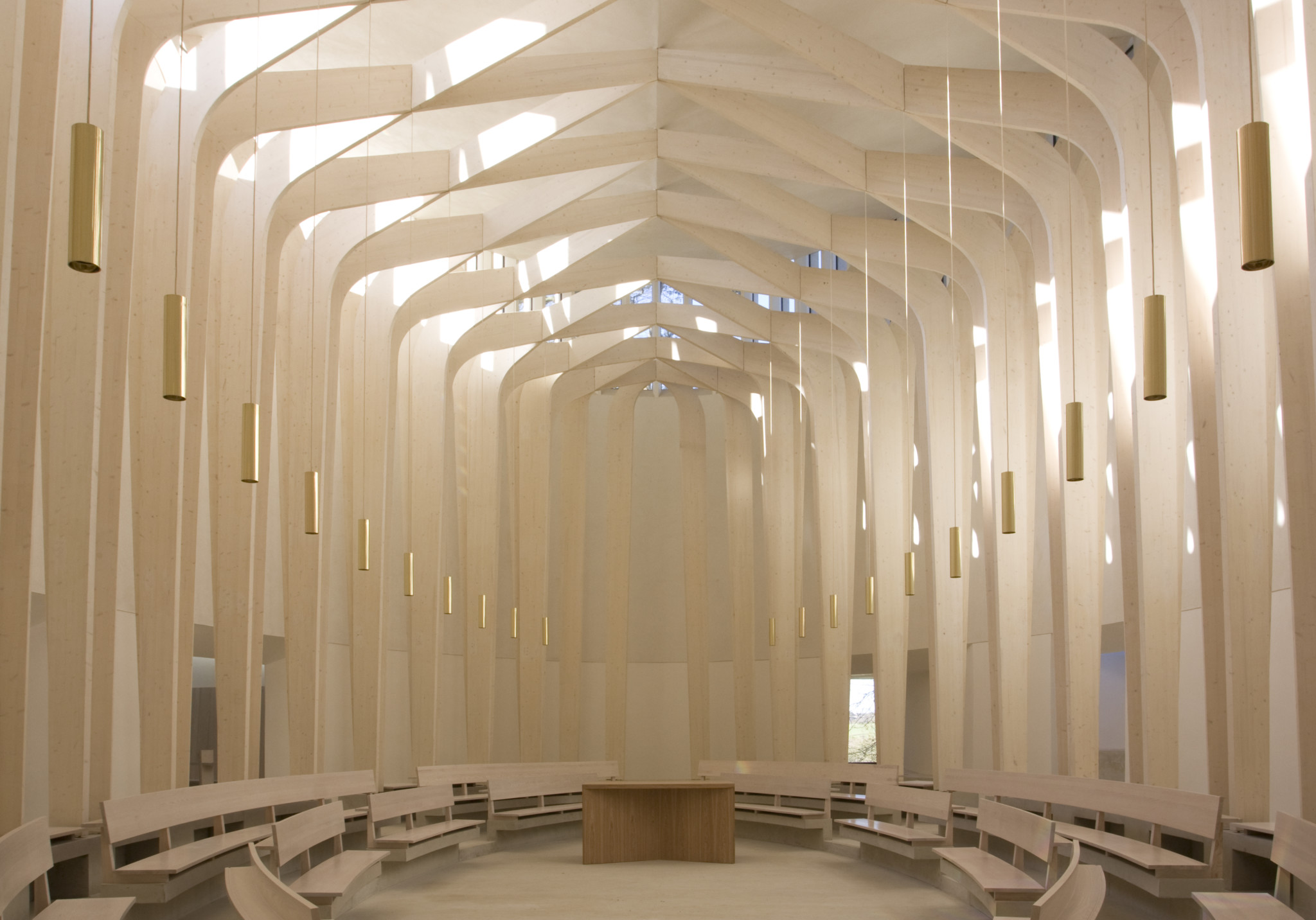 My visit to Ripon College, Cuddesdon, last week, mentioned in my blog earlier this week, included daily worship in the college chapel.  This is one of the newer buildings on the site and has apparently won various architectural awards.  I have to say that my first impression wasn't positive.  In fact I found it rather foreboding.  From the outside it is not (to my mind) at all attractive, and I could not work out how to get in.  The main pathway led to solid doors that spoke to me of hiding the "service area", or were possibly leading to a small store attached to the chapel.  I walked around the outside, spotted a smaller door that must be for the vestry, so I concluded that the big unglazed fence-panel-like entrance-way, without so much a friendly door handle, must, in fact, be the main way in.
Now for the transformed view.
The inside is stunning.  It is beautiful.  Its acoustic is gorgeous, as we discovered singing compline that night as the light faded.  The following morning, the light entered through a multiplicity of apertures and is enhancing everywhere the attractive finish to walls, floor, seats and pillars.  The pillars are intertwined high up like the upper branches of tall thin trees.  The effect is of being within a much larger building, or even reminiscent of sun-filled glade in a wood.  The walls and floor are like watermarked paper, the rests for books creamy with the sort of paint restorers use to make furniture look distressed, but here it is smooth and one just wants to run one's fingers along it.  It is perfect. All the ecclesiastical furnishings are contemporary in style, except the paschal candle stand which is heavy brass, but it doesn't jar. 
Morning Prayer resonated through this wonderful space; the psalms gently rocking from side to side like waves ebbing and flowing.  This is a modern chapel that truly works.  Pity about the outside……
John Mann