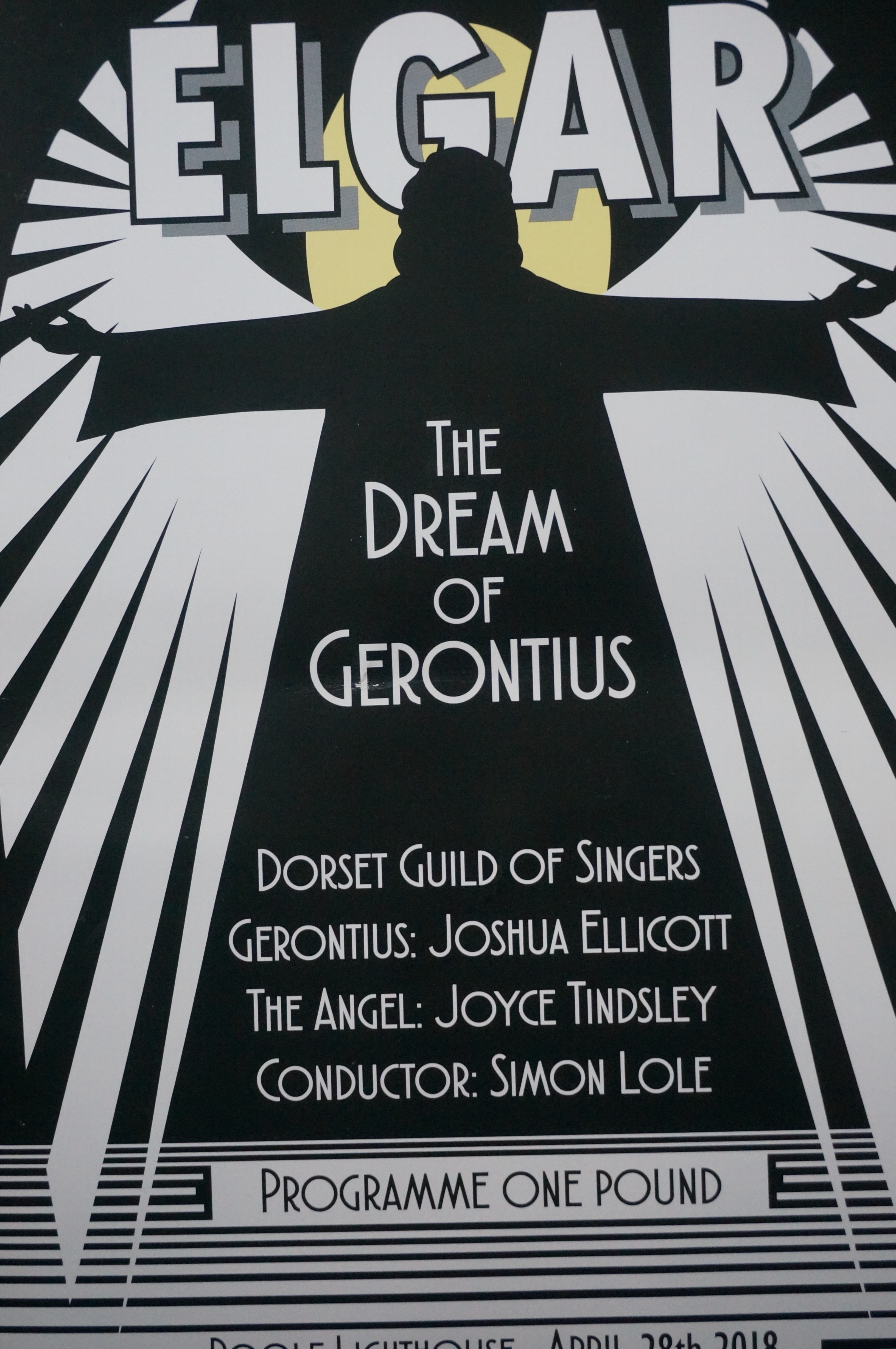 A picture that has been everywhere in Swanage for some weeks!

---
The experience of listening to Edward Elgar's The Dream of Gerontius last Saturday evening in Poole's Lighthouse is one that will remain with many of us for a long time. The sheer work involved for the choirs will assure that for each member, but for those who simply turn up on the night, the impact isn't building over some days and weeks of rehearsal, it is reliant on one live performance and its effect on everyone present.
So how was it? Well, let me start with a little basic "where I am coming from" thought: (a) this is not a work with which I was familiar; (b) I had listened to it a few times in the days before; (c) I arrived conscious that the success or otherwise of the piece is highly dependent on the person singing the part of Gerontius. Thereafter it was natural musings, that I suspect a lot of the audience shared, such as, "I really want this to be wonderful for all those I know who are taking part from the choirs of Swanage (I think at least half of the St Mary's choir was there) and have had this singing in their heads for the past couple of months - and especially for Simon, who bore the responsibility of holding the whole piece together, with so little preparation time with everyone."
Helen and I positioned ourselves fairly near to the stage. I always like to be close to an orchestra and feel its energy. Gradually the choirs appeared and the instrumentalists; the buzz of expectation settled into silence; in walked Simon Lole, conductor, Joshua Ellicott (the tenor singing Gerontius) and Colin Campbell - who had to sit for a long time before his important role as priest towards the end of Part One.
And so it started…..
Rarely are the violas so important to the beginning of an orchestral piece, but the opening of the prelude relies on their atmospheric entrance. The programme stated that the prelude, "serves the double purpose of preparing the listener's emotions for what follows and also presenting much of the musical material which is to receive fuller treatment later." That helped, and, what constantly swept me away, was Elgar use of contrasts, building one minute towards a climax that you think will never come, then follow reflective passages of music that draw us into the ethereal contemplation of what the whole work is saying to us - which is all to do with a man's dream of what will happen to him through death and judgement and a desire to see the face of God.
It was when Joshua Ellicott started to sing that we knew that we were going to experience something very special. Everyone contributed to this success of course; choirs and orchestra; soloists and conductor, but the part of Gerontius is, understandably, crucial. From start to finish he was in character, but particularly the last section that he sings, in releasing himself to what stands before him, that he commits himself, thus: "Take me away, and in the lowest deep, there let me be, and there in hope the lone night-watches keep, told out of me. There motionless and happy in my pain, lone, not forlorn - There will I sing my sad perpetual strain, until the morn." As we watched him sing, so he was in these lines completely motionless himself; it was utterly beautiful. With these words he saw himself as entering purgatory, from where, in time, he would be lifted by an angel and restored.
Between the long orchestral beginning and the end of such a dramatic piece of spiritual and emotional strength, internally, so much was going on. Simon explained a little of the music's complexities to me, but, even simply watching and listening without any prior knowledge, it was enough to recognise just how difficult it must be to hold it all together. What were my other special moments?
Let me mention just one. The choirs at one point chant some lovely lines that flow, caressingly over Gerontius; praying for his release: "Rescue him, O Lord…." - as you rescued Noe…. and Job…. and Moses…. and David….. - how inspired of Elgar to introduce a chanted prayer. It is perfect.
One could mention so much else too; of the other soloists, as well as individual players of the orchestra - as the importance of several lone instruments, such as the harp, make such an impact at crucial moments - but, as we returned in the coach to Swanage, I realised that this is enough; we had absorbed another little experience to add to other musical moments of our lives, and many of us who listened will not forget it. What must it have been like to sing the dream? Thank you for drawing us in.
John Mann