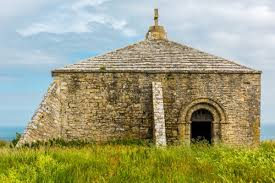 ---
Today is the eve of St Aldhelm's Day, and the Bishop of Sherborne is undertaking a virtual pilgrimage by Youtube this afternoon at 3.00 p.m., as her regular St Aldhelm's walk is not possible.  The link to it can be found at the bottom of this blog.  Aldhelm was Abbot of Malmesbury Abbey, and became the first Bishop of Sherborne, born in 639 and dying on 25th May 709.
He was a noted scholar, teacher and singer, who according the the Venerable Bede, who is also commemorated on 25th May, "completed the conquest of Wessex by his preaching." He is said to have sung, and then, attracting an audience to his music he preached the Gospel.  He built churches across Dorset and was undoubtably a man set on fire with the love of God.
Many of us will have walked to St Aldhelm's head and have visited the ancient chapel there.  I expect it will appear in Bishop Karen's pilgrimage this afternoon.  We shall see.
John Mann
Link to Bishop Karen's virtual pilgrimage: