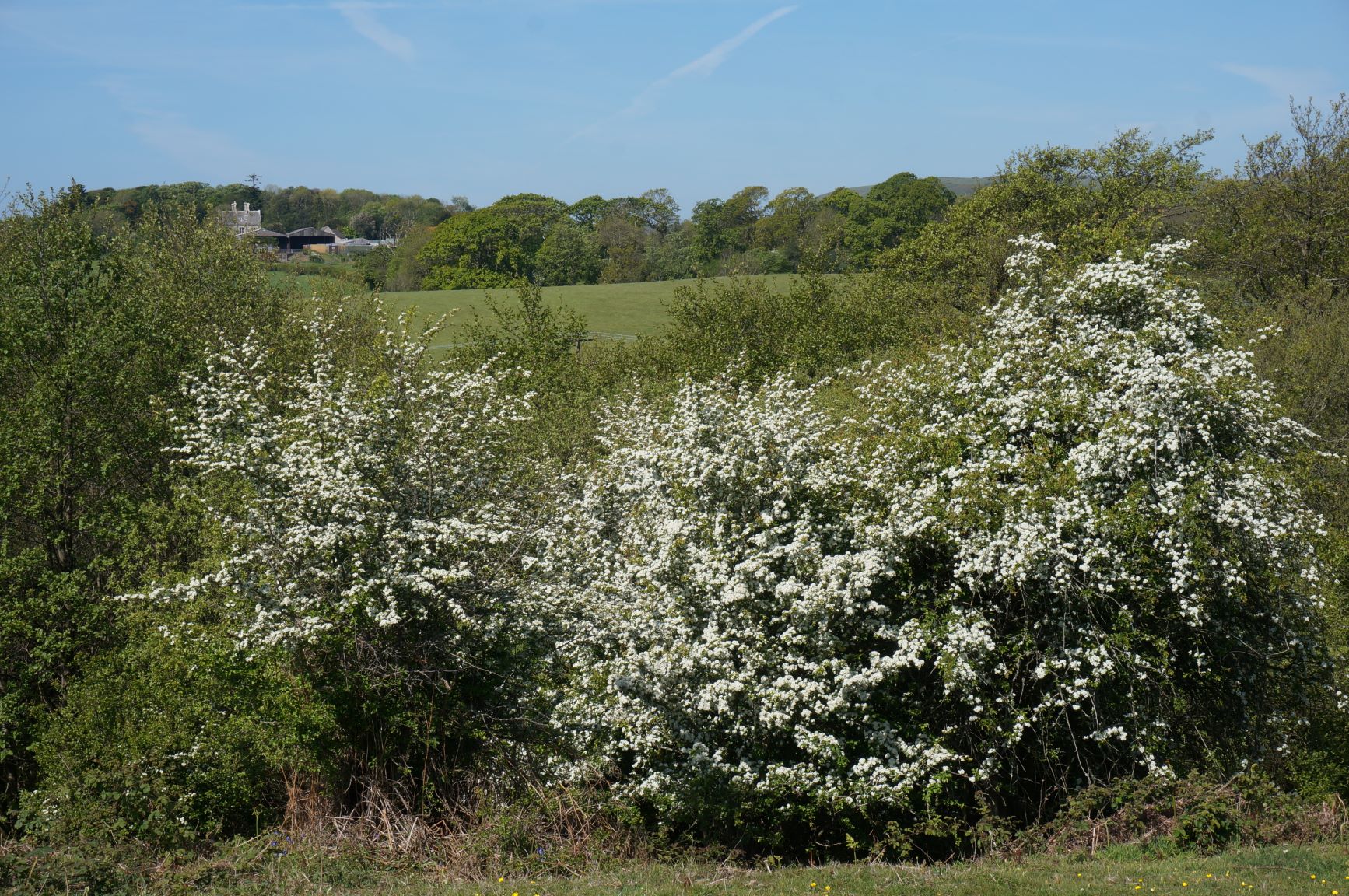 ---
It is the time of year for seeing the first of this and the first of that, as migration brings birds and, in time, butterflies and other insects back to Britain, while other creatures are waking from hibernation.  Good Friday, looking into Swanage Bay from above Peveril Point, produced the first tern I had seen this year; Saturday the first wall brown butterflies, and Easter Day at Durlston an adder sunning itself on the path before us, made us jump.
New things to see do help us through this changed routine and essential restriction on activity, though innovative people and organisations are finding ways to move online and carry on. This we are trying to do in the Church, and it is not easy.  Thank you for all the supportive comments by email and phone.  I know that Andrew, Tony and Solveig and others are busily producing useful material and it is being accessed various different ways from websites, not only this one, but the All Saints' and St Nicholas' sites too, as well as FaceBook and via the zoom and other social gathering gizmos.  We are grateful to David Nunn for his films, and there is another one coming up - they can all be found by clicking on news/events at the top right of the home page; to Hatty for organising a Children's Church each Sunday via zoom; for Simon creating music and giving us such cheery introductions to hymns.
Sustaining the energy and enthusiasm through these days does rely not just on innovation though, but through establishing a workable routine that will maintain the spiritual oneness through the season of Easter, that mostly we shall spend physically apart.  On Saturday April 4th, just prior to Holy Week, I mentioned on my blog, a monk called Christopher Jamison.  Today can I bring to mind the distinction that he draws between boredom and lethargy.  He says:
"Boredom is when there is absolutely nothing to do.  Lethargy is when there are things to do that you can't be bothered doing.  Most people suffer the latter, but they call it the former because it lets them off the hook.  In the monastery, people are always ringing bells telling you what to do next, so you don't have time to be bored." 
This is such a valuable help to establishing in our devotional life, as well as our active life, how we deal with the restrictions that we have.  We shall not be able to constantly innovate, and now that Holy Week and Easter Day are behind us, it is important that routine does not become dulled, but is strengthened by discipline.  Christopher Jamison may humorously suggest for them it is achieved by bells ringing - well maybe so - but we shall all find our own way to make special each day and renew each moment.  The lighting of a candle, the special place to access our online worship, the moment of sharing across the phone with another, as Solveig has suggested, even reading a daily thought, are all ways in which a new routine may be embedded, for devotional life disrupted by what is beyond ourselves to put right.
John Mann