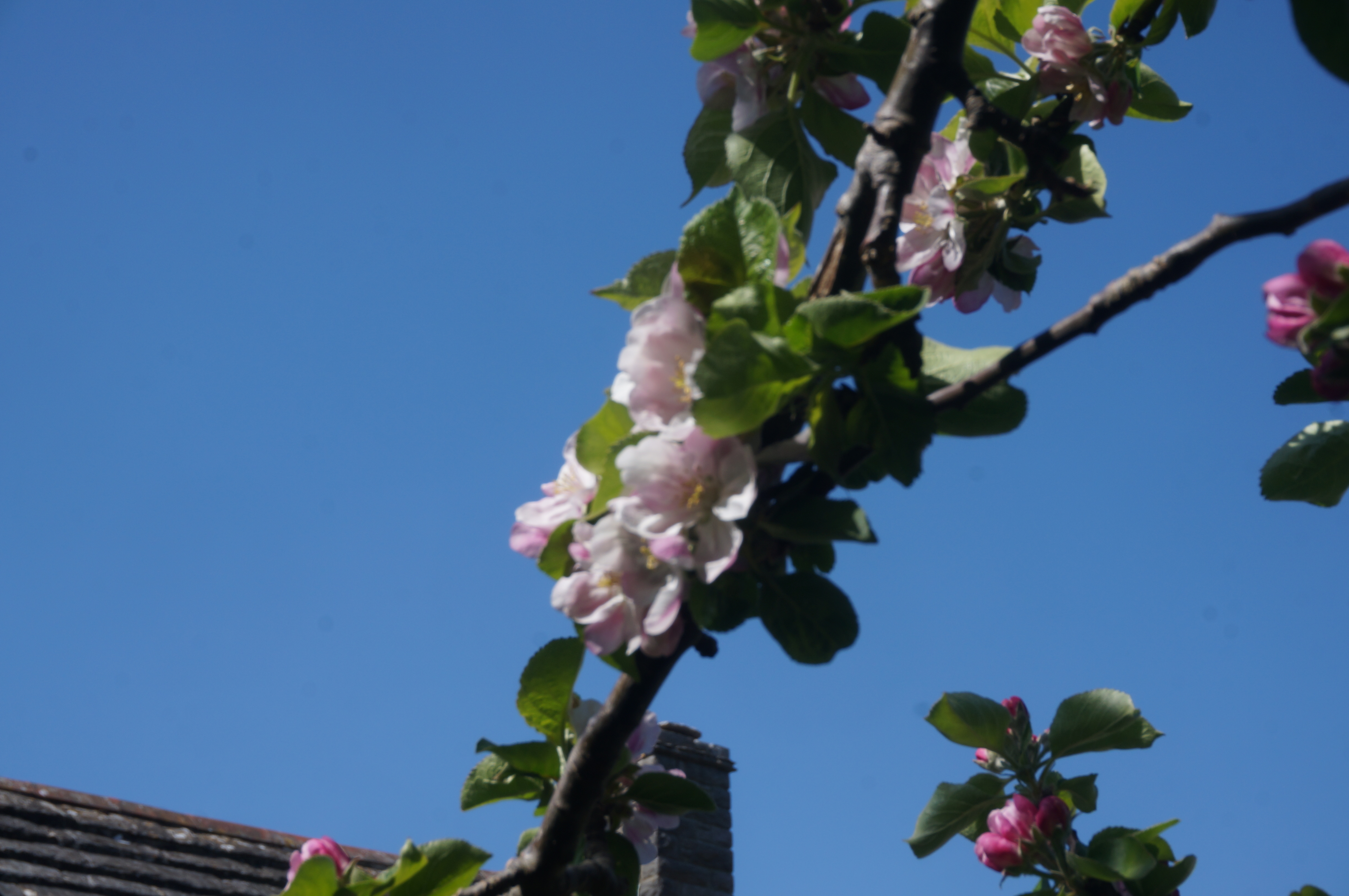 ---
The sun is shining this morning and Swanage is happy!  It is amazing the difference a little sunshine makes.  The sun also appears in both Old and New Testament readings on this day dedicated to the Apostles Philip and James (Proverbs 4: 10-18 and James 1: 1-12).  The Proverbs lesson ends with, "The path of the righteous is like the light of dawn, which shines brighter and brighter until full day", whilst James speaks of the sun rising with "scorching heat and withers the grass", likening the flowers of the field to worldly riches that pass away.
From our kitchen, that for much of the day doesn't get direct sunlight, it is first thing in the morning that the sun angles across the high end of the garden and does shine in. At this time of the year we see the sun's rays through a haze of bluebells and they light up the breakfast table.  Over breakfast today, we were talking about using up the last of the garden produce for 2019: one leek last night and what must be the final few apples.  Still to have our own bramleys for eight months of the year is wonderful, with buckets full of the excess to give away in the autumn too.  There is fine blossom on the tree at the moment, so hopefully, there will be another good crop in a few months from now.
That is more than can be said for the damson tree that has been consistently attacked by our friends the pigeons, and the sparrows have lodged there too, though a sparrowhawk removed one of them before our eyes one day last week.  It is not just us at the top of the food chain.
Someone asked me for an update on the rectory garden the other day, so here it is:  two rows of broad beans up and looking good; peas in fine shape and a second row sown and should appear soon; potatoes through and enjoying the rain; first sowings of runner beans must appear in a day or two; lettuce seedlings encouraging, as are the full range of soft fruits.  So far, so good.  But I have problems with my lawnmower…
As to flowers, I have some sweet peas coming up reasonably well and others sown; the dahlias are in and the hollyhocks which I sowed two years ago are telling me that they will flower this year.  The roses are looking healthy and they will be happy with the rain as well, but, as ever, the ivy grows better than anything, and alexanders, sweet betsy, dandelions and a number of other things that we are for ever pulling out, proliferate constantly.  A gardener's work is never done, thank God.
A normal sort of year really, and much to look forward to!
John Mann