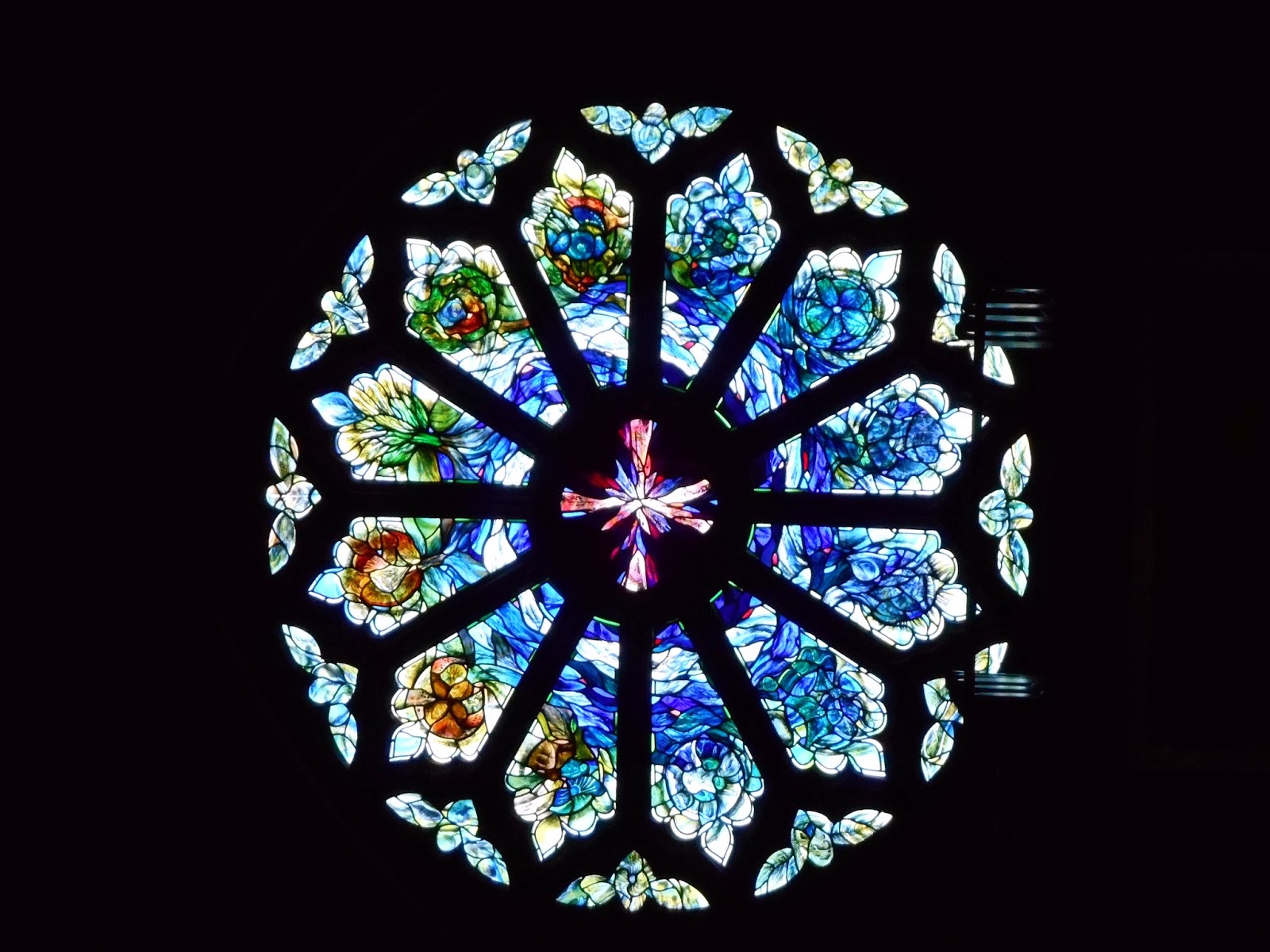 Those of you who have watched Solveig's ordination service from St Mary's - and many have, judging by the viewing numbers on YouTube - will have heard and seen the opening sequence that begins with a beautiful shot of the rose window in St Mary's Church.  This is, indeed, a very lovely window, demonstrating the great swirl of life on land and in the sea, and I am often captivated by the sight of the inner cross that is designed in such a way that it, quite rightly, dominates the centre of the whole window.  I see the window from the rector's stall at every service that I conduct.
The are numerous famous rose windows in churches throughout the country and beyond.  In the parish church that I served before going to St Anne's Cathedral, there is an amazing west window, much smaller than the one in St Mary's (which is in the north gable) but just as striking, and also in a rose form.  It was designed by an Irish stained-glass artist, Evie Hone, who had two other windows in the church, but it was John Betjeman who remarked on the fine rose window amongst the others.
For general information on rose windows, I found the following on-line somewhere, and please forgive me for having lost the source:
Chartres Cathedral (built 1134-1220 CE) has a beautiful rose window that combines the techniques of leaded stained glass with geometric designs that are very complex, and based on the circle. The designs are set into openings in the stone, perhaps suggesting the stucco or marble designs of Spain or Syria. German art historian Otto von Simson explained the origin of the rose window by comparing the idea to the six-sided rosettes and octagon window on the outside wall of the Umayyad palace Khirbat al-Mafjar, built in the Holy Land in about 750 CE. The theory is that Crusaders saw such windows and brought the idea back to Europe, introducing it into churches.
I had heard before that rose windows were of Islamic origin, but I found this information to be particularly enlightening and helpful.  I feel some blogs coming on in the coming months, looking more closely at the window in St Mary's, and trying to unlock a few of the ideas that the artist, Henry Haig, has put into it.
John Mann