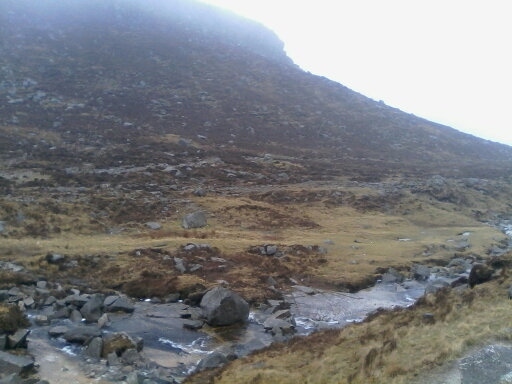 A mountain stream in less seasonal weather!

---
The early spring weather has delighted everyone, with birds singing, and clear skies giving us warm and sunny spots where the flowers are well-on for the date on the calendar.  But it is the scent that wafts across the rectory garden on these glorious mornings that seems more than anything to mark how early everything is happening, and that the insects are on the wing to be attracted to the flowers.  In fact there are bees seeking them out every day.
The sound, sight and smell of spring are all around us at the moment, but in the quiet those year-round sounds are constant through it too, especially in Swanage it is the sound of the sea.  We hear it on many days, even as far away as from the rectory garden.  Water movement is, in fact, very noisy.  Think of a waterfall - or water falling anywhere, even a dripping tap.  
Nan Shepherd, the writer of the Cairngorms in the first half of the twentieth century,  described water as 'speaking' to us, in these lines from her poem Singing Burn:
O burnie with the glass-white shiver
Singing over stone,
So quick, so clear, a hundred year
Singing one song alone,
From crystal sources fed forever,
From cold mountain springs
To o'erpersuade the haunted ear
It new-creates the time it sings.
John Mann