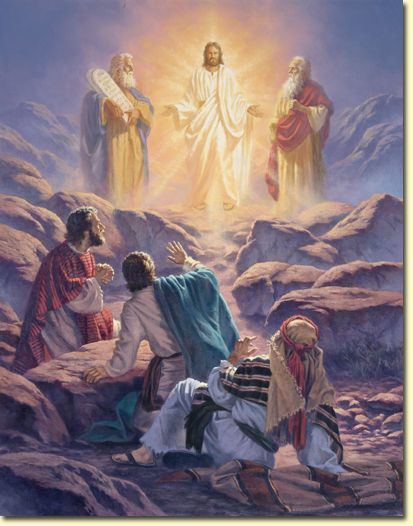 The Transfiguration
This day that is dedicated to the Feast of The Transfiguration of our Lord is reminding us of a mountaintop experience.  The fact that God appears to his people on mountains is not one that may make us surprised in any way.  That's what high places do!  They open us up to the majesty and awe of what is around us.  They put things at our feet and make them look small, but keep our sense of grandeur alive.  Maybe it is because of these reasons that Moses and Elijah went to the mountains to meet God and he was revealed to them alone.  On this occasion, of our Lord's presence on the mountain with Peter and James and John, there was, in contrast, quite a gathering.  Three disciples, two great men of God from the Old Testament, and Jesus himself, who was transfigured - made like a heavenly being - before their faces.
The point was though that Jesus was very much human within this experience.  He was not being presented to the disciples as his true self under the mask of a human body.  No, the very opposite was the case.  It was a demonstration that even Christ as Son of God could be supported and encouraged by Moses and Elijah, and valued the presence of three of his disciples there too. 
What I would like us to dwell on today, in this moment of reflection upon the Transfiguration itself, is to think about 'radiance'.  What does this conjure up for us?  If someone is 'radiant' we can easily think of other words that tease this out further.  We think about a radiant person as full of life, beauty, energy, health, physical attraction, happiness, joy, spiritual and mental fulfilment.  I typed these words before turning up radiant in the Thesaurus.  There I read of two related groups of words: bright, brilliant, gleaming, glowing, ablaze etc.  Then the second which corresponds with joy.  Here we find the words: elated, thrilled, overjoyed, jubilant, rapturous, ecstatic, euphoric etc.
Its opposites are darkness and gloom.
I am going to try today to bring to mind these two aspects as I think of Jesus and his disciples on the mountaintop, and contemplate the thrill with the brilliance and try and understand how the followers of Jesus managed to cope with this experience on intense and wonderful closeness to their Lord.
John Mann