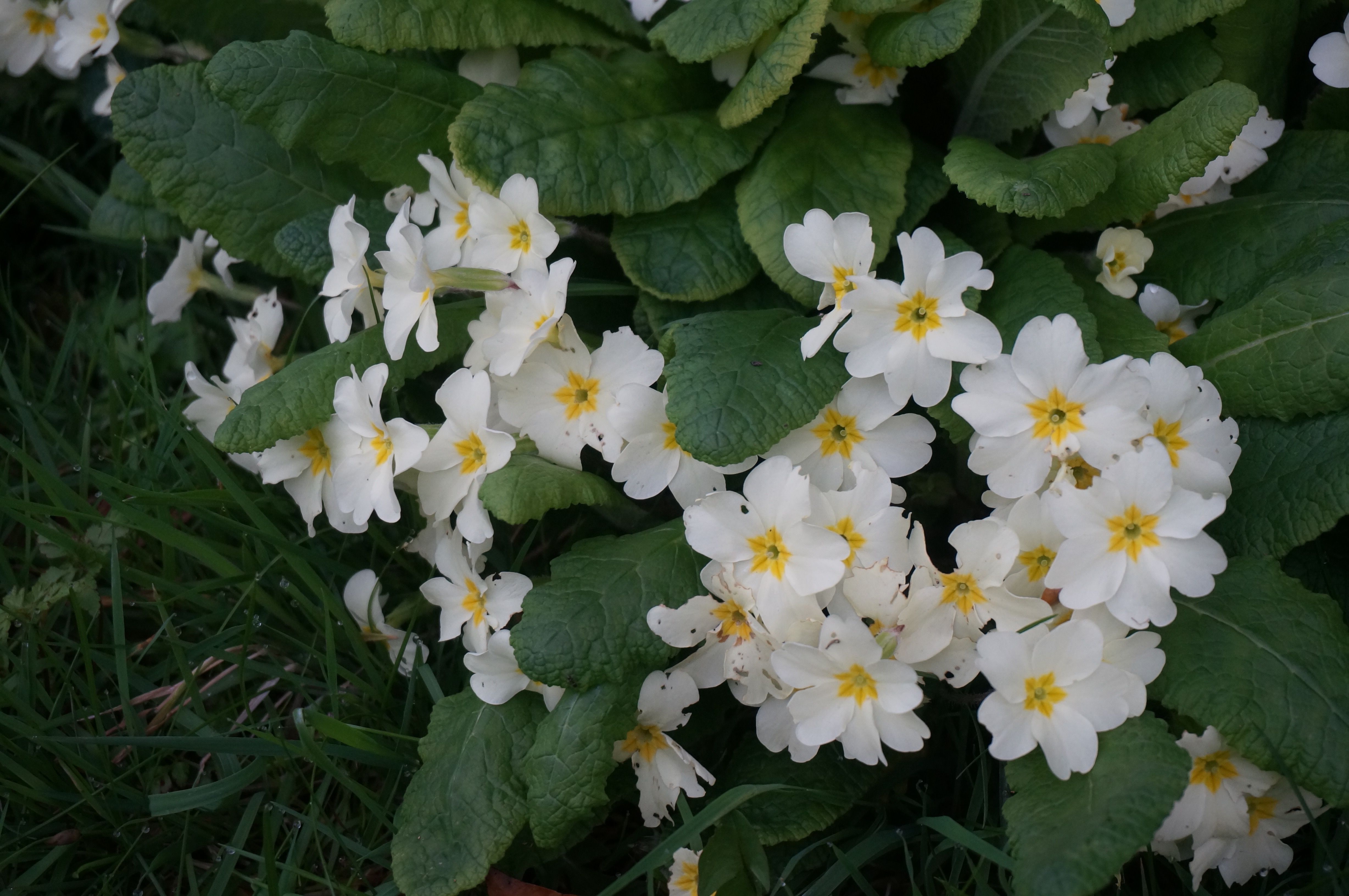 Primroses already at their best

---
There is always a danger of putting things in too early in the garden, and I am fully aware of it, but still do it, risking the very obvious dangers of frost and any effects of a return to winter.  The current windy weather is beating against my much braced wigwams of bamboo canes for the sweet peas, which, so far, have remained firm.  The potatoes are in as are a row of broad beans, with another to follow, when I can get back outside.
With a late Easter there is the impression that the year isn't as far on as it is, but driving through the countryside, or on a walk along the lanes and hedgerows, the celandines are well on, dog's mercury is edging ancient woodland, white dead nettle is poking up here and there in the long grass, and there are banks of primroses in flower.  The rectory garden is blessed with hundreds of primroses.  I divided some last year and spread them further, and they seed themselves, popping up here and there where we didn't see them last year.
The greening of the willow at the millpond is now nearly complete, and yesterday I saw a horse chestnut with sticky buds well open and the leaves already bursting into little miniatures of what they will become.  Every year I think I should do what was an annual part of Spring as a child: the bringing into the house and onto the school nature table of a few of the budding chestnut twigs, to watch them coming into leaf.  
Will it be a good year for damsons?  Will the gooseberries fruit better, now that they are settled?  Is it time to pick some forced rhubarb?  I can taste it now - it forms the most mouthwatering of all crumbles.  Happy thoughts of Spring, and in Galilee just now, as I close my eyes and think of it, there is waist-high grass in the fields, full of flowers and with swallows skimming the meadows.  We are a bit behind, and need to be patient, but I expect I will continue to sow too soon, as ever.
John Mann