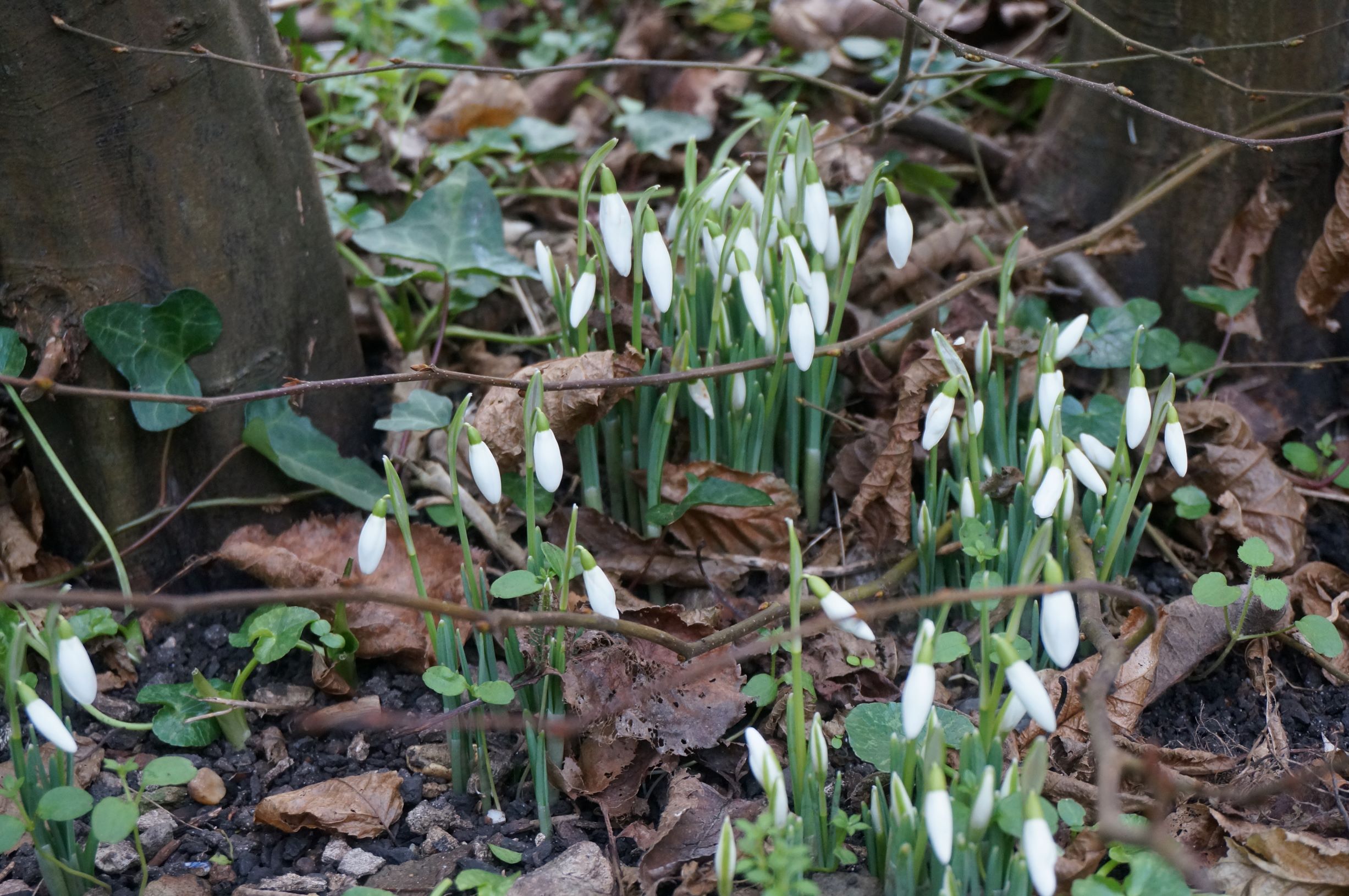 Snowdrops under the hedge

---
The appearance of snowdrops in numbers, as opposed to the odd one or two that can appear even before Christmas, is one of the exciting moments of winter, because it is such a reminder of Spring - the reason why many people will be making a annual pilgrimage to Kingston Lacy, over the course of the next few weeks, to see the extensive display of snowdrops there.  The photo above was taken yesterday afternoon in the rectory garden, and the sight of these few white flowers has me singing with the thought of what is to come.  The mind quickly ticks on to implementing plans for flower beds and rows of vegetables, and to wondering whether or not crops will be good this year.
I have dug back the vegetable area already to provide more soil for planting, but the new part is a little shaded, maybe not all day, but for longer than I would like.  Round the front, near the porch, I hesitate on my inspection tour, to consider the lovely rose "Celestial" (introduced for the first time in, I think, 1759) that I was given on leaving Belfast, but which didn't flower at all last year.  It looks healthy enough and happy, and has been promised a mulch of good farmyard manure to help it along. 
Preparing for the sweet peas is a job I have always taken very seriously.  Deep rooted, they love a clear root-run free of compacted subsoil, tree stumps and rock.  I will be working at that area beyond the north gable wall of the house, pulling out a bit more rubble and applying some compost and generally giving the soil a little tender loving care.  All, metaphorically, rather pre-Lenten!
I can't resist a regular glance in the rhubarb forcer.  There are very hopeful signs of new growth there, but I know from experience that a hard frost can quickly cut it back and, besides, counting chickens before they are hatched is an apt thought/reminder, alongside imagining the taste of the pale sticks of forced rhubarb picked straight from the garden and baked in a crumble.
A third of the way through January already.  The days are stretching and the three new bird nesting boxes that I put up before Christmas are ready and waiting for new life.  Surely out of all the tits we are feeding each day, a couple will have a look and maybe in time, find accommodation in our garden.  The rent: a regular display of acrobatic flight, a daily contribution to the dawn chorus and a constant twittering in the bushes - the view is free!
John Mann