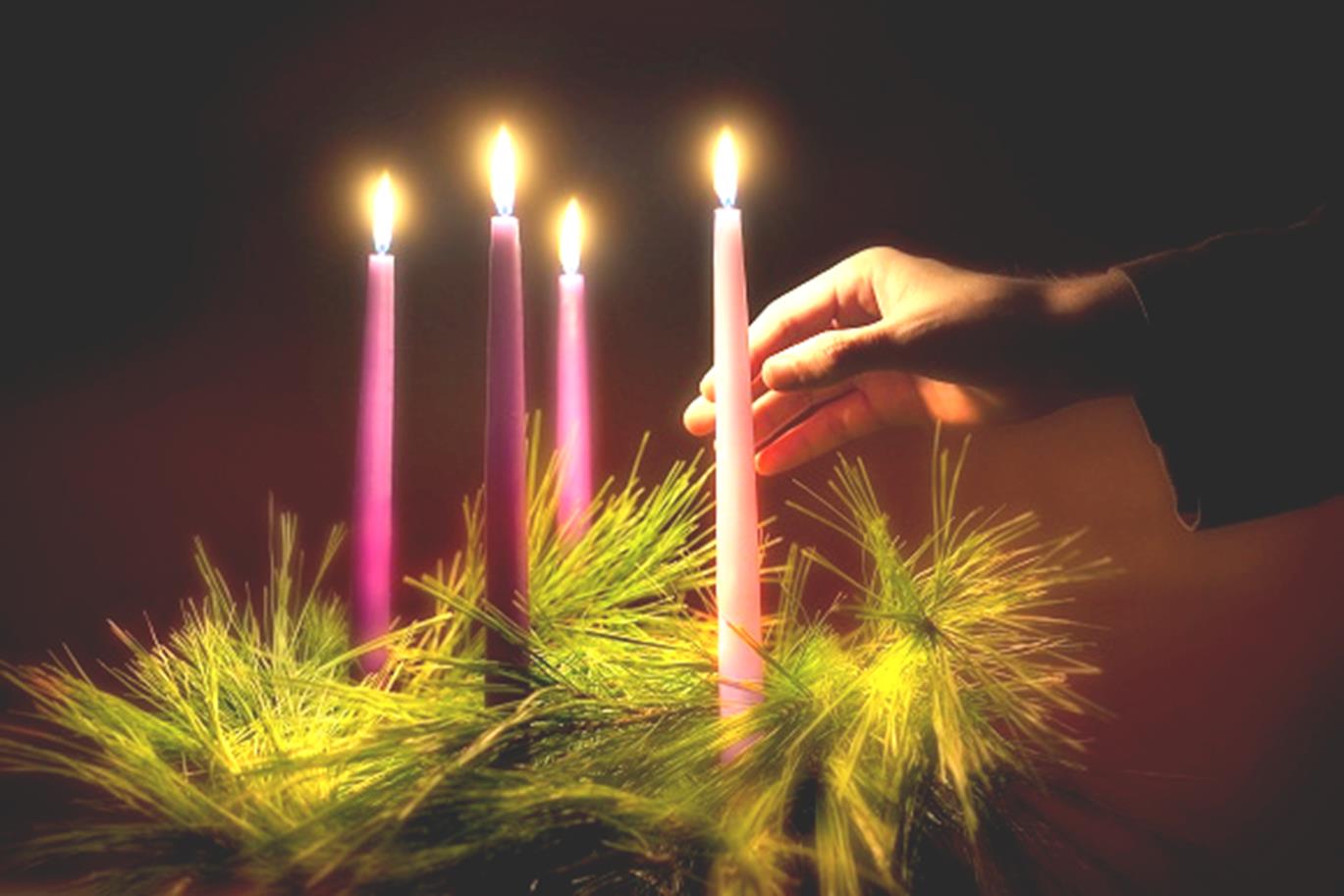 ---
A Service for Advent Sunday, 29th November, 2020
Preparation:
Before beginning to read this short service, you may wish to find a space for prayer in front of a cross, a candle, or a special place.  
The Acclamation of Christ at the Dawning of the Day
O Lord, open our lips
and our mouth shall proclaim your praise.
May Christ, the true, the only light
banish all darkness from our hearts and minds.
Lord Jesus, you came to gather the nations
into the peace of your kingdom:
Lord, have mercy.
Lord, have mercy.
You come in word and sacrament
to strengthen us in holiness:
Christ, have mercy.
Christ, have mercy.
You will come in glory
with salvation for your people:
Lord, have mercy.
Lord, have mercy.
Blessed are you, creator of all,
to you be praise and glory for ever.
As your dawn renews the face of the earth
bringing light and life to all creation,
may we rejoice in this day you have made;
as we wake refreshed from the depths of sleep,
open our eyes to behold your presence
and strengthen our hands to do your will,
that the world may rejoice and give you praise.
Blessed be God, Father, Son and Holy Spirit.
Blessed be God for ever.
The Collect
Silence is kept.
Almighty God,
give us grace to cast away the works of darkness
and to put on the armour of light,
now in the time of this mortal life,
in which your Son Jesus Christ came to us in great humility;
that on the last day,
when he shall come again in his glorious majesty to judge the living and the dead,
we may rise to the life immortal;
through him who is alive and reigns with you,
in the unity of the Holy Spirit,
one God, now and for ever.
Amen.
The First Hymn
O Come, O Come Emmanuel:   please access Simon's accompaniment here: 
O come, O come, Emmanuel,
And ransom captive Israel,
That mourns in lonely exile here,
Until the Son of God appear.
Rejoice! Rejoice! Emmanuel
Shall come to thee, O Israel.

O come, Thou Rod of Jesse, free
Thine own from Satan's tyranny;
From depths of hell Thy people save,
And give them victory o'er the grave.
Rejoice! Rejoice! Emmanuel
Shall come to thee, O Israel.

O come, Thou Dayspring, come and cheer
Our spirits by thine advent here;
Disperse the gloomy clouds of night,
And death's dark shadows put to flight.
Rejoice! Rejoice! Emmanuel
Shall come to thee, O Israel.

O come, Thou Key of David, come
And open wide our heav'nly home;
Make safe the way that leads on high,
And close the path to misery.
Rejoice! Rejoice! Emmanuel
Shall come to thee, O Israel.

O come, Adonai, Lord of might,
Who to Thy tribes, on Sinai's height,
In ancient times didst give the law
In cloud and majesty and awe.
Rejoice! Rejoice! Emmanuel
Shall come to thee, O Israel.
The First Reading:
Isaiah 64: 1-9
Psalm 80: 1-8
1    Hear, O Shepherd of Israel,  ♦
you that led Joseph like a flock;
2    Shine forth, you that are enthroned upon the cherubim,  ♦
before Ephraim, Benjamin and Manasseh.
3    Stir up your mighty strength  ♦
and come to our salvation.
4    Turn us again, O God;  ♦
show the light of your countenance, and we shall be saved.
5    O Lord God of hosts,  ♦
how long will you be angry at your people's prayer?
6    You feed them with the bread of tears;  ♦
you give them abundance of tears to drink.
7    You have made us the derision of our neighbours,  ♦
and our enemies laugh us to scorn.
8    Turn us again, O God of hosts;  ♦
show the light of your countenance, and we shall be saved.
Have mercy on us and redeem us, O Lord,
for our merits are your mercies
and in your judgement is our salvation;
through Jesus Christ our Lord.
Amen
The Second Reading:
1 Corinthians 1: 3-9
Gospel acclamation 
Alleluia, alleluia.
Prepare the way of the Lord, make his paths straight,
and all flesh shall see the salvation of God.
The Gospel:
Mark 13: 24-end
Homily
In years gone by the countdown to Christmas was calculated on the number of 'shopping days'.  This changed some time ago as out of town shopping centres opened on Sundays, and the 'relax and shop' advertising slogan reflected a seven day week of social as well practical activity - albeit not welcomed by all. This year all is once more changed, as we reckon up our shopping in the face of a major pandemic, and many shoppers will be on-line as much as in-store. In this spirit of change and uncertainty we begin a new Christian Year, which, as ever, is found in its rolling rhythm, based, as half of it is, on the life and death of our Lord, but its many days of sameness are part of its glory too. 
The readings we shall hear in Church today give us much of Christ's intense warning of what is to come.  This apocalyptic vision of a world collapsing into chaos is not something we wish to contemplate, though many people, over the years, have seen in the perpetual state of strife engulfing some part of the world at any time, as, in itself, a spur to consider how close we may be to an end time.
So where does our Advent contemplation start?  In what time do we honestly feel ourselves to be?  Christmas is 'around the corner' as we say, but we are asked to ponder the end of all things of earthly consequence.  The reason is simple.  Advent is a serious season.  We are not entering a new Church Year with the focus on celebration – that is to come – we begin rather with sober reflection.  What is this world without Christ?  How can all things come together for good in him, when the vision of the world is one of disunity and discord?  Such is woven into the psyche of the Christian who seeks, through prayer and penitence, to prepare in expectation for the coming of the Saviour.  It is in this context that the world is re-born and in our hearts we seek to find Christ re-born.  But that is some days away.
Saint Mark records some striking words of Jesus foretelling what is to come.  These we must hold through Advent, as the words of peace and joy, and the songs of the angels lift us to glimpse highest heaven come down to earth, in the company of the Christ-child.  Tonight, in many churches, there would, ordinarily, be readings charting the salvation history of the people of Israel amidst Advent Carols and expectant prayers, the Advent Antiphons and the flickering light of candles.  Today we respond to that chaos that is of the nature of the world, by listening to the living Word of God on-line and in our own homes. The one who is to come is about to declare himself to a world unprepared as we re of in the Scriptures, and, it could be said, the world is still unprepared for what the reality of the coming of Christ reveals and effects - even in lockdown, and even as the patient and the faithful are opening their hearts to listen to this message once again.  Praise be to God.
John Mann
Second Hymn
Lo, He Comes: https://youtu.be/KZr4PRfyDJY
1. Lo, he comes with clouds descending,
once for favoured sinners slain;
thousand thousand saints attending
swell the triumph of his train:
Alleluia!
Christ appears on earth to reign.

2. Every eye shall now behold him
robed in dreadful majesty;
those who set at naught and sold him,
pierced and nailed him to the tree,
deeply wailing,
shall the true Messiah see.

3. Those dear tokens of his passion
still his dazzling body bears,
cause of endless exultation
to his ransomed worshippers:
with what rapture,
gaze we on those glorious scars!

4. Yea, Amen, let all adore thee,
high on thine eternal throne;
Saviour, take the power and glory,
claim the kingdom for thine own:
Alleluia!
Thou shalt reign and thou alone.
Prayers
Watchful at all times,
let us pray for strength to stand with confidence
before our Maker and Redeemer.
That God may bring in his kingdom with justice and mercy,
let us pray to the Lord:
Lord, have mercy.
That God may establish among the nations
his sceptre of righteousness,
let us pray to the Lord:
Lord, have mercy.
That we may seek Christ in the Scriptures
and recognize him in the breaking of the bread,
let us pray to the Lord:
Lord, have mercy.
That God may bind up the brokenhearted,
restore the sick
and raise up all who have fallen,
let us pray to the Lord:
Lord, have mercy.
That the light of God's coming may dawn
on all who live in darkness and the shadow of death,
let us pray to the Lord:
Lord, have mercy.
That, with all the saints in light,
we may shine forth as lights for the world,
let us pray to the Lord:
Lord, have mercy.
We commend ourselves and all for whom we pray
to the mercy and protection of our heavenly Father:
Silence is kept.
Almighty God,
as your blessed Son Jesus Christ
first came to seek and to save the lost;
so may he come again to find in us
the completion of his redeeming work;
for he is now alive
and reigns with you and the Holy Spirit,
God for ever and ever.
Amen.
The Peace
In the tender mercy of our God,
the dayspring from on high shall break upon us,
to give light to those who dwell in darkness
and in the shadow of death,
and to guide our feet into the way of peace.
The Lord's Prayer
A few moments of silence before we pray:
O Lord our God,
make us watchful and keep us faithful
as we await the coming of your Son our Lord;
that, when he shall appear,
he may not find us sleeping in sin
but active in his service
and joyful in his praise;
through Jesus Christ our Lord.
Amen.
Conclusion
May God the Father,
who loved the world so much that he sent his only Son,
grant us grace to prepare for life eternal.
Amen.
May God the Son,
who comes to us as redeemer and judge,
reveal to us the path from darkness to light.
Amen.
May God the Holy Spirit,
by whose working the Virgin Mary conceived the Christ,
help us bear the fruits of holiness.
Amen.
The Lord God almighty, Father, Son, and Holy Spirit,
the holy and undivided Trinity,
guard us, save us,
and bring us to that heavenly city,
where he lives and reigns for ever and ever.
Amen.
Nun Komm Der Heiden Heiland - J.S.Bach: https://youtu.be/J5r6J_KdQn0
Common Worship: Times and Seasons, material from which is included here,
is copyright © The Archbishops' Council 2006 and published by Church House Publishing.
If you would like to make a donation to the church in Swanage, we will be most grateful. At present this is best done by BACS of which the details are:
Nationwide Building Society
Account name: Swanage PCC
Account Number: 70585005
Sort code: 07-00-55
Please give your name as reference.