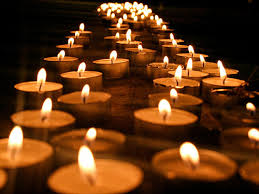 ---
A Service for All Saints' Day, 1st November, 2020
Preparation:
Before beginning to read this short service, you may wish to find a space for prayer in front of a cross, a candle, or a special place.  
May the light of Christ, rising in glory, banish all darkness from our hearts and minds.
Grace, mercy and peace
from God our Father
and the Lord Jesus Christ
be with with us all
Rejoice, people of God, praise the Lord!
Let us keep the feast in honour of all God's saints,
in whose victory the angels rejoice and glorify the Son of God.
Since we are surrounded by a great cloud of witnesses,
let us also lay aside every weight and the sin that clings so closely,
looking to Jesus in penitence and faith.
Hebrews 12.1
Lord, you are gracious and compassionate:
Lord, have mercy.
Lord, have mercy.
You are loving to all
and your mercy is over all your creation:
Christ, have mercy.
Christ, have mercy.
Your faithful servants bless your name
and speak of the glory of your kingdom:
Lord, have mercy.
Lord, have mercy.
Almighty God,
who forgives all who truly repent,
have mercy upon us,
pardon and deliver us from all our sins,
confirm and strengthen us in all goodness,
and keep us in life eternal;
through Jesus Christ our Lord.
Amen.
The Collect
Silence is kept.
Almighty God,
you have knit together your elect
in one communion and fellowship
in the mystical body of your Son Christ our Lord:
grant us grace so to follow your blessed saints
in all virtuous and godly living,
that we may come to those inexpressible joys
that you have prepared for those who truly love you;
through Jesus Christ your Son our Lord,
who is alive and reigns with you,
in the unity of the Holy Spirit,
one God, now and for ever.
Amen.
The First Hymn
For all thy saints:  please access Simon's accompaniment here: 
1 For all Thy saints, O Lord,
Who strove in Thee to live,
Who followed Thee, obeyed, adored,
Our grateful hymn receive.
2 For Thy dear saints, O Lord,
Who strove in Thee to die,
and found in Thee their great reward,
Accept our thankful cry.
3 Thine earthly members fit
To join Thy saints above,
In one communion ever knit,
One fellowship of love.
4 Jesu, Thy Name we bless
And humbly pray that we
May follow them in holiness
Who lived and died for Thee.
5. All might, all praise, be thine,
Father, co-equal Son,
and Spirit, bond of love divine,
while endless ages run.
The First Reading:
Revelation 7: 9-end
Psalm 34.1-10
Refrain:    O taste and see that the Lord is gracious.
1    I will bless the Lord at all times;  ♦
his praise shall ever be in my mouth.
2    My soul shall glory in the Lord;  ♦
let the humble hear and be glad.
3    O magnify the Lord with me;  ♦
let us exalt his name together.
4    I sought the Lord and he answered me  ♦
and delivered me from all my fears.
5    Look upon him and be radiant  ♦
and your faces shall not be ashamed. [R]
6    This poor soul cried, and the Lord heard me  ♦
and saved me from all my troubles.
7    The angel of the Lord encamps around those who fear him  ♦
and delivers them.
8    O taste and see that the Lord is gracious;  ♦
blessed is the one who trusts in him.
9    Fear the Lord, all you his holy ones,  ♦
for those who fear him lack nothing.
10  Lions may lack and suffer hunger,  ♦
but those who seek the Lord
lack nothing that is good. [R]
Refrain:    O taste and see that the Lord is gracious.
Send your holy angels
to watch over us, O God,
that on our lips will be found your truth
and in our hearts your love;
so we may ever taste your goodness
in the land of the living;
through Jesus Christ our Lord.
Amen
The Second Reading:
1 John 3: 1-3
The Gospel:
Matthew 5: 1-12
Homily
On this All Saints' Day, when we recall the many who have striven for Christ, let us take just one of the Beatitudes before us in today's Gospel: "Blessed are those who are persecuted for righteousness' sake, for theirs is the kingdom of heaven" (Matt 5:10). The enduring of persecution is linked in the beatitude to experiencing injustice or inhumanity of some kind, that we might understand by the persecution being 'for righteousness' sake'.    Much of the lives of most Christians is spent trying to avoid the clash of opinions that leads to persecution; we can, in fact many of us are, hardwired to acquiescence when there is a threat of even the kind of minor taunting that is likely to be the lightest form of persecution we could face; but, on the other hand, it takes extraordinary courage to stand up for the rights of someone who seems to be not fitting the system, or is in some kind of vulnerable minority position, or whatever circumstance is causing that person, who has moral right on their side and is justifiable in their beliefs, but is being abused or ill-treated in any way.  So what is the application from all of this for us today?  
Firstly, to continue what I expect many are already doing, namely to prayerfully support those whose Christian or moral duty is revealed in placing themselves in vulnerable positions, where they are very likely to be persecuted for what they are saying, or because their life, by its very actions, demonstrates a determination to uphold what is right and just. 
Secondly, in our own situation and according to our own conscience, we may, within ourselves, be able to ease the persecution pressure on others through voicing our concerns, and not acquiescing in situations where it is easier for us to keep silent, when actually we know that someone is being treated unfairly, or out of prejudice or spite.   
A third thing, and it may be the most important outcome for us, is to pray that we may grow in discernment; in understanding; in wisdom - for the strengthening of our own faltering steps towards fulfilling the Great Commandments of the Law; the desire for direction from Christ; and the illumination of our minds in the complexity of human life today. There is so much that we can learn and contemplate in the quiet of our hearts as we think of those in difficulty.  Perhaps we can be part of the blessing that Christ promises to others - if we can, ever more carefully, determine what we may do or say to help.
John Mann
Second Hymn 
Jerusalem the Golden: https://youtu.be/7_pEhouYlh8
1 Jerusalem the golden,
with milk and honey blest,
beneath thy contemplation
sink heart and voice oppressed.
I know not, O I know not,
what joys await us there;
what radiancy of glory,
what bliss beyond compare.
2 They stand, those halls of Zion,
all jubilant with song,
and bright with many an angel,
and all the martyr throng.
The Prince is ever in them,
the daylight is serene;
the pastures of the blessed
are decked in glorious sheen.
3 There is the throne of David;
and there, from care released,
the song of them that triumph,
the shout of them that feast;
and they who with their Leader
have conquered in the fight,
forever and forever
are clad in robes of white.
4 O sweet and blessed country,
the home of God's elect!
O sweet and blessed country
that eager hearts expect!
Jesus, in mercy bring us
to that dear land of rest;
who are, with God the Father
and Spirit, ever blest.
Prayers
United in the company of all the faithful
and looking for the coming of the kingdom,
let us offer our prayers to God,
the source of all life and holiness.
Merciful Lord,
strengthen all Christian people by your Holy Spirit,
that we may live as a royal priesthood and a holy nation
to the praise of Jesus Christ our Saviour.
Lord, in your mercy
hear our prayer.
Bless Nicholas and Karen our bishops and all ministers of your Church,
that by faithful proclamation of your word
we may be built on the foundation of the apostles and prophets
into a holy temple in the Lord.
Lord, in your mercy
hear our prayer.
Empower us by the gift of your holy and life-giving Spirit,
that we may be transformed into the likeness of Christ
from glory to glory.
Lord, in your mercy
hear our prayer.
Give to the world and its peoples
the peace that comes from above,
that they may find Christ's way of freedom and life.
Lord, in your mercy
hear our prayer.
Hold in your embrace all who witness to your love in the
service of the poor and needy;
all who minister to the sick and dying;
and all who bring light to those in darkness.
Lord, in your mercy
hear our prayer.
Touch and heal all those whose lives are scarred by sin
or disfigured by pain,
that, raised from death to life in Christ,
their sorrow may be turned to eternal joy.
Lord, in your mercy
hear our prayer.
Remember in your mercy all those gone before us
who have been well-pleasing to you from eternity;
preserve in your faith your servants on earth,
guide us to your kingdom
and grant us your peace at all times.
Lord in your mercy
hear our prayer.
Hasten the day when many will come
from east and west, from north and south,
and sit at table in your kingdom.
Lord in your mercy
hear our prayer.
We give you thanks
for the whole company of your saints in glory,
with whom in fellowship we join our prayers and praises;
by your grace may we, like them, be made perfect in your love.
Blessing and glory and wisdom,
thanksgiving and honour and power,
be to our God for ever and ever.
Amen.
The Peace
The risen Christ came and stood among his disciples and said, "Peace be with you."  Then were they glad when they saw the Lord
The Lord's Prayer
A few moments of silence before we pray:
Lord of heaven,
in the eucharist you bring us near
to an innumerable company of angels
and to the spirits of the saints made perfect:
as in the food of our earthly pilgrimage
we have shared their fellowship,
so may we come to share their joy in heaven;
through Jesus Christ our Lord.
Amen.
Conclusion
Great is the Lord and greatly to be praised:
there is no end of his greatness.
One generation shall praise your works to another
and shall declare your power.
All your works praise you, Lord,
and your faithful servants bless you.
They make known the glory of your kingdom
and speak of your power.
My mouth shall speak the praise of the Lord:
let everything bless his holy name for ever and ever.
A closing reading for All Saints' Day from the Gospel according to John.
[Jesus said], 'I have made your name known to those you gave me from the world. They were yours, and you gave them to me, and they have kept your word. Now they know that everything you have given me is from you; for the words that you gave to me I have given to them, and they have received them and know in truth that I came from you; and they have believed that you sent me. I am asking on their behalf; I am not asking on behalf of the world, but on behalf of those whom you gave me, because they are yours.'
John 17.6-9
Blessing
May God,
who kindled the fire of his love in the hearts of the saints,
pour upon us the riches of his grace.
Amen.
May he give us joy in their fellowship
and a share in their praises.
Amen.
May he strengthen us to follow them in the way of holiness
and to come to the full radiance of glory.
Amen.
And may the blessing of God almighty,
the Father, the Son, and the Holy Spirit,
be among us and remain with us always.
Amen.
Leibster Jesu, Wir Sind Hier - J.S.Bach: https://youtu.be/gd6n3CeMK3E
If you would like to make a donation to the church in Swanage, we will be most grateful. At present this is best done by BACS of which the details are:
Nationwide Building Society
Account name: Swanage PCC
Account Number: 70585005
Sort code: 07-00-55
Please give your name as reference.