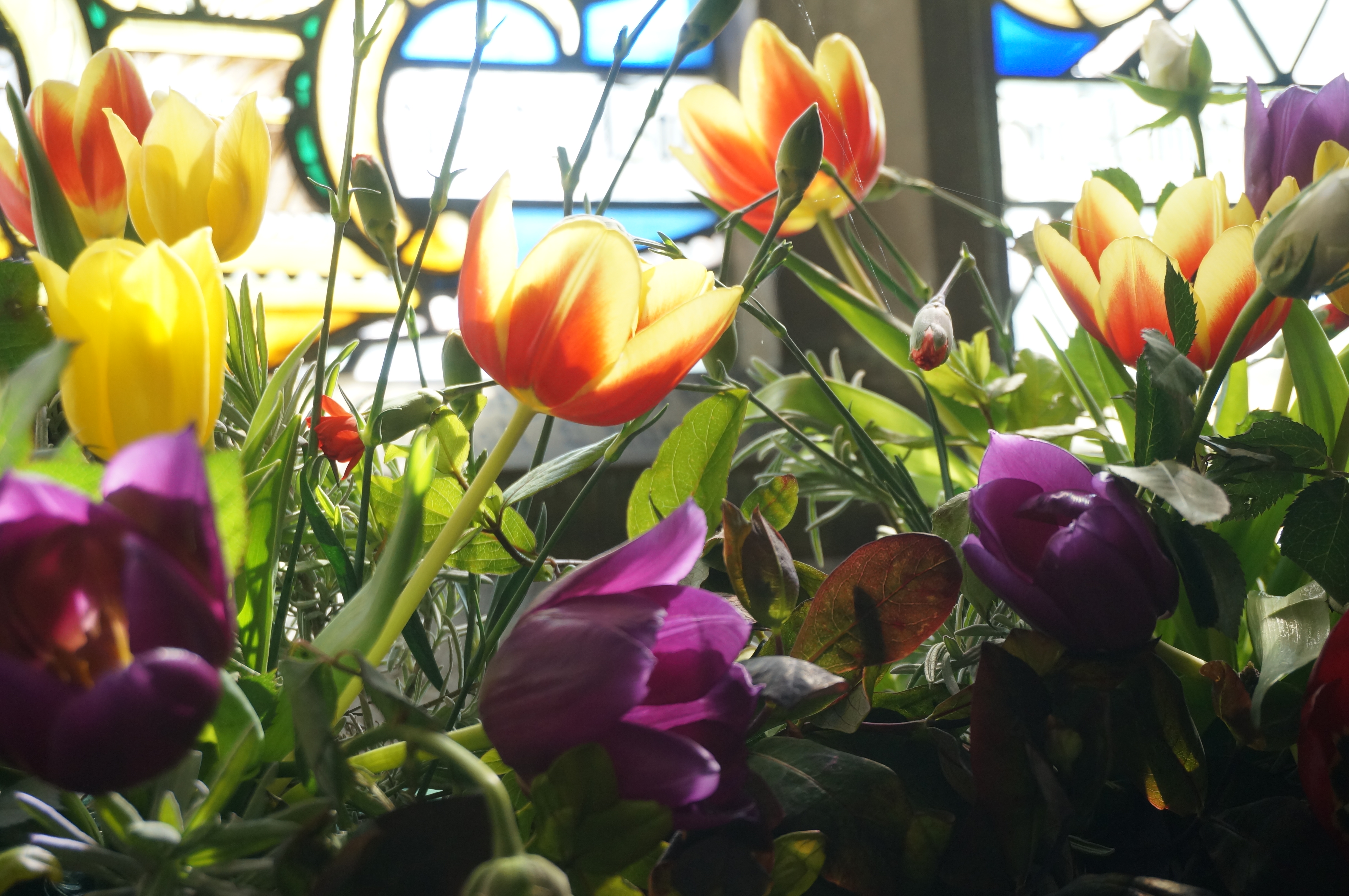 ---
A Service for Easter Day
Preparation:
Before beginning to read this short service, you may wish to find a space for prayer in front of a cross, a candle, or a special place.  This is the day when our Lord passed from death to life.  
Throughout the world Christians celebrate the awesome power of God. As we hear his word and proclaim all that God has done, we can be confident that we shall share his victory over death and live with him for ever. May the light of Christ, rising in glory, banish all darkness from our hearts and minds.
We begin by listening to a J.S. Bach Chorale Prelude "Jesus Christus unser heiland", played by Simon Lole:
Christ yesterday and today,
the beginning and the end,
Alpha and Omega,
all time belongs to him,
and all ages;
to him be glory and power,
through every age and for ever. Amen.
The Collect
Let us pray that we may walk the risen life of Christ in glory.
Silence may be kept.
Lord of all life and power,
who through the mighty resurrection of your Son
overcame the old order of sin and death
to make all things new in him:
grant that we, being dead to sin
and alive to you in Jesus Christ,
may reign with him in glory;
to whom with you and the Holy Spirit
be praise and honour, glory and might,
now and in all eternity.
Amen.
The First Hymn
Jesus Christ is Risen Today - access Simon's accompaniment here: https://youtu.be/k2t1qxPj-J8
1 Jesus Christ is risen today, Alleluia!
our triumphant holy day, Alleluia!
who did once upon the cross Alleluia!
suffer to redeem our loss. Alleluia!
2 Hymns of praise then let us sing, Alleluia!
unto Christ our heavenly King, Alleluia!
who endured the cross and grave, Alleluia!
sinners to redeem and save. Alleluia!
3 But the pains which he endured, Alleluia!
our salvation have procured; Alleluia!
now above the sky he's King, Alleluia!
where the angels ever sing. Alleluia!
The Reading:
Colossians 3: 1-4
Our curate Solveig dances in joy at the Resurrection of Christ - light coming in darkness; life from death; movement from the stillness:
https://videopress.com/v/YTylQCqV 
The Gospel:
John 20: 1-18
Homily
St John's Gospel, chapter 20, verse 13: 'The angels said to her, "Woman, why are you weeping?" She said to them, "Because they have taken away my Lord, and I do not know where they have laid him".' 
St John gives us the details of the first Easter Day in eighteen wonderful verses of chapter 20. his account is particularly emotive as it contains the grief and anguish of Mary Magdalene. St John makes us feel her pleading cry, 'They have taken away my Lord and I do not know where they have laid him.' She can bear no more, she weeps helplessly and is in deep distress. John remembers how he and Peter had left Mary – they had seen the empty tomb, and the impression given to the reader is that they were in a state of shock; they didn't know what to think. John writes that they did not understand the scripture that he must rise from the dead. They left Mary to weep alone. 
John shows us the constant requirement that the disciples had for some more evidence; the evidence of touch, that physical something, which turned questioning, amazed awe into faith in a risen and glorified Lord. Touch is an acutely sensitive concern at the moment, when so many people are denied the closeness of their loved ones in serious ill health through coronavirus.  So we can, on this extraordinary Easter Day, understand more than ever, just how when they saw the risen Jesus, that his followers wanted to hold him.
The touch of confirmation (Peter and John did not have it and so they left, bemused; they 'went back to their homes') helped to bring reassurance to what they believed with their eyes when they saw that the tomb was empty, but could go no further. Mary Magdalene, when her eyes were opened to Jesus, wanted to hold him. Thomas later on, wanted to touch the wounds, then he would believe, but John shows that in the end, they were denied that touch – yet still they believed. Thomas refused to touch and Mary Magdalene, equally, just knew; 'I have seen the Lord,' she told the disciples. but let us look again at her encounter with Jesus. 
Peter and John left her weeping, perhaps they didn't realise just how distraught she was becoming, perhaps they could not see beyond their own grief, or maybe they had nothing to offer her.  They were drained by the previous forty-eight hours and could take no more. What happened next is definitely bound up with those he loves, in sorrow and in joy. Notice the gentle questioning of the angels: 'Woman, why are you weeping?'  In John's account, that is all that they say.  It is the voice of one trying to console, to gently draw out, to prepare for the encounter that was about to take place.  Yes, there was a divine presence, not only the angels being there, but in their approach to this grief-stricken young woman. What made Mary turn?   We don't know.  Maybe the shadow of Jesus fell on her from behind; perhaps she heard a footstep; anyhow, she did turn. She saw the risen Lord, but took him to be the gardener.  Probably she didn't even look up. He too, like the angels asks, 'why are you weeping?' But he adds, 'For whom are you looking?' 
Then occurs the intimate moment of their reunion, and as we read, we are struck by the light and life which is apparent as the wonderful encounter unfolds. But we too must learn, with Mary Magdalene, that love and trust and service, are not dependent on touch, or even sight. The Resurrection marked not so much an end to the caress and touch, but a new beginning which, in the end, was to bring a more profound sense of fuller love and life and union with Christ. The Resurrection of Jesus opens new life for us all. It was the thing that the Early Church talked and talked about – that their Lord was alive – not in the old way of age and decay, but of a new age, and as a new source of hope and life for us all. 
The conditions for the enjoyment of this new life, this eternal life, are essentially simple, though the results of its possession go deep and are far-reaching. 'Anyone who loves me,' Jesus says, 'will heed what I say; then my Father will love him, and we will come and make our dwelling with him.' That union means life – full life, in the here and now – and life that is eternal. 
'Because I live,' said Jesus, 'you too, will live.'
John Mann
 Second Hymn
Ye Choirs of New Jerusalem
Ye choirs of new Jerusalem,
your sweetest notes employ,
the paschal victory to hymn
in strains of holy joy.
How Judah's Lion burst his chains,
and crushed the serpent's head;
and brought with him, from death's domains
to wake the imprisoned dead.
From hell's devouring jaws their prey
at his command restore;
his ransomed hosts pursue their way
where Jesus goes before.
Triumphant in his glory now
to him all power is given;
to him in one communion bow
all saints in earth and heaven.
While we his soldiers praise our King,
his mercy we implore,
within his palace bright to bring
and keep us evermore.
All glory to the Father be,
all glory to the Son,
all glory, Holy Ghost to thee,
while endless ages run. Alleluia
Prayers
We pray to Jesus who is present with us to eternity.
Jesus, light of the world, bring the light and peace of your gospel to the nations, especially at this time of world-wide distress at the spreading pandemic.
Jesus, Lord of life,
in your mercy, hear us.
Jesus, bread of life,
give food to the hungry, 
and nourish us all with your word.
Jesus, Lord of life,
in your mercy, hear us.
Jesus, our way, our truth, our life,
be with us and all who follow you in the way.
Deepen our appreciation of your truth
and fill us with your life.
Jesus, Lord of life,
in your mercy, hear us.
Jesus, Good Shepherd who gave your life for the sheep,
recover the straggler,
bind up the injured,
strengthen the sick
and lead the healthy and strong to new pastures.
Jesus, Lord of life,
in your mercy, hear us.
Jesus, the resurrection and the life,
we give you thanks for all who have lived and believed in you.
Raise us with them to eternal life.
Jesus, Lord of life,
in your mercy, hear us,
accept our prayers, and be with us always.
Amen.
Third Hymn
Alleluia, Alleluia, hearts to heaven: https://youtu.be/5k8FQMS2tGs
Alleluia, alleluia!
Hearts to heaven and voices raise:
sing to God a hymn of gladness,
sing to God a hymn of praise.
He, who on the cross a victim,
for the world's salvation bled,
Jesus Christ, the King of glory,
now is risen from the dead.
Christ is risen, Christ, the first fruits
of the holy harvest field,
which will all its full abundance
at his second coming yield:
then the golden ears of harvest
will their heads before him wave,
ripened by his glorious sunshine
from the furrows of the grave.
Christ is risen, we are risen!
Shed upon us heavenly grace,
rain and dew and gleams of glory
from the brightness of thy face;
that we, with our hearts in heaven,
here on earth may fruitful be,
and by angel hands be gathered,
and be ever, Lord, with thee.
Alleluia, alleluia!
Glory be to God on high;
Alleluia! to the Saviour
who has gained the victory;
Alleluia! to the Spirit,
fount of love and sanctity:
Alleluia, alleluia!
to the Triune Majesty
Easter acclamations:
Alleluia. Christ is risen.
He is risen indeed. Alleluia.
Praise the God and Father of our Lord Jesus Christ.
He has given us new life and hope.
He has raised Jesus from the dead.
God has claimed us as his own.
He has brought us out of darkness.
He has made us light to the world.
Alleluia. Christ is risen.
He is risen indeed. Alleluia.
God the Father,
by whose love Christ was raised from the dead,
open to all who believe the gates of everlasting life.
Amen.
God the Son,
who in bursting from the grave has won a glorious victory,
give us joy as we share the Easter faith.
Amen.
God the Holy Spirit,
who filled the disciples with the life of the risen Lord,
empower us and fill us with Christ's peace.
Amen.
J.S. Bach Prelude and Fugue in C major: https://youtu.be/QgfXles6UkE