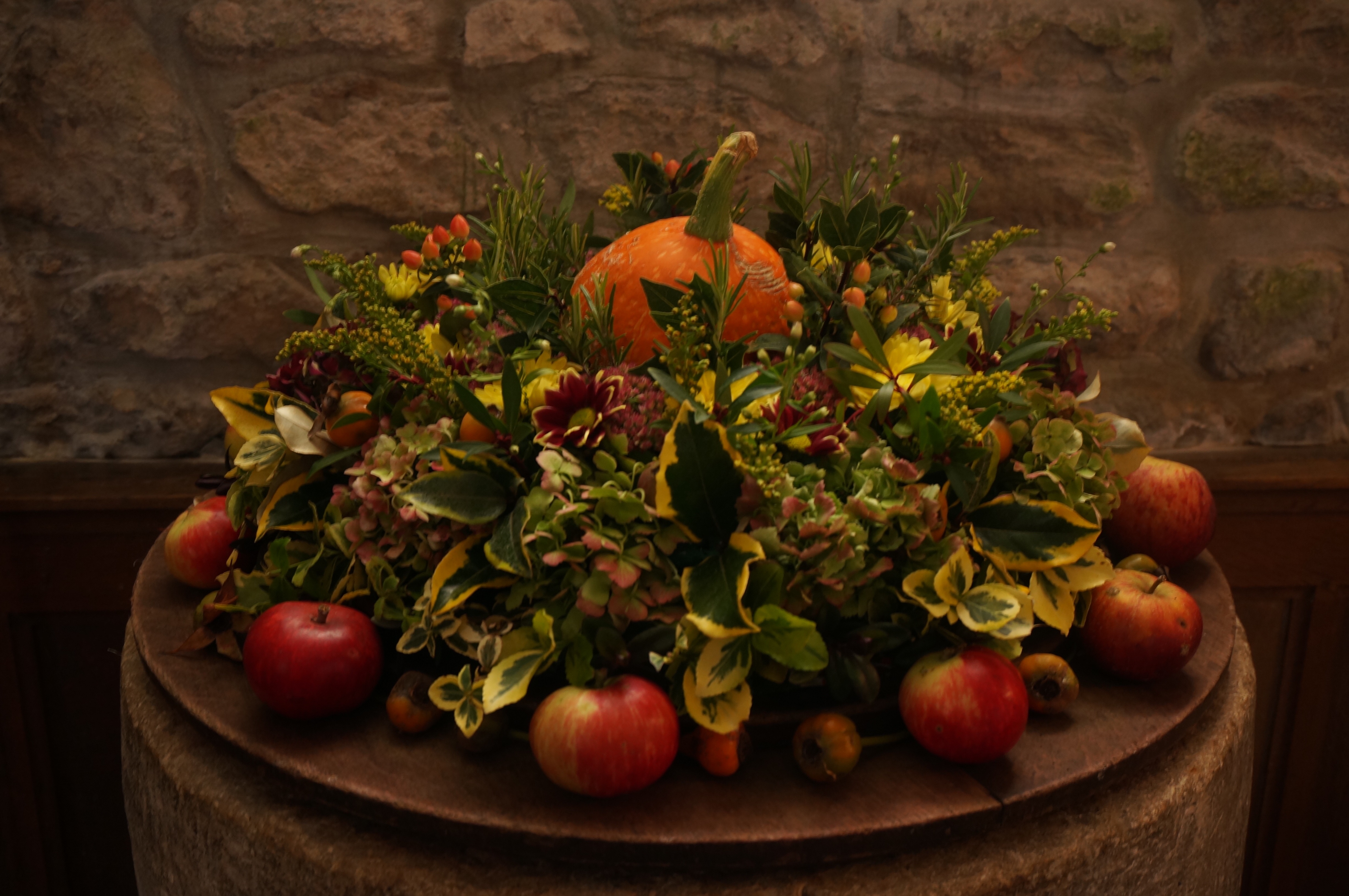 ---
A Service for the Seventeenth Sunday after Trinity, 4th October, 2020
Harvest Festival
Preparation:
Before beginning to read this short service, you may wish to find a space for prayer in front of a cross, a candle, or a special place.  
May the light of Christ, rising in glory, banish all darkness from our hearts and minds.
The Acclamation of Christ at the Dawning of the Day 
O Lord, open our lips
and our mouth shall proclaim your praise.
May Christ, the true, the only light
banish all darkness from our hearts and minds.
O come, let us sing to the Lord; 
let us heartily rejoice in the rock of our salvation. 
Let us come into his presence with thanksgiving 
and be glad in him with psalms.
For the Lord is a great God 
and a great king above all gods. 
Come, let us worship and bow down 
and kneel before the Lord our Maker.
For he is our God; 
we are the people of his pasture and the sheep of his hand. 
Glory to the Father and to the Son
and to the Holy Spirit;
as it was in the beginning is now
and shall be for ever. Amen.
Blessed are you, creator of all,
to you be praise and glory for ever.
As your dawn renews the face of the earth
bringing light and life to all creation,
may we rejoice in this day you have made;
as we wake refreshed from the depths of sleep,
open our eyes to behold your presence
and strengthen our hands to do your will,
that the world may rejoice and give you praise.
Blessed be God, Father, Son and Holy Spirit.
Blessed be God for ever.
The Collect
Silence is kept.
Eternal God,
you crown the year with your goodness
and you give us the fruits of the earth in their season:
grant that we may use them to your glory,
for the relief of those in need and for our own well-being;
through Jesus Christ your Son our Lord,
who is alive and reigns with you,
in the unity of the Holy Spirit,
one God, now and for ever.
Amen
The First Hymn
We Plough the Fields:   please access Simon's accompaniment here: 
1 We plough the fields and scatter
the good seed on the land,
but it is fed and watered
by God's almighty hand.
He sends the snow in winter,
the warmth to swell the grain,
the breezes and the sunshine,
and soft refreshing rain.

All good gifts around us
are sent from heaven above;
then thank the Lord, O thank the Lord
for all his love.
2 He only is the Maker
of all things near and far;
he paints the wayside flower,
he lights the evening star;
the wind and waves obey him,
by him the birds are fed;
much more to us, his children,
he gives our daily bread. [Refrain]
3 We thank you, then, O Father,
for all things bright and good:
the seed-time and the harvest,
our life, our health, our food;
Accept the gifts we offer
for all thy love imparts,
and what thou most desirest,
our humble, thankful hearts! [Refrain]
The First Reading:
Deuteronomy 8:7-18
Psalm 65
Refrain:    Be joyful in God, all the earth.
1    Praise is due to you, O God, in Zion;  ♦
to you that answer prayer shall vows be paid.
2    To you shall all flesh come to confess their sins;  ♦
when our misdeeds prevail against us,
you will purge them away.
3    Happy are they whom you choose
and draw to your courts to dwell there.  ♦
We shall be satisfied with the blessings of your house,
even of your holy temple. [R]
4    With wonders you will answer us in your righteousness,
O God of our salvation,  ♦
O hope of all the ends of the earth
and of the farthest seas.
5    In your strength you set fast the mountains  ♦
and are girded about with might.
6    You still the raging of the seas,  ♦
the roaring of their waves
and the clamour of the peoples.
7    Those who dwell at the ends of the earth
tremble at your marvels;  ♦
the gates of the morning and evening sing your praise. [R]
8    You visit the earth and water it;  ♦
you make it very plenteous.
9    The river of God is full of water;  ♦
you prepare grain for your people,
for so you provide for the earth.
10  You drench the furrows and smooth out the ridges;  ♦
you soften the ground with showers and bless its increase.
11  You crown the year with your goodness,  ♦
and your paths overflow with plenty.
12  May the pastures of the wilderness flow with goodness  ♦
and the hills be girded with joy.
13  May the meadows be clothed with flocks of sheep  ♦
and the valleys stand so thick with corn
that they shall laugh and sing.
Refrain:    Be joyful in God, all the earth.
May the richness of your creation, Lord,
and the mystery of your providence
lead us to that heavenly city
where all peoples will bring their wealth,
forsake their sins and find their true joy,
Jesus Christ our Lord.
Amen
The Second Reading:
2 Corinthians 9:6-end
The Gospel:
Luke 12:16-30
Homily
Three of our four churches are celebrating Harvest Festival today, and may be using different Harvest readings from those we have just read, but for this short reflection let us consider primarily the Gospel verses Luke 12: 16-30, containing the familiar parable of the rich fool, and the teaching following about worldly care.
There is a lesson that most of us discover at some stage in life, and that is that we cannot rely ultimately on what we possess.  Whilst wealth, and the possession of many things, is not in itself a problem, what Jesus homes in on is the potential danger that wealth can bring: a certain confidence in one's own security and a boost to the ego that is spiritually debilitating.
The parable makes this point, and what follows in Luke is a series of sayings that demonstrate that there are other things, besides wealth, that can have the same undermining effect upon our spiritual health, namely and primarily: anxiety.
These thoughts translate into Harvest reflections without any difficulty.  The mere fact of the offering of the fruits of the earth in an act of worship and praise, is a matter of acknowledging that they came ultimately from the Creator, however much a farmer or gardener may have had something to do with the growing.  They are a gift of God, and as such are not ours to possess, nor ours to relieve anxiety; they are ours to use responsibly and with care for sustainability and the health of the environment - and for us to give thanks and praise for them.
We come today to the end of the Creation Season of the Church's Year, which runs from 1st September until the 4th October - St Francis of Assisi's Day.  Today.  In this season we are giving thanks, certainly, but are also conscious of humanity's failure in terms of its responsibility, sustainability and protection of the natural world, and recognising the immense damage that humanity is bringing on this planet.  So with our thanksgiving comes an appeal to preserve and renew, and think again about what stewardship means. 
We can as a nation, and a member of the worldwide family of nations, metaphorically build larger and larger barns to contain the rate of productivity increase.  It is here that the pandemic introduces another element into our thought, for this is the sudden catastrophe that bigger storage facilities and increased productivity cannot overcome.  They can help, of course, but with that, in the spirit of this parable of the rich fool, comes the question as to how much we are prepared to share with those who have much less - or no barn and storage at all - as the need to open the doors and spread God's bounty is overwhelming in the face of humanitarian disasters such as that in the Yemen and elsewhere at this very time.
John Mann
Second Hymn 
Come, ye thankful people, come: https://youtu.be/zeGCqHCcBYo
1 Come, ye thankful people, come, 
raise the song of harvest home; 
all is safely gathered in, 
ere the winter storms begin. 
God, our Maker, doth provide 
for our wants to be supplied; 
come to God's own temple, come; 
raise the song of harvest home. 
2 All the world is God's own field, 
fruit unto his praise to yield; 
wheat and tares therein are sown, 
unto joy or sorrow grown; 
ripening with a wondrous power, 
til the final harvest-hour: 
grant, O Lord of life, that we 
holy grain and pure may be. 
3 For we know that thou wilt come,
and wilt take thy people home; 
from thy field wilt purge away
all that doth offend, that day;
and thine angels charge at last 
in the fire the tares to cast; 
but the fruitful ears to store 
in thy garner evermore. 
4 Come then, Lord of mercy, come,
bid us sing thy harvest home; 
let thy saints be gathered in, 
free from sorrow, free from sin, 
all upon the golden floor, 
praising thee for evermore: 
come, with all thine angels, come, 
bid us sing thy harvest home.
Prayers
Let us offer our prayers to God for the life of the world 
and for all God's people in their daily life and work.
God, the beginning and end of all things, 
in your providence and care 
you watch unceasingly over all creation; 
we offer our prayers that in us and in all your people 
your will may be done, according to 
your wise and loving purpose in Christ our Lord.
Lord of the harvest, in your mercy hear our prayer.
We pray for all through whom 
we receive sustenance and life; 
for farmers and agricultural workers,
for packers, distributors and company boards; 
as you have so ordered our life 
that we depend upon each other,
enable us by your grace 
to seek the well-being of others before our own.
Lord of the harvest, in your mercy hear our prayer.
We pray for all engaged in research 
to safeguard crops against disease, 
and to produce abundant life 
among those who hunger and whose lives are at risk. 
Prosper the work of their hands 
and the searching of their mind 
that their labour may be for the welfare of all. 
Lord of the harvest, in your mercy hear our prayer.
We pray for governments and aid agencies, 
and those areas of the world where there is 
disaster, drought and starvation. 
By the grace of your Spirit, 
touch our hearts and the hearts 
of all who live in comfortable plenty, 
and make us wise stewards of your gifts. 
Lord of the harvest, in your mercy hear our prayer.
We pray for those who are ill, 
remembering those in hospital and nursing homes
and all who are known to us. 
We pray for all who care for them. 
Give skill and understanding 
to all who work for their well-being. 
Lord of the harvest, in your mercy hear our prayer.
We remember those who have died, 
whom we entrust to your eternal love 
in the hope of resurrection to new life. 
Lord of the harvest, in your mercy hear our prayer.
We offer ourselves to your service, 
asking that by the Spirit at work in us 
others may receive a rich harvest 
of love and joy and peace. 
Lord of the harvest, in your mercy hear our prayer.
Merciful Father, accept these our prayers 
for the sake of your Son, our Saviour Jesus Christ. Amen.
The Peace
The risen Christ came and stood among his disciples and said, "Peace be with you."  Then were they glad when they saw the Lord
The Lord's Prayer
A few moments of silence before we pray:
Lord of the harvest,
with joy we have offered thanksgiving for your love in creation
and have shared in the bread and the wine of the kingdom:
by your grace plant within us a reverence for all that you give us
and make us generous and wise stewards
of the good things we enjoy;
through Jesus Christ our Lord.
Amen.
Conclusion
The Lord bless us and keep us:
Amen.
The Lord make his face to shine upon us,
and be gracious to us:
Amen.
The Lord lift up his countenance upon us
and give us peace:
Amen
Numbers 6.24-26
The Lord God almighty, Father, Son, and Holy Spirit,
the holy and undivided Trinity,
guard us, save us,
and bring us to that heavenly city,
where he lives and reigns for ever and ever.
Amen.
Allegro - Boellmann: https://youtu.be/ZS3eAIVyuHc
If you would like to make a donation to the church in Swanage, we will be most grateful. At present this is best done by BACS of which the details are:
Nationwide Building Society
Account name: Swanage PCC
Account Number: 70585005
Sort code: 07-00-55
Please give your name as reference.