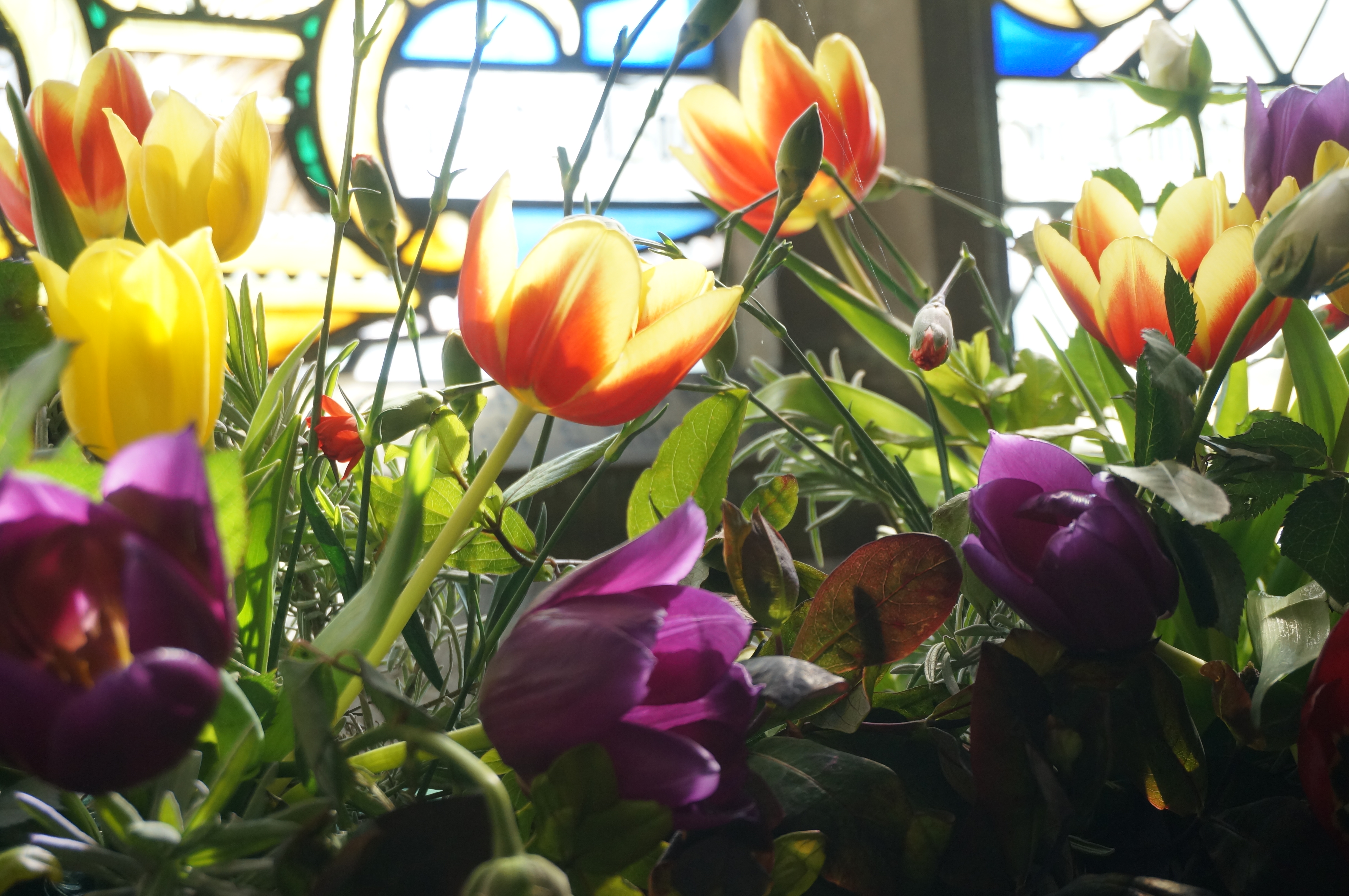 ---
A Service for the Fourth Sunday in Lent - Mothering Sunday
Sunday 14th March, 2021
Preparation
There is an opportunity to light a candle at the beginning of this service so it would be good to have one to hand with a match or lighter ready.
Heavenly Father, we rejoice with thanks for all those who have mothered us in our lives. In a world that is broken and in need of your motherly love, please use us to aid others as you do us in providing comfort, nurture, protection and support. We ask that you grow us as carers to those who need us, so that we might celebrate your goodness together even through our own brokenness. Amen  
God our Father, as Pharaoh's daughter noticed the needs of a small child alone in the reeds, so help us to notice those areas of our own lives needing care and attention. 
We light a candle to remind us that the love of God is like a light in our darkness.
Blessed be God for ever.
We praise you, our God, for all mothers who have loved and laughed and laboured as they cared for their children;
Blessed be God for ever.
We praise you, our God, for all mothers who wept in sorrow and in joy for their children.
Blessed be God for ever.
We praise you, our God, for Jesus, born of a woman and nurtured in her love and for Mary, a reminder of your patient, waiting love.
Blessed be God for ever.
Let us call to mind our sin, our failure to value the love of others and our failure to love as Christ loved us.
Prayer of Penitence
We have failed to nurture the needy, 
Lord, have mercy.

We have failed to make space in our lives for the broken-hearted. 
Christ, have mercy.

We struggle to forgive those who have withheld their love from us. 
Lord, have mercy. 
May the Father of all mercies cleanse us from our sins, and restore us in his image to the praise and glory of his name, through Jesus Christ our Lord. 
Amen
Merciful Lord, you know our struggle to serve you: when sin spoils our lives and overshadows our hearts, come to our aid and turn us back to you again; through Jesus Christ our Lord. 
Amen 
Collect
God of compassion,
whose Son Jesus Christ, the child of Mary,
shared the life of a home in Nazareth,
and on the cross, drew the whole human family to himself:
strengthen us in our daily living
that in joy and in sorrow we may know the power of your presence to bind together and to heal; through Jesus Christ your Son our Lord,
who is alive and reigns with you,
in the unity of the Holy Spirit,
one God, now and forever.
Amen 
The First Reading:
Exodus 2:1-10
Now a man from the house of Levi went and married a Levite woman. The woman conceived and bore a son; and when she saw that he was a fine baby, she hid him for three months. When she could hide him no longer she got a papyrus basket for him, and plastered it with bitumen and pitch; she put the child in it and placed it among the reeds on the bank of the river. His sister stood at a distance, to see what would happen to him.
The daughter of Pharaoh came down to bathe at the river, while her attendants walked beside the river. She saw the basket among the reeds and sent her maid to bring it. When she opened it, she saw the child. He was crying, and she took pity on him. 'This must be one of the Hebrews' children,' she said. Then his sister said to Pharaoh's daughter, 'Shall I go and get you a nurse from the Hebrew women to nurse the child for you?' Pharaoh's daughter said to her, 'Yes.' So the girl went and called the child's mother. Pharaoh's daughter said to her, 'Take this child and nurse it for me, and I will give you your wages.' So the woman took the child and 
nursed it. When the child grew up, she brought him to Pharaoh's daughter, and she took him as her son. She named him Moses, 'because', she said, 'I drew him out of the water.'
This is the Word of the Lord
Thanks be to God
Psalm 34 vv 11-20
Refrain:    O taste and see that the Lord is gracious.
11  Come, my children, and listen to me;  ♦
I will teach you the fear of the Lord.
12  Who is there who delights in life  ♦
and longs for days to enjoy good things?
13  Keep your tongue from evil  ♦
and your lips from lying words.
14  Turn from evil and do good;  ♦
seek peace and pursue it. [R]
15  The eyes of the Lord are upon the righteous  ♦
and his ears are open to their cry.
16  The face of the Lord is against those who do evil,  ♦
to root out the remembrance of them from the earth.
17  The righteous cry and the Lord hears them  ♦
and delivers them out of all their troubles.
18  The Lord is near to the brokenhearted  ♦
and will save those who are crushed in spirit. [R]
19  Many are the troubles of the righteous;  ♦
from them all will the Lord deliver them.
20  He keeps all their bones,  ♦
so that not one of them is broken.
Refrain:    O taste and see that the Lord is gracious.
Send your holy angels
to watch over us, O God,
that on our lips will be found your truth
and in our hearts your love;
so we may ever taste your goodness
in the land of the living;
through Jesus Christ our Lord.
The Second Reading
2 Corinthians 1:3-7
Blessed be the God and Father of our Lord Jesus Christ, the Father of mercies and the God of all consolation, who consoles us in all our affliction, so that we may be able to console those who are in any affliction with the consolation with which we ourselves are consoled by God. For just as the sufferings of Christ are abundant for us, so also our consolation is abundant through Christ. If we are being afflicted, it is for your consolation and salvation; if we are being consoled, it is for your consolation, which you experience when you patiently endure the same sufferings that we are also suffering. Our hope for you is unshaken; for we know that as you share in our sufferings, so also you share in our consolation.
This is the Word of the Lord
Thanks be to God
First Hymn
Tell Out My Soul:https://youtu.be/VD3qWysIL0Y
Tell out, my soul, the greatness of the Lord!
Unnumbered blessings, give my spirit voice;
Tender to me the promise of his word;
In God my Saviour shall my heart rejoice.
Tell out, my soul, the greatness of his name!
Make known his might, the deeds his arm has done;
His mercy sure, from age to age the same;
His holy name, the Lord, the mighty One.
Tell out, my soul, the greatness of his might!
Powers and dominions lay their glory by;
Proud hearts and stubborn wills are put to flight,
The hungry fed, the humble lifted high.
Tell out, my soul, the glories of his word!
Firm is his promise, and his mercy sure.
Tell out, my soul, the greatness of the Lord
To children's children and forever more!
The Gospel:
Luke 2:33-35
Hear the Gospel of our Lord Jesus Christ according to Luke
Glory to you, O Lord.
And the child's father and mother were amazed at what was being said about him. Then Simeon blessed them and said to his mother Mary, 'This child is destined for the falling and the rising of many in Israel, and to be a sign that will be opposed so that the inner thoughts of many will be revealed—and a sword will pierce your own soul too.'
This is the Gospel of the Lord.
Praise to you, O Christ.
Homily
Immediately before the verses appointed for the Gospel today, Simeon has spoken of Jesus as a light for revelation to the Gentiles and is clear about the effect that he will have on the world.  In this faith he, Simeon, is happy to die, having seen the agent of God's salvation in his arms before the child's parents.  This is from St Luke, but you will recall that from the very beginning of St John's Gospel we have talk of light in the darkness too.  It is indeed one of the most powerful images that we have for recognising the presence of the Divine and the absence of God too.  God has given human beings the initiative, whilst ultimately we acknowledge that he never loses control.  God knows how to free the world from the power of sin and death, by the gift in love to us of his Son – but allows the sacrificial effect of this gift to be violently realised by the action of human beings, soldiers under orders from those in positions of religious and political authority, inflicting Christ with his Passion and Crucifixion.
The reality and importance of belief becomes clear as we read the text of today's Gospel.   That belief is shown by Simeon and also by Mary.  We can only come to the light, because the light has come into the world; we only have the choice between good and evil because we have been created with the need to make this choice.  These points are fundamental to an understanding of the redemptive acts of God, and our response that neither denies the element of human choice, nor represents Christ as creating, externally as it were, the conditions for salvation, but at the same time letting us get on with it. That will have its effect; that effect being that whilst this child "is set for the fall and rising of many in Israel"  that, "a sword will pierce through" her, Mary's, "own soul too". This seems to indicate that God's plan inevitably is going to cause a reaction of darkness and falsehood, and a falling away, in order that many may be drawn to the light and the truth. 
So it is that we find ourselves, like Simeon, to be both observers of the good and evil influences at work in the world around us, and very much involved in the things that affect us in daily life.  We can observe what Luke means when he relates Simeon's words in the Temple that day to the pain and suffering that is to come, in the same was as Jesus spoke about people loving darkness and not wanting to come to the light lest their deeds be exposed - and we can know within ourselves these very things at work as we are drawn aside from seeking the light to experience the things that we know to be wrong.  Saint Paul found himself doing this very thing and we are no different, as he wrote to the Corinthian Church on the saying of both suffering and comfort, in today's Epistle.
These reflections on the sword in the heart of being a human being under God's Almighty plan of action may not seem directly relevant to that other celebration on the 4th Sunday of Lent, namely Mothering Sunday, but they are, in so far as, families are one of the best examples of the power of love and sacrifice in the face of difficult circumstances that we can imagine.  We celebrate motherhood today and give thanks to God for all that it conveys for our sense of family, whilst recognising the loss that many feel which is so heightened by the celebrations, generally widespread on Mothering Sunday - at least in a normal year.  Zoom and FaceTime will be fully stretched to cope with many virtual comings-together today.
So, for some this day is a day of laughter and fun, of coming together and perhaps of memories of childhood and happy times, whilst for others it is a sad day, but in every case the emotional place of meeting creates the opportunity (whether taken or not) for the healing work of God to proceed; the place where things sometimes go wrong is also the place where what is renewing and true is so often found.  
Let us not fear an experience of some temptation, some testing, even some darkness, if through it we may find within ourselves a more worthy response to the deeper needs of this world - whether across the world we experience this through the media in its various guises, or in our own lives in a much more direct way.  
As we approach the deepening sense of Passiontide from next Sunday, we call to mind that the place of meeting is a good place for us all to find the challenge and opportunity for renewal.  May Christ be at that point for us, as he was in the Upper Room, Gethsemane and at Calvary, and may our response to his love be ever greater as we seek his face and encounter in these days of Lent.
John Mann
Second hymn
For Mary, Mother of our Lord: https://youtu.be/nTpjD09swjw
For Mary, Mother of our Lord,
God's holy name be praised;
Who first the Son of God adored
as on her child she gazed.
Brave, holy Virgin, she believed
-though hard the task assigned-
and by the Holy Ghost conceived
the Saviour of 'man'kind.
She gave her body as God's shrine,
her heart to piercing pain;
she knew the cost of love divine
when Jesus Christ was slain.
Dear Mary, from your lowliness
and home in Galilee,
flow out a joy and holiness
to every family.
Hail Mary, you are full of grace,
above all women blessed,
and blessed your Son whom you embrace,
in birth and death confessed.
Prayers of Intercession
We give thanks for the Church, our mother, who brought us to birth in the family of Christ, through the waters of baptism. We pray that all Christians will hear again God's call to mother those in need, and bring them home to God. 
Lord, in your mercy. 
Hear our prayer. 
We pray for all those in authority in our nation and in our world. May they learn from the example of Jesus Christ that true power is the power to feed the poor and the hungry, to make a home for the homeless and to offer hospitality to the broken-hearted. 
Lord, in your mercy. 
Hear our prayer. 
We pray for our own community. May everyone in Swanage see each other as brothers and sisters, called to sit at God's family table together. Let us work together for that great day when God comes again to restore . 
Lord, in your mercy. 
Hear our prayer. 
We pray for all mothers today and all who care for young children.  Bring joy and happiness to their celebration of this special Sunday.  May love surround the families whose home is this town of Swanage.  Bless those whose children are far away.
Lord, in your mercy. 
Hear our prayer.
We pray for all who suffer today, in mind, body or spirit. In particular, we pray for those who have lost a motherly presence, and for those who have never known a mother's love. May they find consolation in God, the one in whom every family on earth finds its home. 
Lord, in your mercy. 
Hear our prayer.

We give thanks for all who have loved us and nurtured us in faith. May we be bold to share what we have received. 
Lord, in your mercy. 
Hear our prayer. 
We give thanks for all those who have gone before us into the many mansions of the Father's home. May we learn from them to trust God's care and provision for us, all the days of our life and into our death. 
Lord, in your mercy. 
Hear our prayer. 
Merciful Father, accept these our prayers for the sake of your Son, our Saviour Jesus Christ. Amen
The Peace
Since we are justified by faith,
we have peace with God through our Lord Jesus Christ,
who has given us access to his grace.
The peace of the Lord be always with you
and also with you.
The Lord's Prayer
As our Saviour taught us, so we pray
Our Father in heaven,
hallowed be your name,
your kingdom come,
your will be done,
on earth as in heaven.
Give us today our daily bread.
Forgive us our sins
as we forgive those who sin against us.
Lead us not into temptation
but deliver us from evil.
For the kingdom, the power,
and the glory are yours
now and for ever.    
Amen.
Loving God,
as a mother feeds her children at the breast
you feed us in the sacrament of holy communion
     with the food and drink of eternal life:
help us who have tasted your goodness
to grow in grace within the household of faith:
through Jesus Christ our Lord.
Amen.
The Blessing
Christ give us grace to grow in holiness,
to deny ourselves, take up our cross, and follow him;
and the blessing of God almighty,
the Father, the Son, and the Holy Spirit,
be among us and remain with us always.
Amen.
Voluntary: Prelude in C minor - J.S.Bach: https://youtu.be/odd4oFzhFvc
Common Worship: Times and Seasons, material from which is included here,
is copyright © The Archbishops' Council 2006 and published by Church House Publishing.
If you would like to make a donation to the church in Swanage, we will be most grateful. At present this is best done by BACS of which the details are:
Nationwide Building Society
Account name: Swanage PCC
Account Number: 70585005
Sort code: 07-00-55
Please give your name as reference.