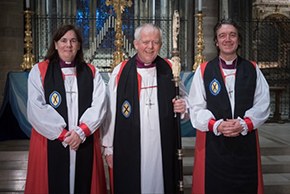 ---
A Service for the Fourteenth Sunday after Trinity, 13th September 2020
Preparation:
Before beginning to read this short service, you may wish to find a space for prayer in front of a cross, a candle, or a special place.  
May the light of Christ, rising in glory, banish all darkness from our hearts and minds.
The Acclamation of Christ at the Dawning of the Day
O Lord, open our lips
and our mouth shall proclaim your praise.
May Christ, the true, the only light
banish all darkness from our hearts and minds.
O come, let us sing to the Lord; 
let us heartily rejoice in the rock of our salvation. 
Let us come into his presence with thanksgiving 
and be glad in him with psalms.
For the Lord is a great God 
and a great king above all gods. 
Come, let us worship and bow down 
and kneel before the Lord our Maker.
For he is our God; 
we are the people of his pasture and the sheep of his hand. 
Glory to the Father and to the Son
and to the Holy Spirit;
as it was in the beginning is now
and shall be for ever. Amen.
Blessed are you, creator of all,
to you be praise and glory for ever.
As your dawn renews the face of the earth
bringing light and life to all creation,
may we rejoice in this day you have made;
as we wake refreshed from the depths of sleep,
open our eyes to behold your presence
and strengthen our hands to do your will,
that the world may rejoice and give you praise.
Blessed be God, Father, Son and Holy Spirit.
Blessed be God for ever.
The Collect
Silence is kept.
Almighty God,
whose only Son has opened for us
a new and living way into your presence:
give us pure hearts and steadfast wills
to worship you in spirit and in truth;
through Jesus Christ your Son our Lord,
who is alive and reigns with you,
in the unity of the Holy Spirit,
one God, now and for ever.
Amen
The First Hymn
Lead Us Heavenly Father (224):   please access Simon's accompaniment here: 
1 Lead us, heavenly Father, lead us
o'er the world's tempestuous sea;
guard us, guide us, keep us, feed us,
for we have no help but thee;
yet possessing every blessing,
if our God our Father be.
2 Saviour, breathe forgiveness o'er us:
all our weakness thou dost know;
thou didst tread this earth before us,
thou didst feel its keenest woe;
lone and dreary, faint and weary,
through the desert thou didst go.
3 Spirit of our God, descending,
fill our hearts with heavenly joy,
love with every passion blending,
pleasure that can never cloy:
thus provided, pardoned, guided,
nothing can our peace destroy
The First Reading:
Genesis 50: 15-21
Psalm 103: 1-13
Refrain:    The Lord is full of compassion and mercy.
1    Bless the Lord, O my soul,  ♦
and all that is within me bless his holy name.
2    Bless the Lord, O my soul,  ♦
and forget not all his benefits;
3    Who forgives all your sins  ♦
and heals all your infirmities;
4    Who redeems your life from the Pit  ♦
and crowns you with faithful love and compassion;
5    Who satisfies you with good things,  ♦
so that your youth is renewed like an eagle's. [R]
6    The Lord executes righteousness  ♦
and judgement for all who are oppressed.
7    He made his ways known to Moses  ♦
and his works to the children of Israel.
8    The Lord is full of compassion and mercy,  ♦
slow to anger and of great kindness.
9    He will not always accuse us,  ♦
neither will he keep his anger for ever.
10  He has not dealt with us according to our sins,  ♦
nor rewarded us according to our wickedness. [R]
11  For as the heavens are high above the earth,  ♦
so great is his mercy upon those who fear him.
12  As far as the east is from the west,  ♦
so far has he set our sins from us.
13  As a father has compassion on his children,  ♦
so is the Lord merciful towards those who fear him. [R]
The Second Reading:
Romans 14: 1-12
The Gospel:
Matthew 18: 21-35
Homily
Last Sunday, when we heard the Gospel reading Matthew 18: 15-20, immediately prior to today's text, I led us on to the first verse of the Gospel for today, in which Peter asks Jesus the question, "Lord, if another member of the Church sins against me, how often should I forgive?  As many as seven times?"   Jesus said to him, "Not seven times, but I tell you seventy-seven times."  And then comes today's parable.
It is a tricky parable indeed, about a king who dismisses a huge debt owed by one of his servants, but minutes later that man refuses to cancel the debt of a fellow servant who cannot manage to repay either.  In fact, this has been described as a "prickly parable", because it seems to be about doing unto others as you would wish others to do to you - so it seems to be pricking the conscience.  But that is not the point….
Let us examine it from another angle.  How do you feel when something really good has happened to you; some sense of release or removal of an anxiety?  Forgiveness is of this order.  Someone has been able, because it is within their power to smooth out our life, and it may be at some cost to them, but they have done it.  This is an experience of forgiveness, it is an experience of grace.  
However, in the parable that is before us today, the servant who was forgiven the debt, didn't get it at all did he?  Maybe he even prided himself on his own powers of persuasion; he was actually chock-full of his own importance.  He felt a million pounds because he was congratulating himself on having managed to get himself out of debt.  Fantastic!  And, he wasn't going to let anyone pull a fast-one on him like that.  Hence his attitude to his fellow servant, not just in words, but in physically seizing him by the throat.  We know how it ends for him, as the king responds and has him imprisoned.
When it gets to the end of the parable, the key verse is verse 33, and the question, "Should not you have had mercy on your fellow servant, as I had mercy on you?"   In other words, it is not that we should do something or act in a particular way in order that we may receive what we want.  The fact is that we have already been granted it.  We have already been forgiven!  It is how we respond that is the issue, not how we act in order to get.  
So, we are not to keep scores, or tot up amounts, or count how many times we forgive.  The grace of God is ours; the forgiveness of God is already a promise fulfilled; the love of God is ever present.  We have not had to do anything to merit any of theses acts of grace.  But we can respond to others after their example.
John Mann
Second Hymn 
Praise My Soul (192): https://youtu.be/Gk6BWKRQyqs
1 Praise, my soul, the King of heaven;
to his feet your tribute bring.
Ransomed, healed, restored, forgiven,
evermore his praises sing.
Alleluia, alleluia!
Praise the everlasting King!
2 Praise him for his grace and favour
to his people in distress.
Praise him, still the same as ever,
slow to chide, and swift to bless.
Alleluia, alleluia!
Glorious in his faithfulness!
3 Father-like, he tends and spares us;
well our feeble frame he knows.
In his hand he gently bears us,
rescues us from all our foes.
Alleluia, alleluia!
Widely yet his mercy flows!
4 Angels, help us to adore him;
you behold him face to face.
Sun and moon, bow down before him,
dwellers all in time and space.
Alleluia, alleluia!
Praise with us the God of grace! 
Prayers
Heavenly Father, we pray for your Church in all the world, especially for this Diocese of Salisbury and for Nicholas and Karen our Bishops.  We pray for the Church in Swanage and Studland and for all engaged in ministry and mission.  Especially we pray at this time for Solveig to be ordained priest, and Nick to be ordained deacon on Saturday 26th September.  We remember all who are beginning a new sphere or nature of ministry in this Diocese of Salisbury.
Lord, in your mercy
Hear our prayer
Lord Jesus, you taught your followers to lay up treasure in heaven and not to rely upon the fleeting security of this world's wealth; bring to our awareness our own attitudes towards what we possess and help us to see more clearly how best to use the resources we have.  Especially we pray today for those who have crippling debts and for those with the resources to help them and give them a new chance.  Help us in our own response to those who need us, and give us the will to forgive, as we have been forgiven.
Lord, in your mercy
Hear our prayer
Lord Jesus Christ, grant to our national politicians wisdom in their deliberations and direction in their decisions especially through the current health crisis, and in local government, bless the town council of Swanage, and parish council of Studland, and all who live and work here.
Lord, in your mercy
Hear our prayer
Lord, we remember before you the sick in body, mind and spirit.  Bring healing to those who have asked for our prayer as we bring them to mind in a moment of silence:
Silence
May your blessing rest on those for whom we pray, known or unknown; and may the comfort of your Holy Spirit rest on the bereaved, the distressed, those living through times of doubt and hopelessness.  Give strength to the weak, rest to the weary, support and reassurance to all who are close to death.  Stand beside, and when needed carry, all who are exhausted with caring for others assuring them that their loved one is carried too.
Lord, in your mercy
Hear our prayer
Merciful Father accept these our prayers for the sake of your Son, our Saviour, Jesus Christ. Amen
The Peace
The risen Christ came and stood among his disciples and said, "Peace be with you."  Then were they glad when they saw the Lord
The Lord's Prayer
A few moments of silence before we pray:
Lord God, the source of truth and love,
keep us faithful to the apostles' teaching and fellowship,
united in prayer and the breaking of bread,
and one in joy and simplicity of heart,
in Jesus Christ our Lord.
Amen.
Conclusion
The Lord bless us and keep us:
Amen.
The Lord make his face to shine upon us,
and be gracious to us:
Amen.
The Lord lift up his countenance upon us
and give us peace:
Amen
Numbers 6.24-26
The Lord God almighty, Father, Son, and Holy Spirit,
the holy and undivided Trinity,
guard us, save us,
and bring us to that heavenly city,
where he lives and reigns for ever and ever.
Amen.
After an Old French Air - Percy Whitlock: https://youtu.be/rc4yGdC40OQ
If you would like to make a donation to the church in Swanage, we will be most grateful. At present this is best done by BACS of which the details are:
Nationwide Building Society
Account name: Swanage PCC
Account Number: 70585005
Sort code: 07-00-55
Please give your name as reference.