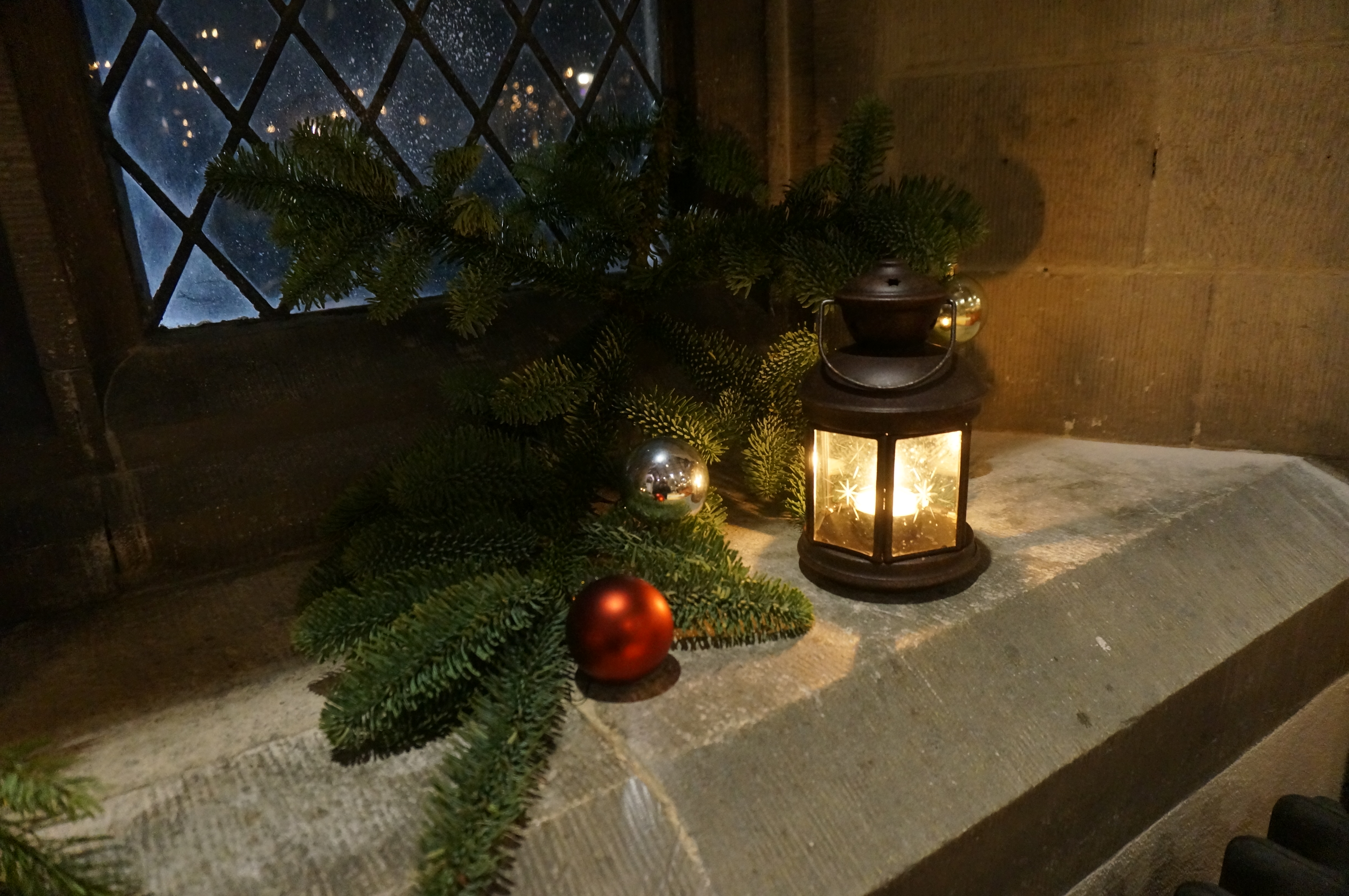 ---
A Service for The Fourth Sunday of Advent, 20th December, 2020
Preparation:
Before beginning to read this short service, you may wish to find a space for prayer in front of a cross, a candle, or a special place.  
The Acclamation of Christ at the Dawning of the Day 
O Lord, open our lips
and our mouth shall proclaim your praise.
May Christ, the true, the only light
banish all darkness from our hearts and minds.
Lord Jesus, you came to gather the nations
into the peace of your kingdom:
Lord, have mercy.
Lord, have mercy.
You come in word and sacrament
to strengthen us in holiness:
Christ, have mercy.
Christ, have mercy.
You will come in glory
with salvation for your people:
Lord, have mercy.
Lord, have mercy.
Blessed are you, creator of all,
to you be praise and glory for ever.
As your dawn renews the face of the earth
bringing light and life to all creation,
may we rejoice in this day you have made;
as we wake refreshed from the depths of sleep,
open our eyes to behold your presence
and strengthen our hands to do your will,
that the world may rejoice and give you praise.
Blessed be God, Father, Son and Holy Spirit.
Blessed be God for ever.
The Collect
Silence is kept.
God our redeemer,
who prepared the Blessed Virgin Mary
to be the mother of your Son:
grant that, as she looked for his coming as our saviour,
so we may be ready to greet him
when he comes again as our judge;
who is alive and reigns with you,
in the unity of the Holy Spirit,
one God, now and for ever.
Amen.
The First Hymn
On Jordan's bank:  please access Simon's accompaniment here: 
1. On Jordan's bank the Baptist's cry
announces that the Lord is nigh;
awake and hearken, for he brings
glad tidings of the King of kings.

2. Then cleansed be every breast from sin;
make straight the way for God within;
prepare we in our hearts a home
where such a mighty guest may come.

3. For thou art our salvation, Lord,
our refuge and our great reward:
without thy grace, we waste away,
like flowers that wither and decay.

4. To heal the sick, stretch out thine hand,
and bid the fallen sinner stand;
shine forth and let thy light restore
earth's own true loveliness once more.

5. All praise, eternal Son, to thee,
whose advent sets thy people free,
whom, with the Father, we adore,
and Holy Spirit, evermore.
The First Reading:
2 Samuel 7: 1-11, 16
Psalm 89: 1-8
1    My song shall be always of the loving-kindness of the Lord:  ♦
with my mouth will I proclaim your faithfulness
    throughout all generations.
2    I will declare that your love is established for ever;  ♦
you have set your faithfulness as firm as the heavens.
3    For you said: 'I have made a covenant with my chosen one;  ♦
I have sworn an oath to David my servant:
4    "'Your seed will I establish for ever  ♦
and build up your throne for all generations."'
5    The heavens praise your wonders, O Lord,  ♦
and your faithfulness in the assembly of the holy ones;
6    For who among the clouds can be compared to the Lord?  ♦
Who is like the Lord among the host of heaven?
7    A God feared in the council of the holy ones,  ♦
great and terrible above all those round about him.
8    Who is like you, Lord God of hosts?  ♦
Mighty Lord, your faithfulness is all around you.
The Second Reading:
Romans 16: 25-end
Alleluia, alleluia.
Prepare the way of the Lord, make his paths straight,
and all flesh shall see the salvation of God.
The Gospel:
Luke 1: 26-38
Homily
Mary, the mother of Jesus, whom we particularly  remember today, was a remarkable mixture of devotion, humility, inner strength, trust and courage:  "May it be to me as you have said" she answered God through his angel Gabriel.
It is interesting to see how the Evangelists record the Nativity of our Lord.  It is only in Matthew and Luke that accounts appear, but they are as different in theological emphasis and attitude to Mary as they are in terms of the actual events that they individually either record or omit. Matthew's basis is the Old Testament prophecies.  In Christ the whole meaning and aspiration of the Old Testament is completed.  Matthew's account is rather more plain and matter of fact than Luke's, which is full of his genius for human compassion.  Matthew gives rather more space to Joseph's reaction to Mary's pregnancy, and tells of his vision.  Mary is introduced as merely, "the betrothed of Joseph", who before their marriage was found to be with child.
When we turn to Luke, the whole emphasis is reversed: Here it is Mary's vision, Mary's joy over Elizabeth's unexpected pregnancy.  It is the motherhood of Mary, the feminine aspect of the Nativity that is to the fore; Luke brings out perfectly what St Paul called, "the goodness and loving kindness of God our Saviour appearing" (Titus 3:4).  It is Luke too who recognises the anguish and conflict which the Nativity is to bring with the joy.  He it is who speaks of the sword of sorrow that will pierce the mother's heart.
This Christmas, as every Christmas, will bring with it a sword of sorrow for many throughout the world, and in many homes the festivities will have a hollow ring.  Death, destruction and evil have not diminished for the remembrance of Christ's birth, any more than it did on the occasion of that birth.  The sword of sorrow has pierced many a mother's heart, and the hearts of wives and husbands and sons and daughters.  This year's pandemic has added to these woes.
Let us pray this Christmas time that the Spirit that overshadowed Mary, and sustained her through joy and sorrow, may be as real to the suffering and bereaved in these present days as it was to her.  None of us knows what lies before us.  May we too have Mary's faith and courage when facing the unseen, and though, like her, we cannot always understand the ways of God, let us remember that our daily duty and joy is in self-giving sacrificial service.  For that we have Mary as an example, as we honour her today.
John Mann
Second Hymn
Hills of the North Rejoice: 
 1 Hills of the North, rejoice,
echoing songs arise,
hail with united voice;
him who made earth and skies:
He comes in righteousness and love,
he brings salvation from above.
2 Isles of the Southern seas,
sing to the listening earth,
carry on every breeze
hope of a world's new birth:
In Christ shall all be made anew,
his word is sure, his promise true.
3 Lands of the East, arise,
he is your brightest morn,
greet him with joyous eyes,
praise shall his path adorn:
the God whom you have longed to know;
in Christ draws near, and calls you now.
4 Shores of the utmost West,
lands of the setting sun,
welcome the heavenly guest
in whom the dawn has come:
he brings a never-ending light
who triumphed o'er our darkest night.
5 Shout, as you journey home,
songs be in every mouth,
lo, from the North they come,
from East and West and South:
in Jesus all shall find their rest,
in him the sons of earth be blest.
Prayers
Almighty God, we pray in these few days before Christmas from our anxieties over so many things, but also from the faith that lies within us and the whole Church of Christ Jesus your Son.  May we, with your grace and protection, find within ourselves, your planting of hope and joy, as the days and hours towards the celebration of the Nativity of our Lord tick by.  Bring us to that place where, with angels and archangels and all the company of heaven, we lift our hearts and voices in praise and thanksgiving for the miracle of the Incarnation, and rejoice in the birth of the Saviour of the World.
Lord, in your mercy,
hear our Prayer.
HeavenlyFather, we pray today for the many in our world that will have the feeling of this being another day to survive; for prisoners of conscience, for those ill-treated, for refugees and those imprisoned in an abusive situation.  We pray too for all who are alone when they would love to be with family or friends, and for all who are sick, depressed, labouring under difficulties of any kind, and those who have been bereaved or for whom this time of the year brings sorrow.  May the bright beams of your mercy and grace rest upon them; bring healing; bring comfort; bring reassurance; bring hope.  
Lord, in your mercy,
hear our Prayer.
Lord Jesus may your presence transform us and our society.  Help us to be the leaven and the salt and the light, proclaiming the freedom, release and desire for justice and an end to poverty be heard in the corridors of power, both in this country and across the world.  As we look to your light coming into the world, may every sign of new hope be seen and bring joy, and draw us closer, that we may show forth what is good and life-giving.
Lord, in your mercy,
hear our prayer.
Lord Jesus Christ, remembering the many who have died in our parishes during the course of the year that is past, and those near death today, may your presence be their reassurance; your life, their strength; your light, their guide upon the path before them.  Bring them to that place of eternal joy, in which they are held ever in your love.
Lord, in your mercy,
hear our prayer.
The Peace
In the tender mercy of our God,
the dayspring from on high shall break upon us,
to give light to those who dwell in darkness
and in the shadow of death,
and to guide our feet into the way of peace.
The Lord's Prayer
A few moments of silence before we pray:
We give you thanks, O Lord, for your heavenly gifts;
kindle in us the fire of your Spirit
that when your Christ comes again
we may shine as lights before his face;
who is alive and reigns now and for ever.
Amen
Conclusion
May God the Father,
who loved the world so much that he sent his only Son,
grant us grace to prepare for life eternal.
Amen.
May God the Son,
who comes to us as redeemer and judge,
reveal to us the path from darkness to light.
Amen.
May God the Holy Spirit,
by whose working the Virgin Mary conceived the Christ,
help us bear the fruits of holiness.
Amen.
The Lord God almighty, Father, Son, and Holy Spirit,
the holy and undivided Trinity,
guard us, save us,
and bring us to that heavenly city,
where he lives and reigns for ever and ever.
Amen.
Nun Kom der Heiden heiland - J.S.Bach: https://youtu.be/k3u1T332OO0
Common Worship: Times and Seasons, material from which is included here,
is copyright © The Archbishops' Council 2006 and published by Church House Publishing.
If you would like to make a donation to the church in Swanage, we will be most grateful. At present this is best done by BACS of which the details are:
Nationwide Building Society
Account name: Swanage PCC
Account Number: 70585005
Sort code: 07-00-55
Please give your name as reference.