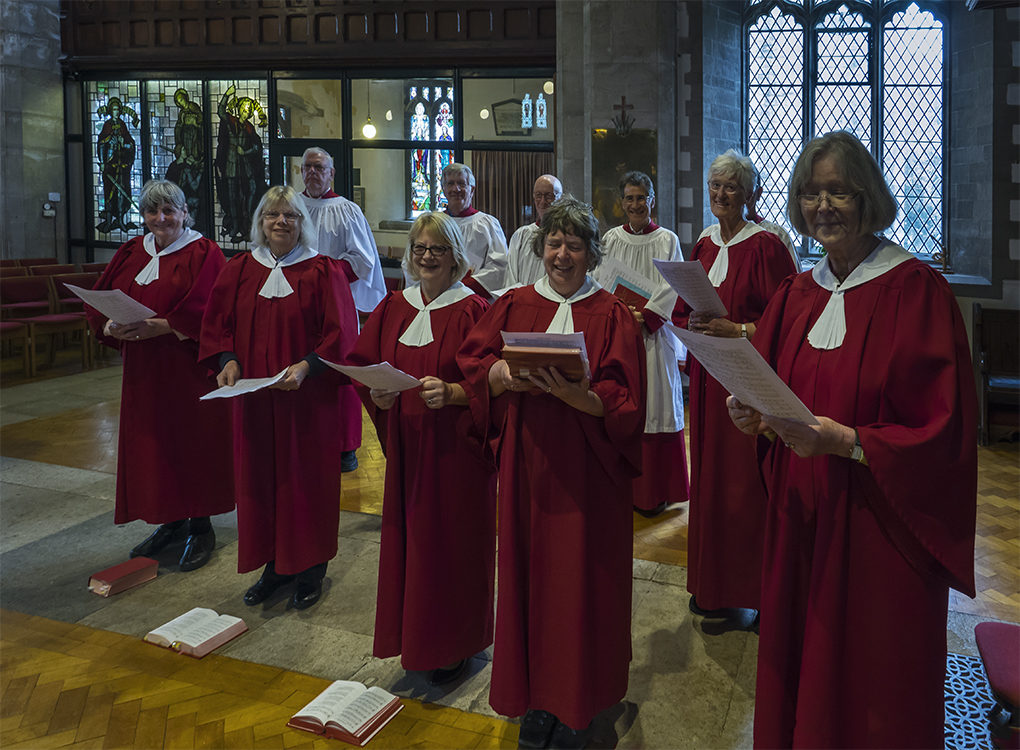 ---
A Service for the Fifteenth Sunday after Trinity, 20th September, 2020
Preparation:
Before beginning to read this short service, you may wish to find a space for prayer in front of a cross, a candle, or a special place.  
May the light of Christ, rising in glory, banish all darkness from our hearts and minds.
The Acclamation of Christ at the Dawning of the Day
O Lord, open our lips
and our mouth shall proclaim your praise.
May Christ, the true, the only light
banish all darkness from our hearts and minds.
O come, let us sing to the Lord; 
let us heartily rejoice in the rock of our salvation. 
Let us come into his presence with thanksgiving 
and be glad in him with psalms.
For the Lord is a great God 
and a great king above all gods. 
Come, let us worship and bow down 
and kneel before the Lord our Maker.
For he is our God; 
we are the people of his pasture and the sheep of his hand. 
Glory to the Father and to the Son
and to the Holy Spirit;
as it was in the beginning is now
and shall be for ever. Amen.
Blessed are you, creator of all,
to you be praise and glory for ever.
As your dawn renews the face of the earth
bringing light and life to all creation,
may we rejoice in this day you have made;
as we wake refreshed from the depths of sleep,
open our eyes to behold your presence
and strengthen our hands to do your will,
that the world may rejoice and give you praise.
Blessed be God, Father, Son and Holy Spirit.
Blessed be God for ever.
The Collect
Silence is kept.
God, who in generous mercy sent the Holy Spirit
upon your Church in the burning fire of your love:
grant that your people may be fervent
in the fellowship of the gospel
that, always abiding in you,
they may be found steadfast in faith and active in service;
through Jesus Christ your Son our Lord,
who is alive and reigns with you,
in the unity of the Holy Spirit,
one God, now and for ever.
Amen
The First Hymn
Teach Me, My God and King:   please access Simon's accompaniment here: 
Teach me, my God and King, 
in all things thee to see, 
and what I do in anything 
to do it as for thee.

A man that looks on glass, 
on it may stay his eye; 
or if he pleaseth, through it pass, 
and then the heaven espy.

All may of thee partake; 
nothing can be so mean, 
which with this tincture, "for thy sake," 
will not grow bright and clean.

A servant with this clause 
makes drudgery divine: 
who sweeps a room, as for thy laws, 
makes that and the action fine.

This is the famous stone 
that turneth all to gold; 
for that which God doth touch and own 
cannot for less be told.
The First Reading:
Jonah 3:10 to the end of chapter 4
Psalm 145:1-8
Refrain:    Great is the Lord and highly to be praised.
1    I will exalt you, O God my King,  ♦
and bless your name for ever and ever.
2    Every day will I bless you  ♦
and praise your name for ever and ever.
3    Great is the Lord and highly to be praised;  ♦
his greatness is beyond all searching out. [R]
4    One generation shall praise your works to another  ♦
and declare your mighty acts.
5    They shall speak of the majesty of your glory,  ♦
and I will tell of all your wonderful deeds.
6    They shall speak of the might of your marvellous acts,  ♦
and I will also tell of your greatness.
7    They shall pour forth the story of your abundant kindness  ♦
and joyfully sing of your righteousness.
8    The Lord is gracious and merciful,  ♦
long-suffering and of great goodness. [R]
King of the universe,
you show the bright glory of your reign
in acts of mercy and enduring love;
raise the spirits of the downcast
and restore those who have fallen away,
that we may sing for ever of your love;
through Jesus Christ our Lord.
Amen
The Second Reading:
Philippians 1: 21-end
The Gospel:
Matthew 20: 1-16
Homily
It is quite peculiar how many so-called righteous people in the Gospels were very unhappy people.  Dour and gloomy they looked out upon the injustices of their world. We think of the elder son in the Parable of the Prodigal Son, annoyed at the fuss when his wastrel brother returned; also there is the Pharisee who lists his self-denials and fasting, and notes his own strict adherence to the law, comparing himself favourably with the publican who was also that day in the Temple at prayer.  Neither of these men were people of joy - or at least they don't come over that way in the Gospel stories.  Yet surely 'Joy' is one of the deepest emotions that lie at the centre of the faith that we profess, and attempt to live out.  Naturally there are times when some tragedy has left us shattered and we may need to seek through prayer to re-find a peace we once had, but the examples that we are looking at this morning are those in which joy is being dissipated because an inner grievance has been allowed to develop.  The point that the householder makes in answering the grumbling of the early-in-the-day-workers is that they are begrudging his generosity.  Those few words 'are you envious because I am generous' cut this parable to the quick, bringing us to the core its teaching, that the gift of God in Christ Jesus is life itself.
But let us set this parable in its context, for that is important too in understanding why Matthew has placed it here, recording that Jesus is speaking this parable in response to what appears at the end of chapter nineteen.  In the latter half of that chapter we read of the rich young man who asks Jesus what he must do to inherit eternal life and Jesus tells him to sell everything and follow him.  Jesus, recognising his deep sorrow at this, speaks of how hard it is for someone who is rich to enter the Kingdom of Heaven; and so comes his analogy to the camel and the eye of the needle.  Peter boldly, as Peter would, asks what they shall receive seeing as they have left everything. 
So the common element of what is of value appears throughout the section and brings us to the core of Christ's teaching on giving and receiving.  When we re-read the parable and re-examine it with these thoughts in mind, we see how carefully Jesus uses the sense of natural injustice in the unequal reward for what is given by us, to be seen in the light of the generosity of God to those who give their life to the way of Christ and follow, however inadequately, his direction. From today's readings it becomes apparent that what matters is not so much how much we do, but how we do it. And so we look back at the parable with fresh eyes that seek what is counter-intuitive in it, for that is what our Lord shows us; a way that strings a thought from the rich young man and his striving for the Kingdom of Heaven, via the camel and the eye of the needle, through the wondering questioning of Peter to see the generosity that streams from the hand of God and gives us life to be received in love and gratitude.  The path indeed is one of life; the experience one of joy.
John Mann
Second Hymn 
Bread of Heaven: https://youtu.be/HEk0lNhyRp8
1 Bread of heaven, on thee we feed,
for thy flesh is meat indeed.
Ever may our souls be fed
with this true and living Bread,
day by day with strength supplied
through the life of Christ who died.
2 Vine of heaven, thy blood supplies
this blest cup of sacrifice.
Lord, thy wounds our healing give,
to thy cross we look and live.
Jesus, may we ever be
grafted, rooted, built in thee.
Prayers
Lord, we pray for your Church in all the world, and especially for the churches of town of Swanage and Studland. As we prepare to look to the future in our own team of churches we pray for vision and discernment as we pray through the process of the appointment of a new team vicar, and remember those who are being newly ordained and commissioned at this time.  Particularly we ask your blessing upon Solveig to be ordained priest and Nick to be ordained deacon this coming Saturday, 26th September.
Lord, in your mercy
hear our prayer.
We pray for nations of the world, especially those at conflict one with another, or within their own land, and for the many vulnerable individuals brought to a state of utter desperation and hopelessness.  Grant to aid agencies and all who are bringing relief the strength and resources to meet the needs of all people on this earth, and to peacemakers the wisdom and determination to end war.
Lord, in your mercy
hear our prayer.
Lord, we commend to your continual care the homes of this town of Swanage and the village of Studland. Put far from our homes every root of bitterness and the single-minded desire for worldly success, that the common good of all people may be furthered in these challenging times, with fear for health and jobs and security shared by those who through a compassionate word, or direct action, are able to help. Fill the hearts of the people with faith and the love of you. Bless the work of our Swanage town council and Studland parish council, and all organisations that are working for the good of the community. 
Lord, in your mercy
hear our prayer.
Lord, we bring before you those who suffer. May we be aware of those around us who are in mental or physical pain. And give us the insight which will lead us to a way in which we can help them.
Lord, in your mercy
hear our prayer.
Lord, from whom neither life nor death can separate those who trust in your love,  and whose love holds us all in your embrace; so unite us to yourself that in fellowship with you we may always be united to our loved ones. Give us courage, constancy and hope, through him who died and was buried and rose again for us.
Merciful Father accept these our prayers for the sake of your Son, our Saviour, Jesus Christ. Amen
The Peace
The risen Christ came and stood among his disciples and said, "Peace be with you."  Then were they glad when they saw the Lord
The Lord's Prayer
A few moments of silence before we pray:
Keep, O Lord, your Church, with your perpetual mercy;
and, because without you our human frailty cannot but fall,
keep us ever by your help from all things hurtful,
and lead us to all things profitable to our salvation;
through Jesus Christ our Lord.
Amen.
Conclusion
The Lord bless us and keep us:
Amen.
The Lord make his face to shine upon us,
and be gracious to us:
Amen.
The Lord lift up his countenance upon us
and give us peace:
Amen
Numbers 6.24-26
The Lord God almighty, Father, Son, and Holy Spirit,
the holy and undivided Trinity,
guard us, save us,
and bring us to that heavenly city,
where he lives and reigns for ever and ever.
Amen.
Voluntary: Postlude in C - Henry Smart: https://youtu.be/vuSD0Cdsj0c
If you would like to make a donation to the church in Swanage, we will be most grateful. At present this is best done by BACS of which the details are:
Nationwide Building Society
Account name: Swanage PCC
Account Number: 70585005
Sort code: 07-00-55
Please give your name as reference.