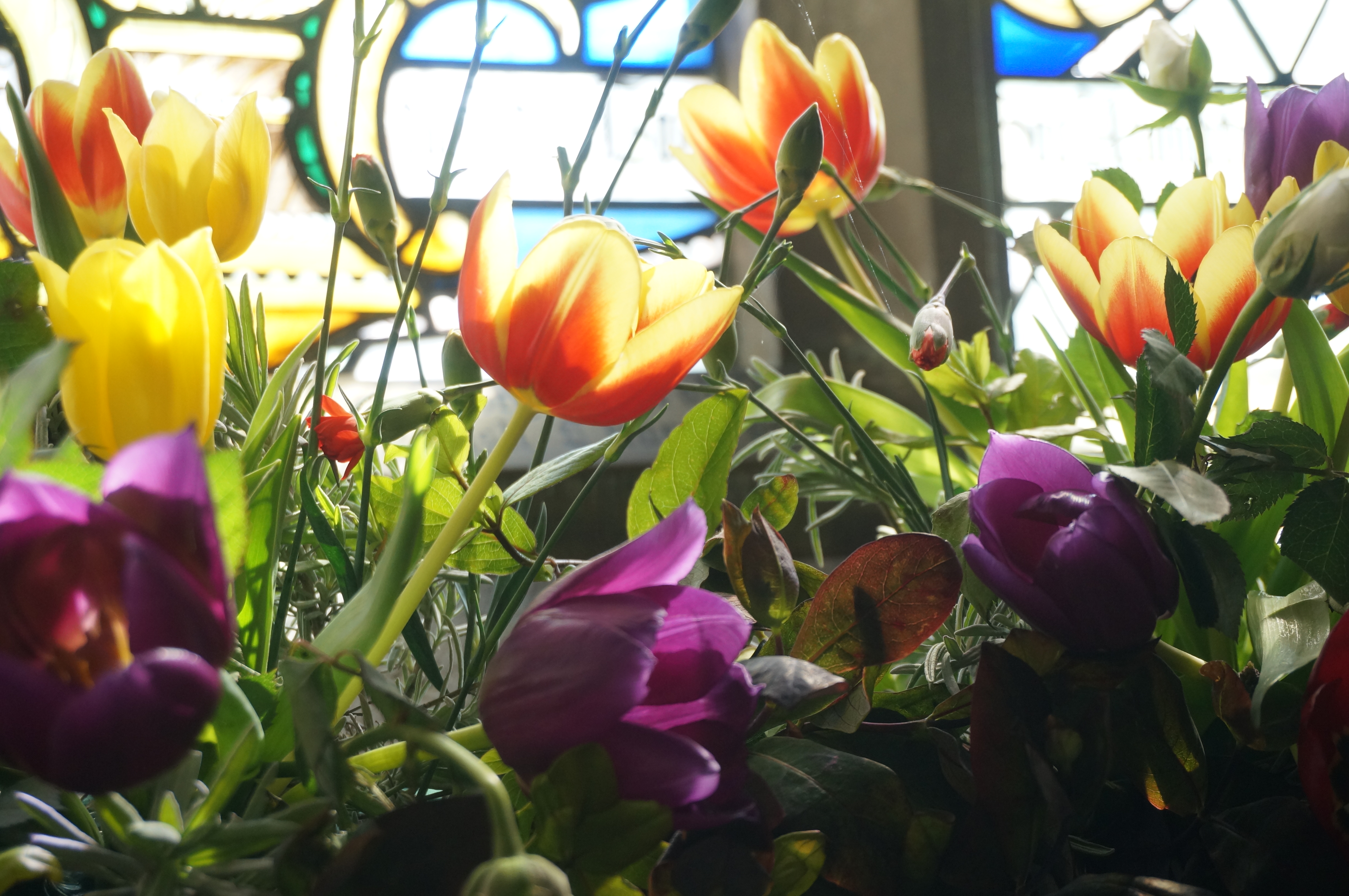 ---
A Service for the Second Sunday of Easter - 11th April 2021
Preparation:
Before beginning to read this short service, you may wish to find a space for prayer in front of a cross, a candle, or a special place.  During the Easter Season we call to mind the days when our Lord passed from death to life and appeared to his disciples and spoke with them.  
May the light of Christ, rising in glory, banish all darkness from our hearts and minds.
Alleluia.  Christ is risen.
He is risen indeed.  Alleluia
The Collect
Let us pray that we may walk the risen life of Christ in glory.
Silence is kept.
Risen Christ,
for whom no door is locked, no entrance barred:
open the doors of our hearts,
that we may seek the good of others
and walk the joyful road of sacrifice and peace,
to the praise of God the Father.
Amen.
The First Hymn
Love's Redeeming Work is Done - please access Simon's accompaniment here: 
1  Love's redeeming work is done;
fought the fight, the battle won:
lo, our Sun's eclipse is o'er,
lo, he sets in blood no more.
2 Vain the stone, the watch, the seal;
Christ has burst the gates of hell;
death in vain forbids his rise;
Christ has opened Paradise.
3 Lives again our glorious King;
where, O death, is now thy sting?
dying once, he all doth save;
where thy victory, O grave?
4 Soar we now where Christ has led,
following our exalted Head;
made like him, like him we rise;
ours the cross, the grave, the skies.
5 Hail the Lord of earth and heaven!
Praise to thee by both be given:
thee we greet triumphant now;
hail, the Resurrection Thou!
The Reading:
Acts 4: 32-35
Now the whole group of those who believed were of one heart and soul, and no one claimed private ownership of any possessions, but everything they owned was held in common. With great power the apostles gave their testimony to the resurrection of the Lord Jesus, and great grace was upon them all. There was not a needy person among them, for as many as owned lands or houses sold them and brought the proceeds of what was sold. They laid it at the apostles' feet, and it was distributed to each as any had need.
The Gospel:
John 20: 19-end
When it was evening on that day, the first day of the week, and the doors of the house where the disciples had met were locked for fear of the Jews, Jesus came and stood among them and said, 'Peace be with you.' After he said this, he showed them his hands and his side. Then the disciples rejoiced when they saw the Lord. Jesus said to them again, 'Peace be with you. As the Father has sent me, so I send you.' When he had said this, he breathed on them and said to them, 'Receive the Holy Spirit. If you forgive the sins of any, they are forgiven them; if you retain the sins of any, they are retained.'
But Thomas (who was called the Twin), one of the twelve, was not with them when Jesus came. So the other disciples told him, 'We have seen the Lord.' But he said to them, 'Unless I see the mark of the nails in his hands, and put my finger in the mark of the nails and my hand in his side, I will not believe.'
A week later his disciples were again in the house, and Thomas was with them. Although the doors were shut, Jesus came and stood among them and said, 'Peace be with you.' Then he said to Thomas, 'Put your finger here and see my hands. Reach out your hand and put it in my side. Do not doubt but believe.' Thomas answered him, 'My Lord and my God!' Jesus said to him, 'Have you believed because you have seen me? Blessed are those who have not seen and yet have come to believe.'
Now Jesus did many other signs in the presence of his disciples, which are not written in this book. But these are written so that you may come to believe that Jesus is the Messiah, the Son of God, and that through believing you may have life in his name. 
Homily
John 20:21  "Jesus said to them again, "Peace be with you.  As the Father has sent me, so I send you".
Today we have before us the one who is traditionally known as "doubting" Thomas, though I would prefer a more generous description of his overall character such as "searching" Thomas.  For the evidence of his character, such as it is in the Gospels, shows him as a man of deep loyalty and devotion to Jesus; a man who wanted desperately to serve, to believe, to love, to know, to spend his life for his Lord.  It is he that had said, "Let us go with him that we may die with him."  But, he was also rather literally minded, for he also said to Jesus, knowing that he was to be taken from them, "We do not know where you are going, how can we know the way?"  
He could not believe that his fellow disciples had seen the risen Lord on that first Sunday evening, because he dare not believe - it was wonderful news, but too much for his mind to cope with, and let us not forget that the rest of the disciples didn't believe either when they were first told.  In Luke's account of the first Easter morning the women were treated dismissively by the disciples when they returned from the empty tomb have spoken with angels there; the disciples taking their witness as "an idle tale".  Why is it that we are so harsh on Thomas?
Our Lord's greeting to the disciples in the upper room, both on Easter Day and on this day, the Sunday following, was, "Peace be with you."  This whole passage indicates that Jesus did bring peace to they hearts: at first to all but Thomas, then gloriously a week later, and in the same mysterious conditions of closed room and gathering of friends, Thomas too receives the gift of a peaceful heart; a heart stilled in the presence of God.  That is a gift that we all seek, some in very great measure, because their burdens are far greater than those of others.  Do we look today with troubled hearts at the risen Christ before us?  Thomas' burden today was a lack of comprehension; a need for release.  He knew what he wanted, but saw no way to find it.  How could he believe unless the evidence was so incontrovertibly obvious.  Sight wouldn't be enough, he thought, he must use the sense of touch as well - to be sure; to give him the peace of mind that would still the torture of doubt.   The other disciples didn't need to go through this turmoil.  But let us consider what this reveals of the nature of Thomas' faith.  Surely the sheer strength and vigour of his disbelief demonstrate just how strong was his urge to believe, but he didn't want to be tricked; to be disillusioned; to be disappointed; his love for Jesus was such that he was investing himself utterly in him, but the disciples' testimony alone was not going to give him the hope that this wonderful thing had happened.
We don't often talk of the element of doubt in our lives of faith, but I have known many a determined searcher for God who has found the confident certainty of others neither strengthening, nor undermining, but the word I would choose is, "unsettling".  They find themselves walking a path of thoughtful search largely alone.  Yes they believe, whole-heartedly, but in a sense, distantly; accepting, but wanting more reassurance than the confident declarations of others.  Welcome to the place of Thomas.  Can we see what he sought with the fervency with which he sought it?  Arguably, his journey of faith took him closer to understanding the nature of Christ than those whose confidence was more readily established.  He didn't, after all acknowledge the risen Jesus when he saw him with, "Master" or "Rabbi", but with the titles, "My Lord and my God".
So what was it that took the scales from Thomas' eyes?  And, by extension, what strengthens the person unsettled or uneasy in faith?  It wasn't the confidence of others - the certainty of the other disciples - it was the gift of peace that passes our understanding.  Christ's presence was not just enough to convince Thomas, it was far more, for he was receiving what was only our Lord's to give - and that made the difference. So, let us understand what is happening in this encounter not so much as being to satisfy the intellectual curiosity of one who wanted truth, but transform the unease of heart, that pit-of-the-stomach queasy rejection, into a state of joy and grace which needed no proof, other than that furnished by a transformed life.  Thomas knew release; he knew peace.  He was offered the proof of touch and he chose not to experience it - he no longer looked for it, or needed it - for he had found the place of renewal that was beyond the teaching of faith, but settled in the experience of being loved by one who was a friend, but also his Lord and his God.  
Yes it is right to search, and be intellectually rigorous in our striving for truth, but ultimately faith comes because of contact; not physical, but spiritual; knowing reassurance, forgiveness, knowing one is loved and at peace.  These gifts of God are beyond price and were placed before Thomas that day.  "No more we doubt thee, glorious Prince of Life; life is nought without thee: aid us in our strife; make us more than conquerors through thy deathless love; bring us safe through Jordan to thy home above."  The victory over death is one that Jesus won for us all, but the acceptance of the promise lies within each - and within reach, but, as Thomas found, not in the touching of scars, but in the recognition of love; which itself is life and truth and hope.  This passage is a glorious one to read in the Easter period, when we glimpse so much of what the disciples are still teaching us of how their lives were transformed by what they were learning; how their encountering of Christ's resurrection life was creating a new beginning for them, that their risen Lord opened and Thomas plays his part in the first few days and faltering steps that the apostles made in their calling to share the love of Christ with the world. 
John Mann
Second Hymn
The Strife is o'er: https://youtu.be/Z7sno1B30_A
1 The strife is o'er, the battle done;
now is the Victor's triumph won;
O let the song of praise be sung:
Alleluia!
2 Death's mightiest powers have done 
their worst,
and Jesus hath his foes dispersed.
Let shouts of praise and joy outburst:
Alleluia!
3 On the third morn he rose again;
glorious in majesty to reign.
O let us swell the joyful strain:
Alleluia!
4 Lord, by the stripes which wounded thee,
from death's dread sting thy servants free,
that we may live and sing to thee.
Alleluia!
Prayers
In joy and hope let us pray to the Father.
That our risen Saviour may fill us with the joy of his
glorious and life-giving resurrection,
we pray to the Father.
Hear our prayer.
That isolated and persecuted churches
may find fresh strength in the good news of Easter,
we pray to the Father.
Hear our prayer.
That God may grant us humility
to be subject to one another in Christian love, especially may we be aware of our reliance on one another in these days of distancing and self-isolation,
we pray to the Father.
Hear our prayer.
That he may provide for those who lack food, work or shelter in all places in our community and nationally and internationally too,
we pray to the Father.
Hear our prayer.
That by his power war and famine may cease through all the world, and may the rich support those in poverty,
we pray to the Father.
Hear our prayer.
That he may reveal the light of his presence to the sick,
the weak and the dying, working through all who are caring for them,
to comfort and strengthen them,
we pray to the Father.
Hear our prayer.
That, according to his promises,
all who have died in the faith of the resurrection
may be raised on the last day,
we pray to the Father.
Hear our prayer.
That he may send the fire of the Holy Spirit upon his people,
so that we may bear faithful witness to his resurrection,
we pray to the Father.
Hear our prayer.
Heavenly Father,
you have delivered us from the power of darkness
and brought us into the kingdom of your Son:
grant that, as his death has recalled us to life,
so his continual presence in us may raise us to eternal joy;
through Christ our Lord.
Amen.
The Lord's Prayer
A few moments of silence before we say the….. 
Easter acclamations:
Alleluia. Christ is risen.
He is risen indeed. Alleluia.
Praise the God and Father of our Lord Jesus Christ.
He has given us new life and hope.
He has raised Jesus from the dead.
God has claimed us as his own.
He has brought us out of darkness.
He has made us light to the world.
Alleluia. Christ is risen.
He is risen indeed. Alleluia.
God the Father,
by whose love Christ was raised from the dead,
open to all who believe the gates of everlasting life.
Amen.
God the Son,
who in bursting from the grave has won a glorious victory,
give us joy as we share the Easter faith.
Amen.
God the Holy Spirit,
who filled the disciples with the life of the risen Lord,
empower us and fill us with Christ's peace.
Amen.
Postlude - Philip Moore: