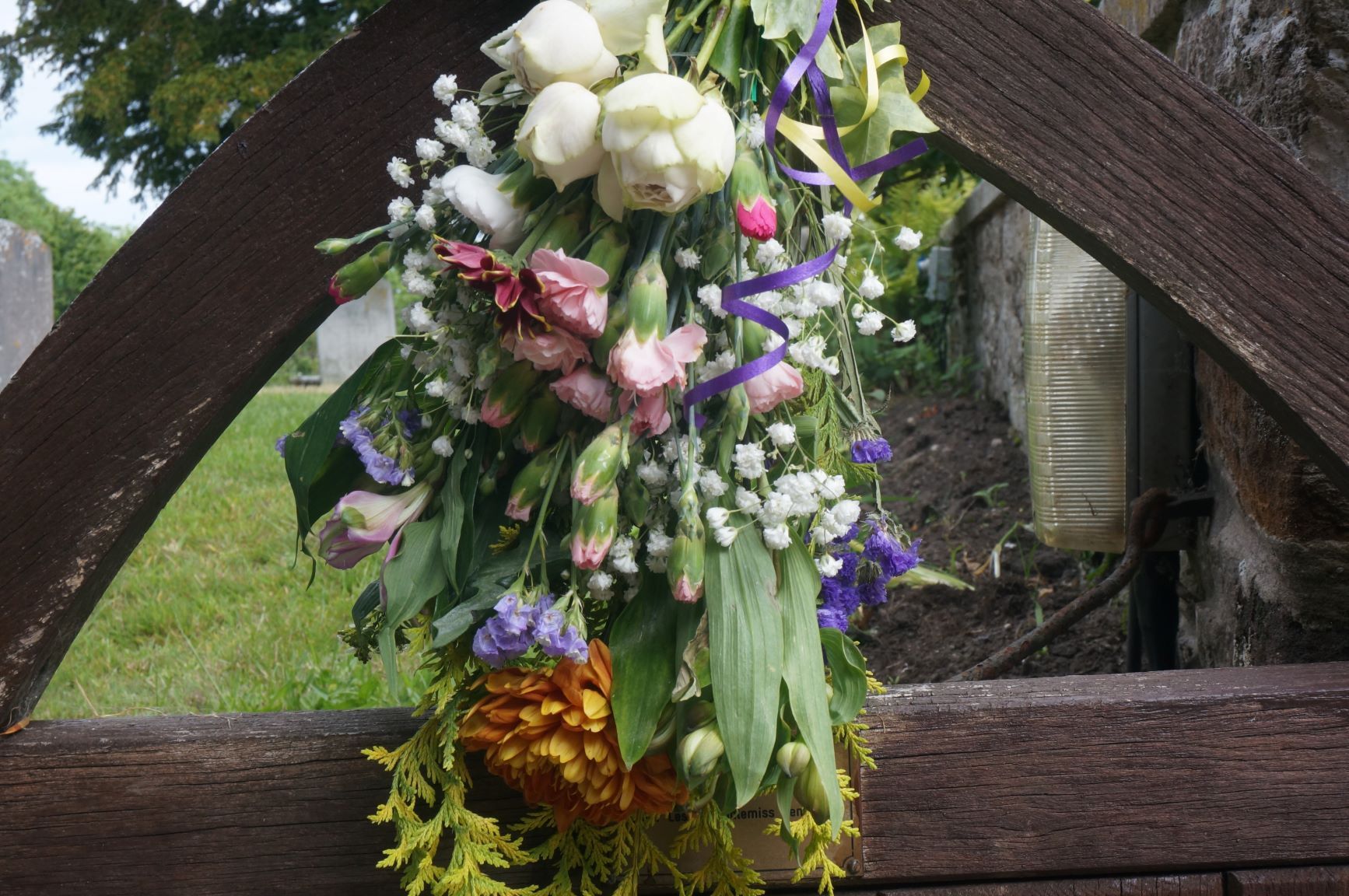 ---
A Service for the Thirteenth Sunday after Trinity, 6th September, 2020
Preparation:
Before beginning to read this short service, you may wish to find a space for prayer in front of a cross, a candle, or a special place.
May the light of Christ, rising in glory, banish all darkness from our hearts and minds.
The Acclamation of Christ at the Dawning of the Day 
O Lord, open our lips
and our mouth shall proclaim your praise.
May Christ, the true, the only light
banish all darkness from our hearts and minds.
O come, let us sing to the Lord; 
let us heartily rejoice in the rock of our salvation. 
Let us come into his presence with thanksgiving 
and be glad in him with psalms.
For the Lord is a great God 
and a great king above all gods. 
Come, let us worship and bow down 
and kneel before the Lord our Maker.
For he is our God; 
we are the people of his pasture and the sheep of his hand. 
Glory to the Father and to the Son
and to the Holy Spirit;
as it was in the beginning is now
and shall be for ever. Amen.
Blessed are you, creator of all,
to you be praise and glory for ever.
As your dawn renews the face of the earth
bringing light and life to all creation,
may we rejoice in this day you have made;
as we wake refreshed from the depths of sleep,
open our eyes to behold your presence
and strengthen our hands to do your will,
that the world may rejoice and give you praise.
Blessed be God, Father, Son and Holy Spirit.
Blessed be God for ever.
The Collect
Silence is kept.
Almighty God,
who called your Church to bear witness
that you were in Christ reconciling the world to yourself:
help us to proclaim the good news of your love,
that all who hear it may be drawn to you;
through him who was lifted up on the cross,
and reigns with you in the unity of the Holy Spirit,
one God, now and for ever. 
Amen
The First Hymn
Thy Kingdom Come:   please access Simon's accompaniment here: 
1 Thy kingdom come! On bended knee
the passing ages pray;
and faithful souls have yearned to see
on earth that kingdom's day.
2 But the slow watches of the night
not less to God belong;
and for the everlasting right
the silent stars are strong.
3 And lo, already on the hills
the flags of dawn appear;
gird up your loins, ye prophet souls,
proclaim the day is near:
4 The day in whose clear-shining light
all wrong shall stand revealed,
when justice shall be throned in might,
and every hurt be healed;
5 When knowledge, hand in hand with peace,
shall walk the earth abroad:
the day of perfect righteousness,
the promised day of God.
The First Reading:
Ezekiel 33: 7-11
Psalm 119:33-40
Refrain:    My delight shall be in your commandments.
33  Teach me, O Lord, the way of your statutes  ♦
and I shall keep it to the end.
34  Give me understanding and I shall keep your law;  ♦
I shall keep it with my whole heart.
35  Lead me in the path of your commandments,  ♦
for therein is my delight.
36  Incline my heart to your testimonies  ♦
and not to unjust gain. [R]
37  Turn away my eyes lest they gaze on vanities;  ♦
O give me life in your ways.
38  Confirm to your servant your promise,  ♦
which stands for all who fear you.
39  Turn away the reproach which I dread,  ♦
because your judgements are good.
40  Behold, I long for your commandments;  ♦
in your righteousness give me life. [R]
God of loving mercy,
in this place of our pilgrimage
turn your laws into songs,
that we may find your promises
fulfilled in Jesus Christ our Lord.
Amen
The Second Reading:
Romans 13: 8-end
The Gospel:
Matthew 18: 15-20
Homily
The power of forgiveness to restore and renew is miraculous.  It is also not at all easy to release.  We may be directed, as was Peter by Jesus in the two verses following today's Gospel (which we shall actually be reading next Sunday), to forgive a brother or sister who has wronged them in some way, and, if that hurt continues, to forgive again and again.  Anyone who knows anything of the destructive side of human nature, will appreciate that from the theoretical desire to forgive, to the actual act of forgiveness, there is, when the wounding is life-changing, an overwhelming gulf.  The bridging of that gulf can be immensely costly to the one whose love is somehow able to absorb their deep hurt; and forgiveness brings the release that opens a new path, not just to their relationship, but to that of those who observe the offer of such a generous and costly gift.
So it is that the one who finds themselves forgiven is released.  This lies at the heart of Christian faith and practice.  Our return to a heavenly Father who dearly loves us, and has never ceased to love us whatever our circumstances, has most accurately been demonstrated in the Parable of the Prodigal Son, which relies for its central message on the realisation that the eyes of the younger son are not opened until he recognises his need.  In OT reading and Epistle today, God asks that Ezekiel acts as one who watches and warns, so evil is seen to be what it is, and life is sought rather than death; whilst St Paul, writing to the Romans, sees release from the bonds of an unfulfilled life avoiding God's law, as being like waking out of sleep, and recognising, as our Advent message is heard each year, that the chance for new life is much closer than we may think.  Christ is born anew in the hearts of those who recognise their struggle to cope, and seek him.
David Adam, who has written much on Celtic spirituality gives us the picture in one of his books of the little girl playing on the beach.  She digs a hole near the edge of the water with her parents sitting in deck chairs beside her.  As the tide recedes it becomes ever more difficult to hold water in the hole. She takes her bucket to the sea and runs back and empties it into the hole.  But, the more she tries, the harder it gets as the source gets further away and she tires, eventually turning to her parents and sharing her frustration.  In all our readings today the message that love's fulfilment is not possible with our own unaided effort, as we seek to fill our lives with what cannot sustain, whether through acquiring possessions or through our own ever-growing expectations which we place upon ourselves.  Within us lies the possibility of change, for God is closer to us than our very breath.  What to us is impossible becomes, as many before us have discovered, an opening of our eyes and our hearts to the new way of living through which Christ has led us already; ever present; ever giving; constant in his love.
John Mann
Second Hymn 
Ye Holy Angels Bright: https://youtu.be/yN5r7mnTMjg
1 Ye holy angels bright,
who wait at God's right hand,
or through the realms of light
fly at your Lord's command,
assist our song,
for else the theme
too high doth seem
for mortal tongue.
2 Ye blessèd souls at rest,
who ran this earthly race,
and now, from sin released,
behold the Saviour's face,
his praises sound,
as in his sight
with sweet delight
ye do abound.
3 Ye saints, who toil below,
adore your heavenly King,
and onward as ye go
some joyful anthem sing;
take what he gives
and praise him still,
through good and ill,
who ever lives.
4 My soul, bear thou thy part,
triumph in God above,
and with a well-tuned heart
sing thou the songs of love;
let all thy days
till life shall end,
whate'er he send,
be filled with praise.
Prayers
Heavenly Father, we pray for your Church in all the world, especially for this Diocese of Salisbury and for Nicholas and Karen our Bishops.  We pray for the Church in Swanage and Studland and for all engaged in ministry and mission.  Bless all the children and staff of the schools in Swanage that are returning to classes this week.  Encourage and strengthen those who feel uneasy, and guide all involved in the running of our schools with your grace and protection.
Lord, in your mercy
Hear our prayer
Lord Jesus, bless the nations of the world, and especially our own country, as with compassion, equity and justice as well as with discernment and mercy they may respond to those in poverty and distress, at home and abroad.  We pray for those who are vulnerable: the sick and injured, the refugee and the bereaved, and all who are caught in regions of conflict.
Lord, in your mercy
Hear our prayer
Lord Jesus Christ, you taught your followers to be active and to be still; to work and to rest; to proclaim as well as to live the Gospel by example.  Continue, we pray, to make known the ways of love and joy and peace. Keep your people conscious of the need to work for a just and free world, for reconciliation, an end to poverty and prejudice.   Grant to our national politicians wisdom in their deliberations and direction in their decisions, and in local government, bless the town council of Swanage, and parish council of Studland, and all who live and work here and those who visit us from abroad.
Lord, in your mercy
Hear our prayer
Lord, we remember before you the sick in body, mind and spirit.  Bring healing to those who have asked for our prayer as we bring them to mind in a moment of silence:
Silence
May your blessing rest on those for whom we pray, known or unknown; and may the comfort of your Holy Spirit rest on the bereaved, the distressed, those living through times of doubt and hopelessness.  Give strength to the weak, rest to the weary, support and reassurance to all who are close to death.  Stand beside, and when needed carry, all who are exhausted with caring for others assuring them that their loved one is carried too.
Lord, in your mercy
Hear our prayer
Merciful Father accept these our prayers for the sake of your Son, our Saviour, Jesus Christ. Amen
The Peace
The risen Christ came and stood among his disciples and said, "Peace be with you."  Then were they glad when they saw the Lord
The Lord's Prayer
A few moments of silence before we pray:
God our creator,
you feed your children with the true manna,
the living bread from heaven:
let this holy food sustain us through our earthly pilgrimage
until we come to that place
where hunger and thirst are no more;
through Jesus Christ our Lord.
Amen.
Conclusion
The Lord bless us and keep us:
Amen.
The Lord make his face to shine upon us,
and be gracious to us:
Amen.
The Lord lift up his countenance upon us
and give us peace:
Amen
Numbers 6.24-26
The Lord God almighty, Father, Son, and Holy Spirit,
the holy and undivided Trinity,
guard us, save us,
and bring us to that heavenly city,
where he lives and reigns for ever and ever.
Amen.
Adagio in E - Frank Bridge: https://youtu.be/qKRJ-XuqTqI
If you would like to make a donation to the church in Swanage, we will be most grateful. At present this is best done by BACS of which the details are:
Nationwide Building Society
Account name: Swanage PCC
Account Number: 70585005
Sort code: 07-00-55
Please give your name as reference.