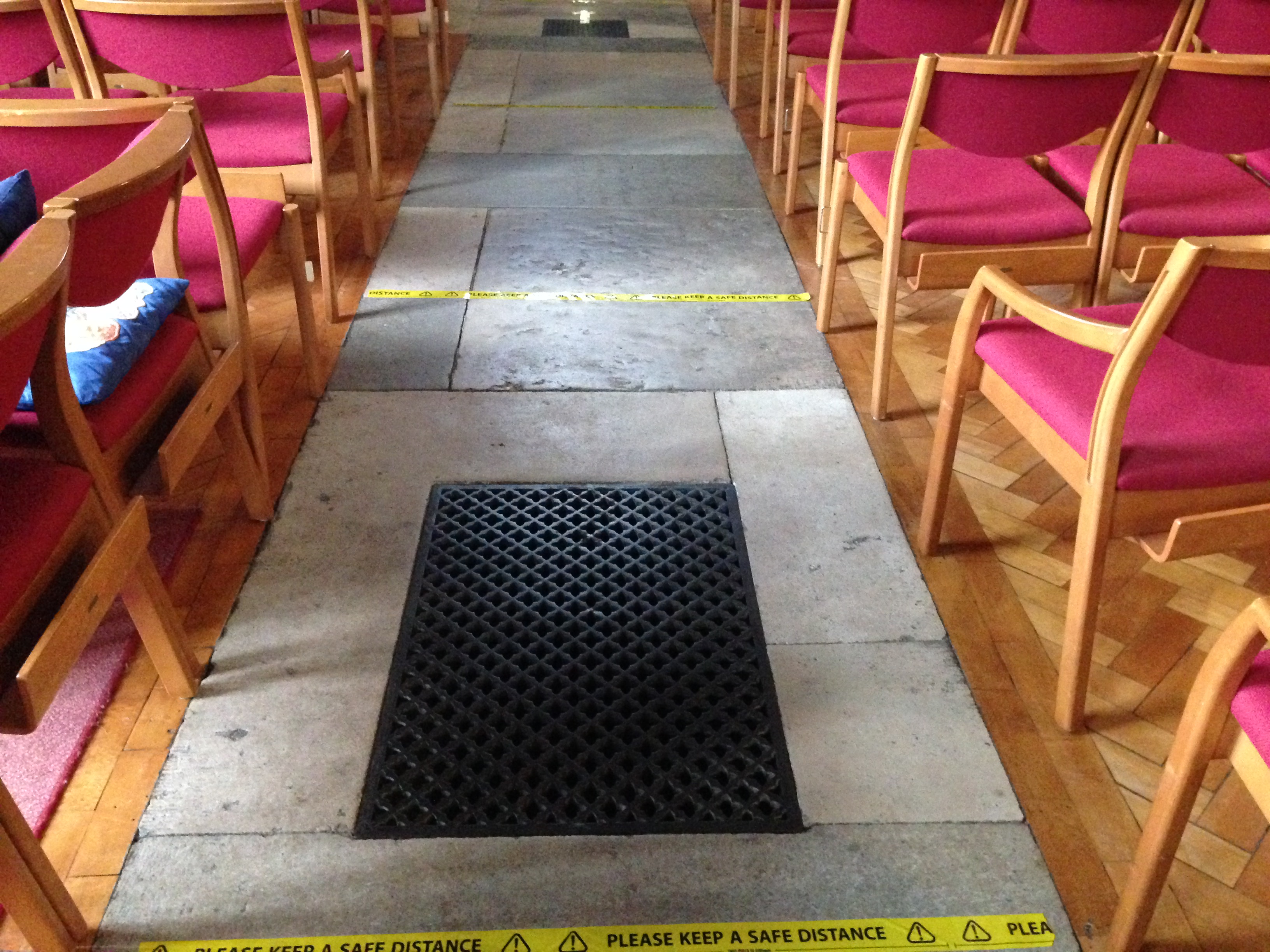 ---
A Service for Trinity 1, 14th June, 2020
Preparation:
Before beginning to read this short service, you may wish to find a space for prayer in front of a cross, a candle, or a special place.  
May the light of Christ, rising in glory, banish all darkness from our hearts and minds.
The Acclamation of Christ at the Dawning of the Day

 
O Lord, open our lips
and our mouth shall proclaim your praise.
May Christ, the true, the only light
banish all darkness from our hearts and minds.
O come, let us sing to the Lord; •
let us heartily rejoice in the rock of our salvation. 
Let us come into his presence with thanksgiving •
and be glad in him with psalms.
For the Lord is a great God •
and a great king above all gods. 
Come, let us worship and bow down •
and kneel before the Lord our Maker.
For he is our God; •
we are the people of his pasture and the sheep of his hand. 
Glory to the Father and to the Son
and to the Holy Spirit;
as it was in the beginning is now
and shall be for ever. Amen.
Blessed are you, Sovereign God, creator of all,
to you be glory and praise for ever.
You founded the earth in the beginning
and the heavens are the work of your hands.
In the fullness of time you made us in your image,
and in these last days you have spoken to us
in your Son Jesus Christ, the Word made flesh.
As we rejoice in the gift of your presence among us
let the light of your love always shine in our hearts,
your Spirit ever renew our lives
and your praises ever be on our lips.
Blessed be God, Father, Son and Holy Spirit.
Blessed be God for ever.
The Collect
Silence is kept.
O GOD, the strength of all them that put their trust in thee, mercifully accept our prayers; and because through the weakness of our mortal nature we can do no good thing without thee, grant us the help of thy grace, that in keeping of thy commandments we may please thee, both in will and deed; through Jesus Christ our Lord. 
Amen.
The First Hymn
O Thou who Camest From Above: please access Simon's accompaniment here: 
O thou who camest from above
the fire celestial to impart,
kindle a flame of sacred love
on the mean altar of my heart!
2 There let it for thy glory burn
with inextinguishable blaze,
and trembling to its source return
in humble prayer and fervent praise.
3 Jesus, confirm my heart's desire
to work, and speak, and think for thee;
still let me guard the holy fire,
and still stir up the gift in me.
4 Still let me prove thy perfect will,
my acts of faith and love repeat;
till death thy endless mercies seal,
and make the sacrifice complete.
The First Reading:
Exodus 19: 2-8a
Psalm 116: 1, 10-17
Refrain:    Gracious is the Lord and righteous.
1    I love the Lord,
for he has heard the voice of my supplication; 
because he inclined his ear to me
on the day I called to him.
10  How shall I repay the Lord  
for all the benefits he has given to me?
11  I will lift up the cup of salvation  
and call upon the name of the Lord.
12  I will fulfil my vows to the Lord  
in the presence of all his people. 
13  Precious in the sight of the Lord  
is the death of his faithful servants.
14  O Lord, I am your servant,  
your servant, the child of your handmaid;
you have freed me from my bonds.
15  I will offer to you a sacrifice of thanksgiving  
and call upon the name of the Lord.
16  I will fulfil my vows to the Lord  
in the presence of all his people,
17  In the courts of the house of the Lord,  
in the midst of you, O Jerusalem.
Alleluia.
Refrain:    Gracious is the Lord and righteous.
As we walk through the valley of the shadow of death,
may we call upon your name,
raise the cup of salvation,
and so proclaim your death, O Lord,
until you come in glory.
Amen
The Second Reading:
Romans 5: 1-8
The Gospel:
Matthew 9: 35 - 10:23
Homily
"While we were still weak, at the right time Christ died for the ungodly."
Weakness is currently something we are acutely aware of, as helplessly individuals fall victim to coronavirus, at the same as others are ill for all sorts of reasons and under different conditions, that would have been the case, virus or no virus.  The protests following the death in custody of George Floyd and the subsequent highlighting of the ongoing racial prejudice in society, both in the UK and in the USA have, once again, demonstrated that the contrast between weakness and strength in coping with human attitudes and power-struggles is a recurrent and serious problem for the world of this and every age.
Paul, in writing to the Romans, underlined the fact that Christ died for those unable to lift themselves from where they had fallen.  William Barclay in a comment on this verse relates a story from T.E. Lawrence in the desert in 1915 with a party of Arab combatants on camels.  The heat was so fierce that the wind was like fire, and they were hooded and unsighted for protection, when one of their number fell from his camel.  This character was not well-known to the others, but was suspected by them of having killed a man and then fled to the desert and joined their company.  In the heat and lack of water and food, the reaction of the men with Lawrence was that he did not matter; some thought he had been shot, others that he was out of his mind and maybe lost in a mirage, all considered him "not worth half-a-crown."  But Lawrence turned his camel around and rode back for an hour and a half until he found the man, gave him some of the last of his water and put him on his camel, and brought him back to the rest of the company.  Lawrence saw the person and his weakened condition, without prejudice or judgement on the accusations or suspicions of the others.  
From the Gospel we read of the disciples being sent to do great things with nothing; no resources that mostly we would consider essential, and at the same time they were few in number.  They were, from this low resource-base, to cure the sick, raise the dead, cleanse lepers and cast out demons.  First and foremost they needed to trust and have faith.  Twelve men of faith were being asked by Jesus, not to see before their eyes the impossible and unachievable, but to maintain hope and prayer and intent, and not allow themselves to become overwhelmed.  For this reason they needed to shed the props bolstering their own confidence, such as coins of gold and silver and copper, a bag full of clothes and food; not even sandals and a staff.  They were stripped of all of that, and told to go to the poor and destitute.  It was while his followers were weak that Christ gave his life for those who needed his mercy, forgiveness and love, not once he had a team of experts, well-trained and ready, to take on the task when he was gone.  We may be weak, but let us take note, that could be when we are most ready to rely on the one who has sent us.
At the beginning of a new week, which may hold all kinds of challenges and needs, and as we dwell upon the injustices of this world and the poverty that leads to exacerbating the effects of illness and disadvantage, let us pray that we may look with the eyes of compassion on all whom we encounter, whether walking the streets or in social isolation, through the screen of our tablet or computer.  The sharing of the last drops of water in the story may be mirrored in all kinds of situations in society today, but let us recognise that it is in our weakness that Christ died for us, and that our failures are at the point of our greatest need, and the moment of his unique and sacrificial offer of life, that continues to lift us in mercy and grace.
John Mann
Second Hymn
For the Fruits of His Creation: https://youtu.be/5IYnpZUOrQU
For the fruits of his creation
thanks be to God;
for his gifts to every nation
thanks be to God;
for the ploughing, sowing, reaping,
silent growth while men are sleeping,
future needs in earth's safe keeping,
thanks be to God.
In the just reward of labour,
God's will is done;
in the help we give our neighbour,
God's will is done;
in our worldwide task of caring
for the hungry and despairing,
in the harvests we are sharing,
God's will is done.
For the harvests of the Spirit,
thanks be to God;
for the good we all inherit,
thanks be to God;
for the wonders that astound us,
for the truths that still confound us,
most of all, that love has found us,
thanks be to God
Prayers

 
Almighty God, our Heavenly Father, King of kings and Lord of lords, bless we pray, your Church in all the world.  Bring to that part of the Church in this land the benediction of your Holy Spirit, that fearlessly and tirelessly, your people may show forth your love for all people, and share the good news of the Kingdom of God with everyone.  As today, we read of your Son sending forth his followers into the world, may we, in our day, know what it means to step out in faith, and so to pray and work for the furtherance of Christ's presence and teaching in our community.
Lord, in your mercy,
Hear our prayer.
As, slowly, countries recover from the health crisis of these days, and towns and villages and large city communities come to terms with new situations; bring your comfort and strength, O Lord, to those whose whole lives have been shaken by traumatic experience in recent days and weeks.  Encourage all people to have an understanding ear and a searching heart, to discover how each in their own way may help to relieve the plight of those in distress.  Bring hope to the war torn parts of this world, and to all peoples locked in perpetual strife; teach those, who now know no other way but that of aggression, truly to find a path that includes the interests and desires of others and a mutual intent for peace.  Within the countries of the regions of the world whose situation is made worse by poverty, shed in the hearts of men and women a deep longing for wise leaders, who can bring lasting settlement and an end to violence.
Lord, in your mercy,
Hear our prayer.
Father, we pray for the town of Swanage; for its Mayor and Town Council and all its institutions.  Especially today we give thanks for the schools, that, as staff and pupils continue to adjust to the changing circumstances of their school, they may continue to be enriched and fulfilled.  Bless our streets with peace, our zoom and other gatherings with good humour, our roads with safety, our relationships with love.  Help us to hold consciously in our prayers those, who this, and every, community overlooks: the hidden sufferers whose quality of life is such that they are never out and never seen.  May they be especially aware of your presence; in the quiet and the lonely moments, during hours of anxiety, in the night-time of fear or when facing the unknown.
Lord, in your mercy,
Hear our prayer.
Lord Jesus, as you stretched out your arms upon the Cross to draw us all to yourself, you also bade us come to you; we do so now with the whole community of St Mary's, St Mark's, All Saints' and St Nicholas', with those who join our services via the website, for whom we ask your particular blessing, as well as those unable to be with us today.  Comfort the bereaved and support the weak; bring new life to those experiencing changes in their condition, and new direction for those faced with hard decisions.  Above all, in the fellowship of all who in this world and the next are united with you in love, may we glorify and praise your name, for ever and ever.  Amen.
Lord, in your mercy,
Hear our prayer.
The Lord's Prayer
A few moments of silence before we pray:
Peace to us all from God our heavenly Father.
Peace to us from his Son Jesus Christ who is our peace.
Peace to us from the Holy Spirit, the life-giver.
The peace of the triune God be always with us.
Almighty and eternal God,
you have revealed yourself as Father, Son and Holy Spirit,
and live and reign in the perfect unity of love:
hold us firm in this faith,
that we may know you in all your ways
and evermore rejoice in your eternal glory,
who are three Persons yet one God,
now and for ever.
Amen.
After a moment of silence:
Conclusion
The Lord bless us and keep us:
Amen.
The Lord make his face to shine upon us,
and be gracious to us:
Amen.
The Lord lift up his countenance upon us
and give us peace:
Amen
Numbers 6.24-26
The Lord God almighty, Father, Son, and Holy Spirit,
the holy and undivided Trinity,
guard us, save us,
and bring us to that heavenly city,
where he lives and reigns for ever and ever.
Amen.
Prelude on "East Acklam" - Francis Jackson: https://youtu.be/nZUWDX2rbPQ
Please note:

 
From tomorrow, Monday 15th June, all four churches will be open for private prayer: St Mary's and All Saints' every day from 9.00 a.m. to 4.00 p.m.; St Mark's, on Mondays, Wednesdays and Fridays from 10.00 a.m. to 5.00 p.m.; and St Nicholas' from 10.00 a.m. to 2.00 p.m. every day.