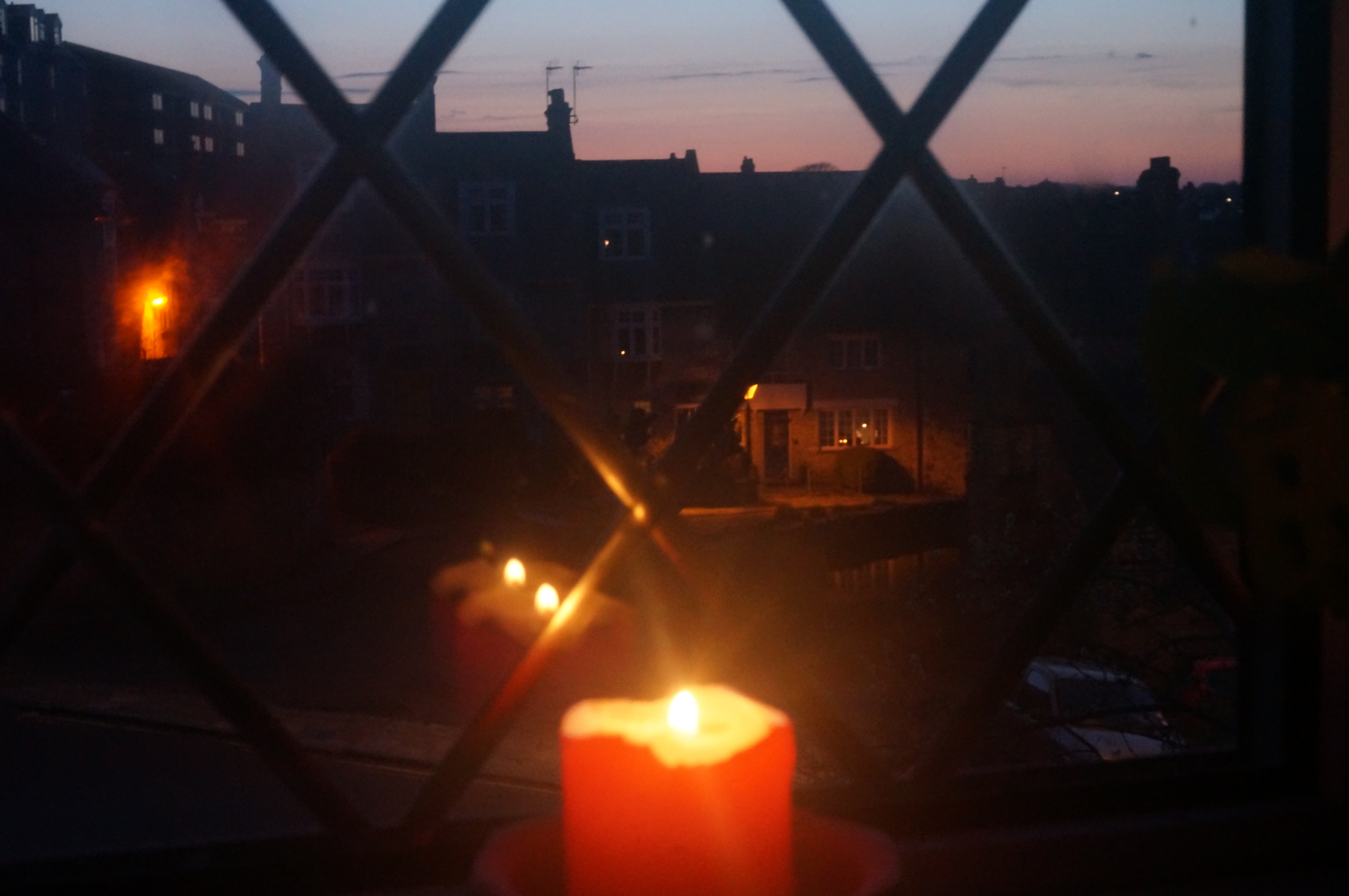 ---
A Service for The Feast of the Presentation of Christ in the Temple
 

- Candlemas - transferred to Sunday 31st January, 2021

 

Preparation:

Before beginning to read this short service, you may wish to find a space for prayer in front of a cross or a candle.  

Forty days ago we celebrated the birth of our Lord Jesus Christ. Now we recall the day on which he was presented in the Temple, when he was offered to the Father and shown to his people. As a sign of his coming among us, his mother was purified, as we now come to him for cleansing. In their old age Simeon and Anna recognised him as their Lord, as we today sing of his glory. We celebrate both the joy of his coming and his searching judgement, looking back to the day of his birth and forward to the coming days of his passion.

 

Hear the words of our Saviour Jesus Christ:

'I am the light of the world.

Whoever follows me shall never walk in darkness

but shall have the light of life.'

 

Let us therefore bring our sins into his light

and confess them in penitence and faith.

 

Lord Jesus, illuminate the darkness in our hearts:

Lord, have mercy.

Lord, have mercy.

 

Lord Jesus, open our eyes to your saving love:

Christ, have mercy.

Christ, have mercy.

 

Lord Jesus, unstop our ears to hear your living word:

Lord, have mercy.

Lord, have mercy.

 

May God who loved the world so much

that he sent his Son to be our Saviour

forgive us our sins

and make us holy to serve him in the world,

through Jesus Christ our Lord.

Amen.

 
The Collect
Silence is kept.
Almighty and ever-living God,
clothed in majesty,
whose beloved Son was this day presented in the Temple,
in substance of our flesh:
grant that we may be presented to you
with pure and clean hearts,
by your Son Jesus Christ our Lord,
who is alive and reigns with you,
in the unity of the Holy Spirit,
one God, now and for ever.
Amen.
The First Hymn
Thy Kingdom Come, O God: https://youtu.be/zFpPKTOTiz8
1 Thy kingdom come, O God,
thy rule, O Christ, begin;
break with thine iron rod
the tyrannies of sin.
2 Where is thy reign of peace
and purity and love?
When shall all hatred cease,
as in the realms above?
3 When comes the promised time
that war shall be no more,
and lust, oppression, crime
shall flee thy face before?
4 We pray thee, Lord, arise,
and come in thy great might;
revive our longing eyes,
which languish for thy sight.
5 Men scorn thy sacred name,
and wolves devour thy fold;
by many deeds of shame
we learn that love grows cold.
6 O'er lands both near and far
thick darkness broodeth yet:
arise, O Morning Star,
arise, and never set!
The First Reading:
Malachi 3: 1-5
See, I am sending my messenger to prepare the way before me, and the Lord whom you seek will suddenly come to his temple. The messenger of the covenant in whom you delight—indeed, he is coming, says the Lord of hosts. But who can endure the day of his coming, and who can stand when he appears?
For he is like a refiner's fire and like fullers' soap; he will sit as a refiner and purifier of silver, and he will purify the descendants of Levi and refine them like gold and silver, until they present offerings to the Lord in righteousness. Then the offering of Judah and Jerusalem will be pleasing to the Lord as in the days of old and as in former years.
Then I will draw near to you for judgement; I will be swift to bear witness against the sorcerers, against the adulterers, against those who swear falsely, against those who oppress the hired workers in their wages, the widow, and the orphan, against those who thrust aside the alien, and do not fear me, says the Lord of hosts.
This is the Word of the Lord
Thanks be to God
Psalm 24
1    The earth is the Lord's and all that fills it,  ♦
the compass of the world and all who dwell therein.
2    For he has founded it upon the seas  ♦
and set it firm upon the rivers of the deep.
3    'Who shall ascend the hill of the Lord,  ♦
or who can rise up in his holy place?'
4    'Those who have clean hands and a pure heart,  ♦
who have not lifted up their soul to an idol,
    nor sworn an oath to a lie;
5    'They shall receive a blessing from the Lord,  ♦
a just reward from the God of their salvation.'
6    Such is the company of those who seek him,  ♦
of those who seek your face, O God of Jacob.
7    Lift up your heads, O gates;
    be lifted up, you everlasting doors;  ♦
and the King of glory shall come in.
8    'Who is the King of glory?'  ♦
'The Lord, strong and mighty,
    the Lord who is mighty in battle.'
9    Lift up your heads, O gates;
    be lifted up, you everlasting doors;  ♦
and the King of glory shall come in.
10  'Who is this King of glory?'  ♦
'The Lord of hosts,
    he is the King of glory.'
The Second Reading:
Hebrews 2: 14-end
Since, therefore, the children share flesh and blood, he himself likewise shared the same things, so that through death he might destroy the one who has the power of death, that is, the devil, and free those who all their lives were held in slavery by the fear of death. For it is clear that he did not come to help angels, but the descendants of Abraham. Therefore he had to become like his brothers and sisters in every respect, so that he might be a merciful and faithful high priest in the service of God, to make a sacrifice of atonement for the sins of the people. Because he himself was tested by what he suffered, he is able to help those who are being tested. 
This is the Word of the Lord
Thanks be to God
The Gospel:
Luke 2: 22-40
Hear the Gospel of our Lord Jesus Christ according to Luke.
Glory to you, O Lord.
When the time came for their purification according to the law of Moses, they brought him up to Jerusalem to present him to the Lord (as it is written in the law of the Lord, 'Every firstborn male shall be designated as holy to the Lord'), and they offered a sacrifice according to what is stated in the law of the Lord, 'a pair of turtle-doves or two young pigeons.'
Now there was a man in Jerusalem whose name was Simeon; this man was righteous and devout, looking forward to the consolation of Israel, and the Holy Spirit rested on him. It had been revealed to him by the Holy Spirit that he would not see death before he had seen the Lord's Messiah. Guided by the Spirit, Simeon came into the temple; and when the parents brought in the child Jesus, to do for him what was customary under the law, Simeon took him in his arms and praised God, saying, 
'Master, now you are dismissing your servant in peace,
   according to your word; 
for my eyes have seen your salvation, 
   which you have prepared in the presence of all peoples, 
a light for revelation to the Gentiles
   and for glory to your people Israel.'
And the child's father and mother were amazed at what was being said about him. Then Simeon blessed them and said to his mother Mary, 'This child is destined for the falling and the rising of many in Israel, and to be a sign that will be opposed so that the inner thoughts of many will be revealed—and a sword will pierce your own soul too.'
There was also a prophet, Anna the daughter of Phanuel, of the tribe of Asher. She was of a great age, having lived with her husband for seven years after her marriage, then as a widow to the age of eighty-four. She never left the temple but worshipped there with fasting and prayer night and day. At that moment she came, and began to praise God and to speak about the child to all who were looking for the redemption of Jerusalem.
When they had finished everything required by the law of the Lord, they returned to Galilee, to their own town of Nazareth. The child grew and became strong, filled with wisdom; and the favour of God was upon him.
This is the Gospel of the Lord.
Praise to you, O Christ.
Homily
With January now nearly over it is easy to forget just how quickly the days of Christmas and Epiphany slip by and, when looked at from this distance, run into one another.  People this year have perhaps not returned to work - a least not quite as they normally do - children may or may not be back in school, and many young people and older students are coping with their courses having gone entirely on line.  
In a normal year, within a few days of the Christmas holidays, we are back to routine and we forget that the Christmas/Epiphany period extends this far - right up to the Presentation of Christ in the Temple, or Candlemas, for short.  The usual round of human existence carries on, as at any other time, with baptisms and weddings and, very often, in the depths of winter, a number of funerals, often with cold, windswept burials. January is inclined to be a reflective month.  People recover from the excesses of December, and plan new initiatives, wisely dwelling carefully on things, but with a degree of expectation that they are going to get stuck in and launch out.  This year, 2021 is different, we are left thinking, wondering, how things are and how things are going to be, with many restrictions and no timescale for their removal, and news of people falling ill and being admitted to hospital.
Simeon whom we encounter today is one of the great thinkers of the Bible.  He sat day-by-day looking and listening.  He understood the human heart and had a visionary sight of what was to come too; for individuals at least.   He knew too when he had encountered the Christ and his song, known to us as the Nunc Dimittis has become one of the most frequently used canticles in the Christian Church; part of Evensong, part of Compline; read at funerals by priests as an act of commendation; read by individuals in their night-time prayers; pondered on as light of one sort or another passes away.
However, there is more, because, of course, we know what happened to Jesus and to Mary, and so we calmly take the vision of Simeon and layer it with the Cross and Passion; Luke helps us in this by recording Simeon's words to Mary of a sword piecing her soul.  What a deeply sorrowful prophecy indeed.  But there is also something wider happening here.  This is not just about Simeon and the young parents, this is another of those points of revelation, such as we receive from Matthew concerning the wise men, whereby the truth of the ways of God is being acknowledged in wonder and awe.  These things, tied up with the glory of God and his infinite mercy and love, also profoundly inform us that the world is simply not going to be swept aside for this to happen; rather the turmoil of human existence will be where Christ is to be revealed, and to work, and to offer himself 'as the perfect sacrifice' for the sins of the world.  This story of the Presentation of Christ is bound up with revelation.
But the context is bound also with assurance; that is what Simeon feels, and it is reflected in his words.  He has, 'seen the salvation of our God'. That is enough.  Many of us have witnessed elderly relations and friends that are living already in a closer consciousness of the presence of Christ than those of us more active and busy.  They spend their days sitting quietly in prayerful silence, disturbed by meals and the conversation of visitors, but their inner life, the revelation of their heart, is already in Christ in a special way. Simeon and Anna, both of whom we meet today, were on that higher spiritual plane, that they would, no doubt, see in a way that was not so much 'higher', but an embracing of the humility of God, as further and completely revealed in the Christ-child. 
So what of Anna?  She hasn't left us with words as Simeon has, but by the way that Luke describes her, she is like many devout women in every age and every place, whose life revolves around the sacred place of worship, with fasting and prayer night and day.  She too is a waiter and watcher; someone for whom God and redemption and vision are her life.  She is described as a prophetess, and Luke seems to indicate that she is somehow led to be present at that 'very hour' when Christ would appear.  
From these two elderly people, it can be seen how the Church sees this Feast of the Presentation of Christ in the Temple as being the point between Christmas and Easter, from which our attention is being directed onwards to the Cross.  Yet it comes with a feeling of completion both from Simeon and from Anna.  A long vigil is over and they recognise that what they have been looking for has come.  They both see it, or better: they both see Christ in the infant Jesus.  
For many of us, Simeon and Anna are amongst the most attractive figures in the New Testament for they demonstrate the virtues for which many of us strive: patience, hope, vision, self-effacement, trust, discipline, conviction, persistence and, ultimately, confirmation of the presence of our Lord revealed in awe and wonder.  Simeon and Anna were fulfilled in their search and encouraged by the gift to them of the sight of their salvation.
Let us not forget that this recognition - of who Christ was - was for Mary and Joseph; and perhaps most of all for Mary.  For her it was an indication that sorrow lay ahead, but also that he who was promised by Gabriel has been recognised as the one he really was and is.  It is upon the focal point of that sorrow that we now have to bring this account to meet the reality of today.  As Simeon saw the dangers that lay ahead for the child before him, he foresaw too the tragedy that Mary would face as do so many mothers in the world of our day; helpless to do anything in situations where their children are caught up in things beyond their control.  
God chose Mary to be the mother of Jesus and, in so many ways, she is portrayed in the New Testament as one who could bear the extreme weight of her calling.  These two elderly people kept vigil; they longed to see, and they had their desire fulfilled.  If we could learn a little of their patience in looking; their determination in the face of many days of routine ordinariness to see the longed-for Saviour.  As we approach the beginning of Lent perhaps it is time to call us to watch for when we should turn aside to look; when we should embrace the tedious, with the thought that ultimately Christ will appear, maybe when we least expect it; time to wait for a fresh note of inspiration - the unexpected to bring our attention back to mystery and miracle that brought Christ into our midst, and called us to a new place in his kingdom of love.  The path ahead is clear - its destination we know - our response is new every morning - and to never let go - as we live our lives as watchers and waiters like Anna and Simeon - woman and man of God.
John Mann
Second Hymn
O Thou Who Camest From Above: https://youtu.be/mNtCx8sB0J8
1 O thou who camest from above
the fire celestial to impart,
kindle a flame of sacred love
on the mean altar of my heart!
2 There let it for thy glory burn
with inextinguishable blaze,
and trembling to its source return
in humble prayer and fervent praise.
3 Jesus, confirm my heart's desire
to work, and speak, and think for thee;
still let me guard the holy fire,
and still stir up the gift in me.
4 Ready for all thy perfect will,
my acts of faith and love repeat;
till death thy endless mercies seal,
and make the sacrifice complete.
Prayers
Let us pray to the Father through Christ who is our light and life.
Father, your Christ is acclaimed as the glory of Israel:
look in mercy on your Church, sharing his light.
Lord, have mercy.
Christ, have mercy.
Father, your Christ in his temple brings judgement on the world:
look in mercy on the nations, who long for his justice.
Lord, have mercy.
Christ, have mercy.
Father, your Christ, who was rich, for our sakes became poor:
look in mercy on the needy, suffering with him.
Lord, have mercy.
Christ, have mercy.
Father, your Christ is the one in whom faithful servants find their peace:
look in mercy on the departed, that they may see your salvation.
Lord, have mercy.
Christ, have mercy.
Father, your Christ is revealed as the one destined to be rejected:
look in mercy on us who now turn towards his passion.
Lord, have mercy.
Christ, have mercy.
Lord God, you kept faith with Simeon and Anna,
and showed them the infant King.
Give us grace to put all our trust in your promises,
and the patience to wait for their fulfilment;
through Jesus Christ our Lord.
Amen.
The Peace
In the tender mercy of our God,
the dayspring from on high has broken upon us,
to give light to those who dwell in darkness
and the shadow of death,
and to guide our feet into the way of peace.
The Lord's Prayer
A few moments of silence before we pray:
Lord, you fulfilled the hope of Simeon and Anna,
who lived to welcome the Messiah:
may we, who receive your gifts beyond words,
prepare to meet Christ Jesus when he comes to bring us to eternal life;
for he is alive and reigns, now and for ever.
Amen
Conclusion
Christ the Son of God perfect in us the image of his glory
and gladden our hearts with the good news of his kingdom;
and the blessing of God almighty,
the Father, the Son, and the Holy Spirit,
be among us and remain with us always.
Amen.
Postlude in C - Henry Smart: https://youtu.be/vuSD0Cdsj0c
Common Worship: Times and Seasons, material from which is included here,
is copyright © The Archbishops' Council 2006 and published by Church House Publishing.
If you would like to make a donation to the church in Swanage, we will be most grateful. At present this is best done by BACS of which the details are:
Nationwide Building Society
Account name: Swanage PCC
Account Number: 70585005
Sort code: 07-00-55
Please give your name as reference.