---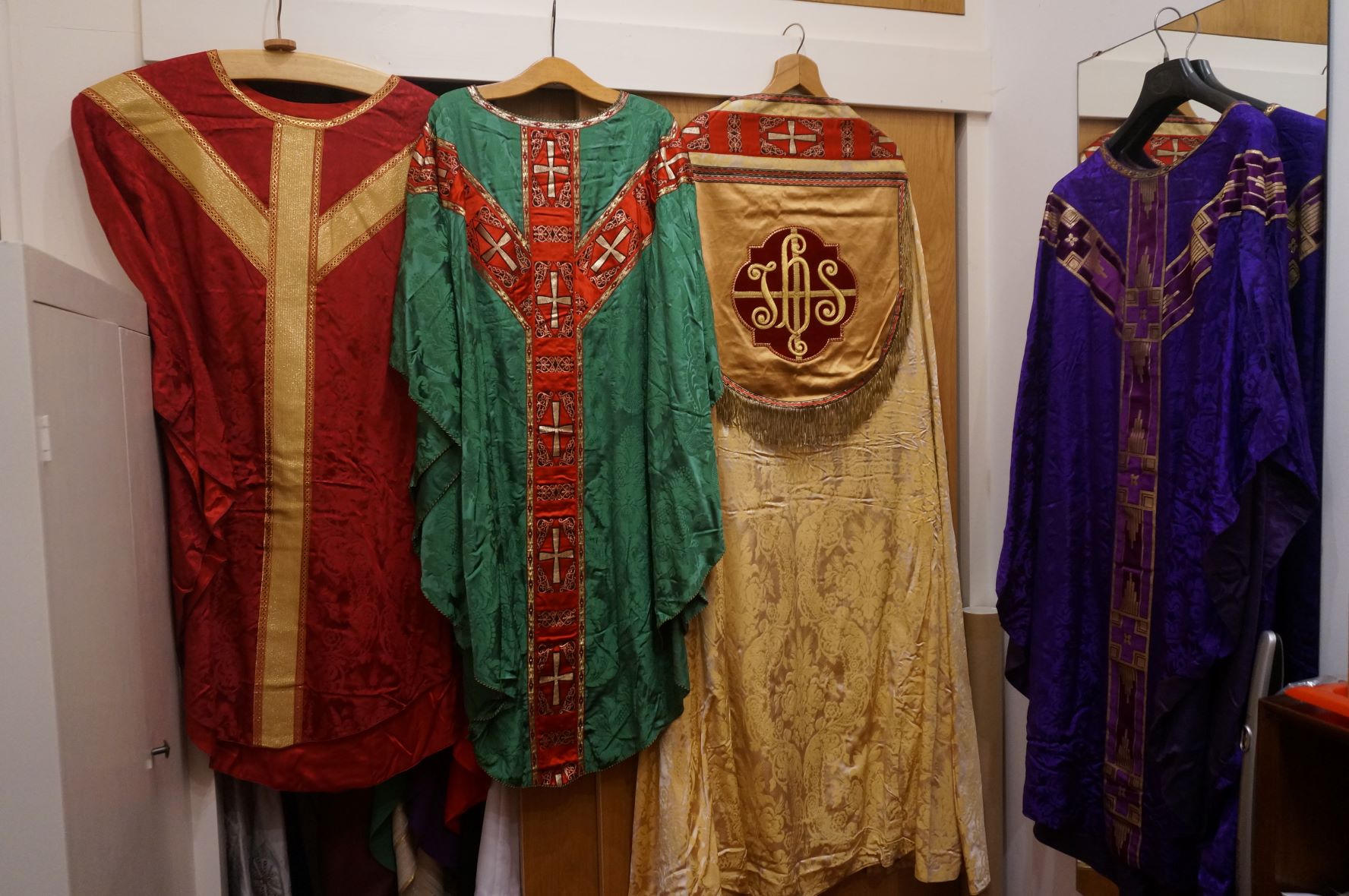 ---
The Reverend Ensor Chevalier
The Parish of Swanage has recently received the valuable gift of three beautiful chasubles and a very fine cope, with associated other items from the estate of the Reverend Ensor Chevalier, who died some years ago.  They have been gifted to us by his son.  
Ensor Chevalier was born and grew up in Swanage in the 1920's/1930's before heading off to Merton College Oxford and then going on to study at Ely Theological College. He was married to Jean, and had two sons, Mark and Stephen, who often served as acolytes through their formative years.
After ordination he served initially in Derbyshire followed by parishes in Reading before moving to Devon where he ministered in a number of places including Paignton and Dartmouth.
A short move east along the south coast took him to Teignmouth and finally Mudeford - before he retired from full ministry due to poor health.
However he continued to support in parishes where he lived as a retired minister - notably in Bournemouth - before finally returning to Swanage in 1980, when he supported the team at St Marks Herston for a few years, before his health meant he could no longer conduct services and he moved in to a residential care setting in Swanage.
Throughout all those years, between leaving Swanage to study as a young man and returning as a retiree in later life, the Purbecks were his annual holiday destination so he was never away from Swanage for too long during his life. The family would enjoy walks year round across the Purbeck Hills with the walk from Swanage to Studland, over Ballard Down, being a favourite.
Stephen, his son, adds:
"Whilst my father died a number of years ago he always wanted to pass his beloved vestments to the Swanage parish in the hope they would be of use - and, as his family, we hope these vestments find a new lease of life in the parish."
Ensor will be remembered in prayer as his vestments are received and dedicated for use in St Mary's at Evensong on Sunday 30th January, celebrated as Candlemas.
John Mann