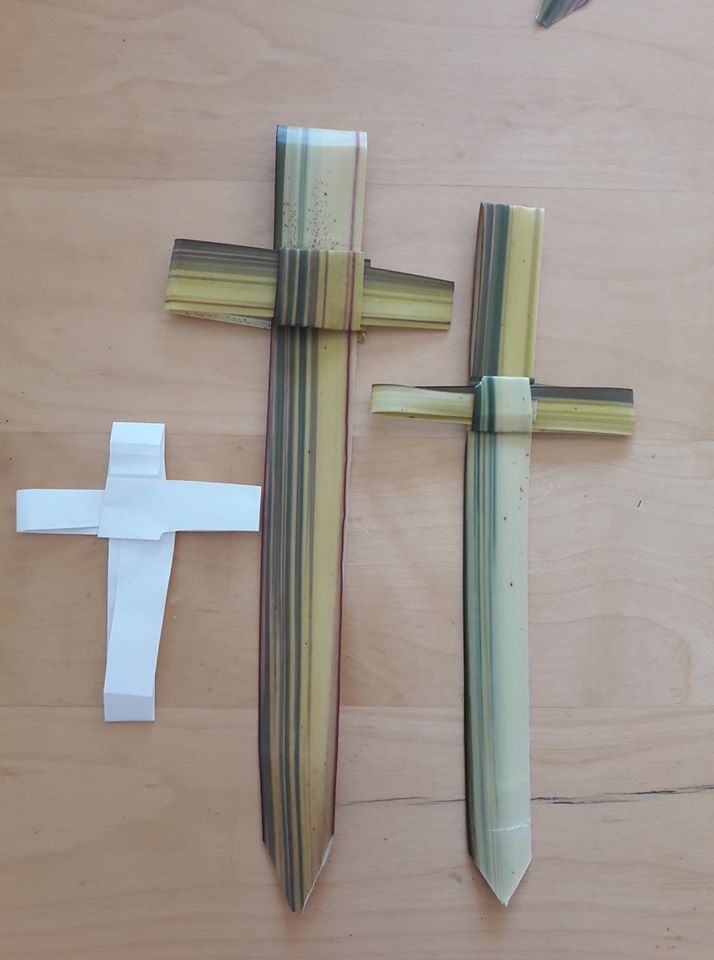 ---
A Service for Palm Sunday - Sunday 28th March, 2021
Preparation:
Before beginning to read this short service, you may wish to find a space for prayer in front of a cross or a candle.  If you have a palm cross, have it to hand.
Dear brothers and sisters in Christ, during Lent we have been preparing by works of love and self-sacrifice for the celebration of our Lord's death and resurrection. Today we come together to begin this solemn celebration in union with the Church throughout the world. Christ enters his own city to complete his work as our Saviour, to suffer, to die, and to rise again. Let us go with him in faith and love, so that, united with him in his sufferings, we may share his risen life.
Prayer of Preparation
Almighty God,
to whom all hearts are open,
all desires known,
and from whom no secrets are hidden:
cleanse the thoughts of our hearts
by the inspiration of your Holy Spirit,
that we may perfectly love you,
and worthily magnify your holy name;
through Christ our Lord.
Amen.
Prayers of Penitence
Our Lord Jesus Christ said:
The first commandment is this:
'Hear, O Israel, the Lord our God is the only Lord.
You shall love the Lord your God with all your heart,
with all your soul, with all your mind,
and with all your strength.'
The second is this: 'Love your neighbour as yourself.'
There is no other commandment greater than these.
On these two commandments hang all the law and the prophets.
Amen. Lord, have mercy.
Let us pray for a closer union with Christ in his suffering and in his glory.
a moment of silence
We confess to you our selfishness and lack of love:
fill us with your Spirit.
Lord, have mercy.
Lord, have mercy.
We confess to you our fear and failure in sharing our faith:
fill us with your Spirit.
Christ, have mercy.
Christ, have mercy.
We confess to you our stubbornness and lack of trust:
fill us with your Spirit.
Lord, have mercy.
Lord, have mercy.
Almighty God,
who forgives all who truly repent,
have mercy upon us,
pardon and deliver us from all our sins,
confirm and strengthen us in all goodness,
and keep us in life eternal;
through Jesus Christ our Lord.
Amen.
The Collect
Almighty and everlasting God,
who in your tender love towards the human race
sent your Son our Saviour Jesus Christ
to take upon him our flesh
and to suffer death upon the cross:
grant that we may follow the example of his patience and humility,
and also be made partakers of his resurrection;
through Jesus Christ your Son our Lord,
who is alive and reigns with you,
in the unity of the Holy Spirit,
one God, now and for ever.
Amen.
The First Reading:
Philippians 2: 5-11
Let the same mind be in you that was in Christ Jesus, 
who, though he was in the form of God,
   did not regard equality with God
   as something to be exploited, 
but emptied himself,
   taking the form of a slave,
   being born in human likeness.
And being found in human form, 
   he humbled himself
   and became obedient to the point of death—
   even death on a cross. 
Therefore God also highly exalted him
   and gave him the name
   that is above every name, 
so that at the name of Jesus
   every knee should bend,
   in heaven and on earth and under the earth, 
and every tongue should confess
   that Jesus Christ is Lord,
   to the glory of God the Father. 
This is the Word of the Lord
Thanks be to God
If you have one, holding up your palm cross begin the Palm Liturgy with this prayer:
God our Saviour,
whose Son Jesus Christ entered Jerusalem as Messiah to suffer and to die;
let this palm cross be for me a sign of his victory
and grant that all who bear them in his name
may ever hail him as our King,
and follow him in the way that leads to eternal life;
who is alive and reigns with you,
in the unity of the Holy Spirit,
one God, now and for ever.
Amen.
First hymn
All Glory, Laud and Honour: https://youtu.be/ol4TV-ZXqtM
All glory, laud, and honour 
to thee, Redeemer, King, 
to whom the lips of children 
made sweet hosannas ring.
Thou art the King of Israel 
thou David's royal Son, 
who in the Lord's name comest, 
the King and Blessed One. 
The company of angels 
are praising thee on high; 
and mortal men and all things
created make reply. 
The people of the Hebrews 
with palms before thee went; 
our praise and prayer and anthems 
before thee we present. 
To thee before thy passion 
they sang their hymns of praise; 
to thee, now high exalted, 
our melody we raise. 
Thou didst accept their praises, 
accept the prayers we bring, 
who in all good delightest, 
Thou good and gracious King: 
The Palm Gospel
Mark 11: 1-11
The Gospel of our Lord Jesus Christ according to Mark.
Glory to you, O Lord.
When they were approaching Jerusalem, at Bethphage and Bethany, near the Mount of Olives, he sent two of his disciples and said to them, 'Go into the village ahead of you, and immediately as you enter it, you will find tied there a colt that has never been ridden; untie it and bring it. If anyone says to you, "Why are you doing this?" just say this, "The Lord needs it and will send it back here immediately." ' They went away and found a colt tied near a door, outside in the street. As they were untying it, some of the bystanders said to them, 'What are you doing, untying the colt?' They told them what Jesus had said; and they allowed them to take it. Then they brought the colt to Jesus and threw their cloaks on it; and he sat on it. Many people spread their cloaks on the road, and others spread leafy branches that they had cut in the fields. Then those who went ahead and those who followed were shouting,
'Hosanna!
   Blessed is the one who comes in the name of the Lord! 
   Blessed is the coming kingdom of our ancestor David!
Hosanna in the highest heaven!'
Then he entered Jerusalem and went into the temple; and when he had looked around at everything, as it was already late, he went out to Bethany with the twelve.
This is the Gospel of the Lord.
Praise to you, O Christ.
Homily
Today, Palm Sunday, the Church begins what it calls Holy Week.  Within the next eight days the story of Christ's Passion, Death and Resurrection is all told.  Each year we concentrate on the account from one of Matthew, Mark or Luke, whilst reading from John every year.  2021 is a year of Mark, so we concentrate on the chapters from Mark 11: 1 to 16: 8.  We begin this morning by hearing of the entry of Jesus into Jerusalem on the first Palm Sunday (Mark 11: 1-11), then later you may like to read two more chapters (chapter 14 and 15, containing the whole Passion narrative).  
The question that I so often ask myself at this point, as Palm Sunday dawns, is, "How can I encompass so much in so little time?", or, put in another more telling way: "I don't think my tiny little mind can cope with this!"   Well, honestly, how do we approach Holy Week?  
The way that I answer this myself is always the same: "Don't strain to think too much about it, just take it within your heart and let it dwell there."  In other words, "listen with intent."  There is so much that we can bring to the Scripture that we will encounter that spells out our prejudices and hardened hearts.  These will be broken, if we let them be, in the next few days, simply by deep listening.
Why is it that Mark begins his story of the Passion in Chapter 14 with the anointing at Bethany, moving quickly to Judas Iscariot and his intention to betray Jesus?  Surely, because the beautiful story of Christ's anointing places its emphasis on the woman giving all that she could (verse 8).  This open-hearted gift contrasts so fundamentally with Judas' planned betrayal.  Such contrasts occur again and again throughout the Passion narrative, and we allow them to sink in during these days. That is why we need three hours on Good Friday to seek to wonder at what our Lord has done for us.  
It was either George Herbert or Francis Bacon, I can't remember which, who described 'wonder' rather thought-provokingly as, 'broken knowledge'.  This week we keep taking up the pieces of what we think we know, dwelling on them, and reverently, prayerfully, we reach out to - as it were - touch the hem of Christ's garment, seeking the grace and love to know him within.
John Mann
Second hymn
Ride on in Majesty: https://youtu.be/O6v8RFaPqcM
1 Ride on, ride on in majesty!
Hark! all the tribes hosanna cry;
O Saviour meek, pursue thy road
with palms and scattered garments strowed.
2 Ride on, ride on in majesty!
In lowly pomp ride on to die:
O Christ, thy triumphs now begin
o'er captive death and conquered sin.
3 Ride on, ride on in majesty!
The winged squadrons of the sky
look down with sad and wondering eyes
to see the approaching sacrifice.
4 Ride on, ride on in majesty!
The last and fiercest strife is nigh;
the Father on his sapphire throne
awaits his own anointed Son.
5 Ride on, ride on in majesty!
In lowly pomp ride on to die;
bow thy meek head to mortal pain,
then take, O God, thy power and reign.
Prayers of Intercession
We stand with Christ in his suffering.
For forgiveness for the many times we have denied Jesus,
let us pray to the Lord.
Lord, have mercy.
For grace to seek out those habits of sin which mean
spiritual death, and by prayer and self-discipline to overcome them,
let us pray to the Lord.
Lord, have mercy.
For Christian people,
that through the suffering of disunity
there may grow a rich union in Christ,
let us pray to the Lord.
Lord, have mercy.
For those who make laws, interpret them, and administer them,
that our common life may be ordered in justice and mercy,
let us pray to the Lord.
Lord, have mercy.
For those who still make Jerusalem a battleground,
let us pray to the Lord.
Lord, have mercy.
For those who have the courage and honesty to work openly for justice and peace,
let us pray to the Lord.
Lord, have mercy.
For those in the darkness and agony of isolation,
that they may find support and encouragement,
let us pray to the Lord.
Lord, have mercy.
For those who, weighed down with hardship, failure, or sorrow, feel that God is far from them,
let us pray to the Lord.
Lord, have mercy.
For those who are tempted to give up the way of the cross,
let us pray to the Lord.
Lord, have mercy.
That we, with those who have died in faith,
may find mercy in the day of Christ,
let us pray to the Lord.
Lord, have mercy.
Holy God,
holy and strong,
holy and immortal,
have mercy upon us.
The Peace
Once we were far off,
but now in union with Christ Jesus we have been brought near 
through the shedding of Christ's blood, for he is our peace.
The peace of the Lord be always with you
and also with you.
The Lord's Prayer
As our Saviour taught us, so we pray
Our Father in heaven,
hallowed be your name,
your kingdom come,
your will be done,
on earth as in heaven.
Give us today our daily bread.
Forgive us our sins
as we forgive those who sin against us.
Lead us not into temptation
but deliver us from evil.
For the kingdom, the power,
and the glory are yours
now and for ever.    
Amen.
Lord Jesus Christ,
you humbled yourself in taking the form of a servant,
and in obedience died on the cross for our salvation:
give us the mind to follow you
and to proclaim you as Lord and King,
to the glory of God the Father.
Amen.
The Blessing
Christ crucified draw us to you,
that we may find in you a sure ground for faith,
a firm support for hope,
and the assurance of sins forgiven;
and the blessing of God almighty,
the Father, the Son, and the Holy Spirit,
be among us and remain with us always.
Amen.
Voluntary: Master Tallis' Testament - Howells: https://youtu.be/mdMgj2RnApI
Common Worship: Times and Seasons, material from which is included here,
is copyright © The Archbishops' Council 2006 and published by Church House Publishing.
If you would like to make a donation to the church in Swanage, we will be most grateful. At present this is best done by BACS of which the details are:
Nationwide Building Society
Account name: Swanage PCC
Account Number: 70585005
Sort code: 07-00-55
Please give your name as reference.