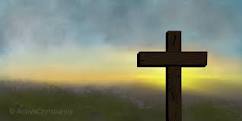 A Service for Palm Sunday
Preparation:
Before beginning to read this short service, you may wish to find a space for prayer in front of a cross, a candle, or a special place.  If you have received a palm cross, or have one from a previous year, please have it to hand, for the blessing of the palms at the beginning of the service.
Simon Lole has given us a link to  "Hosanna to the Son of David" by Orlando Gibbons:
that we might like to listen to as an introit, as we reflect on the day and the beginning of Holy Week.
-  What good things are coming from God today?

-  Where have I fallen short?

-  What might I do this day? 

After this you may wish to say or pray:
 
Lord, have mercy. 
Christ, have mercy. 
Lord, have mercy. 
Opening liturgy:
O Lord, open our lips and our mouth shall proclaim your praise.
The night has passed, and the day lies open before us;
let us pray with one heart and mind.
a moment of silence is kept
As we rejoice in the gift of this new day,
so may the light of your presence, O God,
set our hearts on fire with love for you;
now and ever.  Amen
 A Collect for Palm Sunday
True and humble king,
hailed by the crowd as Messiah:
grant us the faith to know you and love you,
that we may be found beside you
on the way of the cross,
which is the path of glory.
Amen
The Liturgy of Palm Sunday
Hosanna to the Son of David, the King of Israel.
Blessed is he who comes in the name of the Lord
Hosanna in the highest.
holding your palm cross, say the following:
God our Saviour,
whose Son Jesus Christ entered Jerusalem as Messiah to suffer and to die;
let this palm be for me a sign of his victory
and grant that all who bear them today in his name
may hail him ever as our King,
and follow him in the way that leads to eternal life;
who is alive and reigns with you,
in the unity of the Holy Spirit,
one God, now and for ever.
Amen
First hymn
click on this link (if you are without a second device, you may find it difficult to see both the words and Simon playing. Try putting Simon on audio, or print the words, if you don't have a hymn book at home.  Otherwise listen first, then sing once you have the tune in your head!):
All glory, laud, and honour
to thee, Redeemer, King,
to whom the lips of children
made sweet hosannas ring.
Thou art the King of Israel
thou David's royal Son,
who in the Lord's name comest,
the King and Blessed One.
The people of the Hebrews
with palms before thee went;
our praise and prayer and anthems
before thee we present.
To thee before thy passion
they sang their hymns of praise;
to thee, now high exalted,
our melody we raise.
Thou didst accept their praises,
accept the prayers we bring,
who in all good delightest,
thou good and gracious King.
Read the following psalm:
Psalm 118 verses 1 and 2, then verse 19 to the end;
and then the Gospel:  Matthew 21: 1-11
Homily:
"Blessed is he who comes in the name of the Lord" (Matthew 21:9; Psalm 118: 26)
Today we have two sets of readings appointed to be used at the Eucharist. Those listed above, a psalm and Gospel reading, give today its title "Palm Sunday". These are read at the beginning of a procession of the palms, as in many churches the congregation gather into the church building from the gate, or some further point, singing hosannas and waving palms. In England, when palms were not available people used willow, that has the same springiness and makes a good substitute, with its leaves just opening with the freshness of Spring.
Later in the service at the usual point in the liturgy, the whole Passion story is read from one of the Gospels. This year it is from St Matthew, so we would have been hearing in the service today Matthew 26:14 to Matthew 27:54. Feel free to read it now, but as we shall be concentrating on Calvary on Good Friday, I will confine my thoughts to the procession of the palms, today.
Matthew's account of the entry of Jesus into Jerusalem is full of Old Testament reference and, perhaps as a result of that, also of solemn intent. Matthew is saying to us, in effect, "This is as it should be". As well as Psalm 118, there is an amalgam in verse 5, of Isaiah 62:11 and Zechariah 9:9. It is from Zechariah, I believe, that Matthew gets the notion of two animals, reflecting the Hebrew literary practice of repeating an idea in a different way, or in different words, for emphasis, as we might say is also the case in verse 9, with the repetition of Hosannas, slightly differently, either side of, "Blessed is he who comes in the name of the Lord." Mark has it this way too.
The announcement of Christ as Messiah, and his personal identification with the prophecy of Zechariah, cannot really be assumed by our Lord's act of riding into Jerusalem on the donkey, though Jesus may, of course, have had Zechariah's words in his mind. None of the evangelists claim this directly, nor was Jesus challenged over the style of his arrival in Jerusalem at his trials later in the week. Matthew describes the crowd answering the people of Jerusalem's question, "Who is this?" with the words, "This is the prophet Jesus from Nazareth of Galilee." No one was assuming too much at this moment.
We, naturally enough, add layers of understanding to an account that proclaims the coming of the Saviour. Our hymns speak of our Lord's majesty, and of him riding on to die. So his love and sacrifice are framed today in humility and intent; simplicity and proclamation. It may not have been a very large crowd, and today sitting in our own homes rather than in Church, may be feeling less than we might be, but the fact that it happened and brought glory to God, joy to the crowd, unity and strength to the disciples and a challenge to those who disputed with Jesus, makes this day one that is ever memorable in the Church Year, and a solemn preparation for what is to come.
John Mann 
Second hymn
1 Ride on, ride on in majesty!
Hark! all the tribes hosanna cry;
O Saviour meek, pursue thy road
with palms and scattered garments strowed.
2 Ride on, ride on in majesty!
In lowly pomp ride on to die:
O Christ, thy triumphs now begin
o'er captive death and conquered sin.
3 Ride on, ride on in majesty!
The winged squadrons of the sky
look down with sad and wondering eyes
to see the approaching sacrifice.
4 Ride on, ride on in majesty!
The last and fiercest strife is nigh;
the Father on his sapphire throne
awaits his own anointed Son.
5 Ride on, ride on in majesty!
In lowly pomp ride on to die;
bow thy meek head to mortal pain,
then take, O God, thy power and reign
Prayers
Heavenly Father, look in your mercy upon the world you loved so much
that you sent your Son to suffer and to die.
Strengthen those who work to share
the reconciliation won at such a cost upon the cross.
By the Saviour's cross and passion,
Lord, save us and help us.
Bring healing by the wounds of Christ
to all who are weighed down by pain and injustice.
Help the lonely and the betrayed, the suffering and the dying,
to find strength in the companionship of Jesus,
and in his passion to know their salvation.
By the Saviour's cross and passion,
Lord, save us and help us.
Come close to those, O Lord,
whose energy is low and who are living in anxiety and isolation.
Remember all who are affected as a result of the Covid virus pandemic;
those who are ill; those concerned about their loved ones and unable to be with them; those who are caring for the sick.
In your mercy, surround them with your loving protection;
give them reassurance and peace within.
By the Saviour's cross and passion
Lord, save us and help us.
Merciful Father,
welcome into paradise all who have left this world.
According to your promises,
bring them with all your saints
to share in all the benefits of Christ's death and resurrection.
By the Saviour's cross and passion,
Lord, save us and help us.
Lord, in these days of mercy, make us quiet and prayerful; 
in these days of challenge, make us stronger in you; 
in these days of emptiness,
take possession of us;
in these days of waiting,
open our hearts to the mystery of your cross. 
Amen
(a prayer by Angela Ashwin)
God of love,
passionate and strong,
tender and careful:
watch over us and hold us
all the days of our life;
through Jesus Christ our Lord.
Amen.
The Lord's Prayer
The Grace.