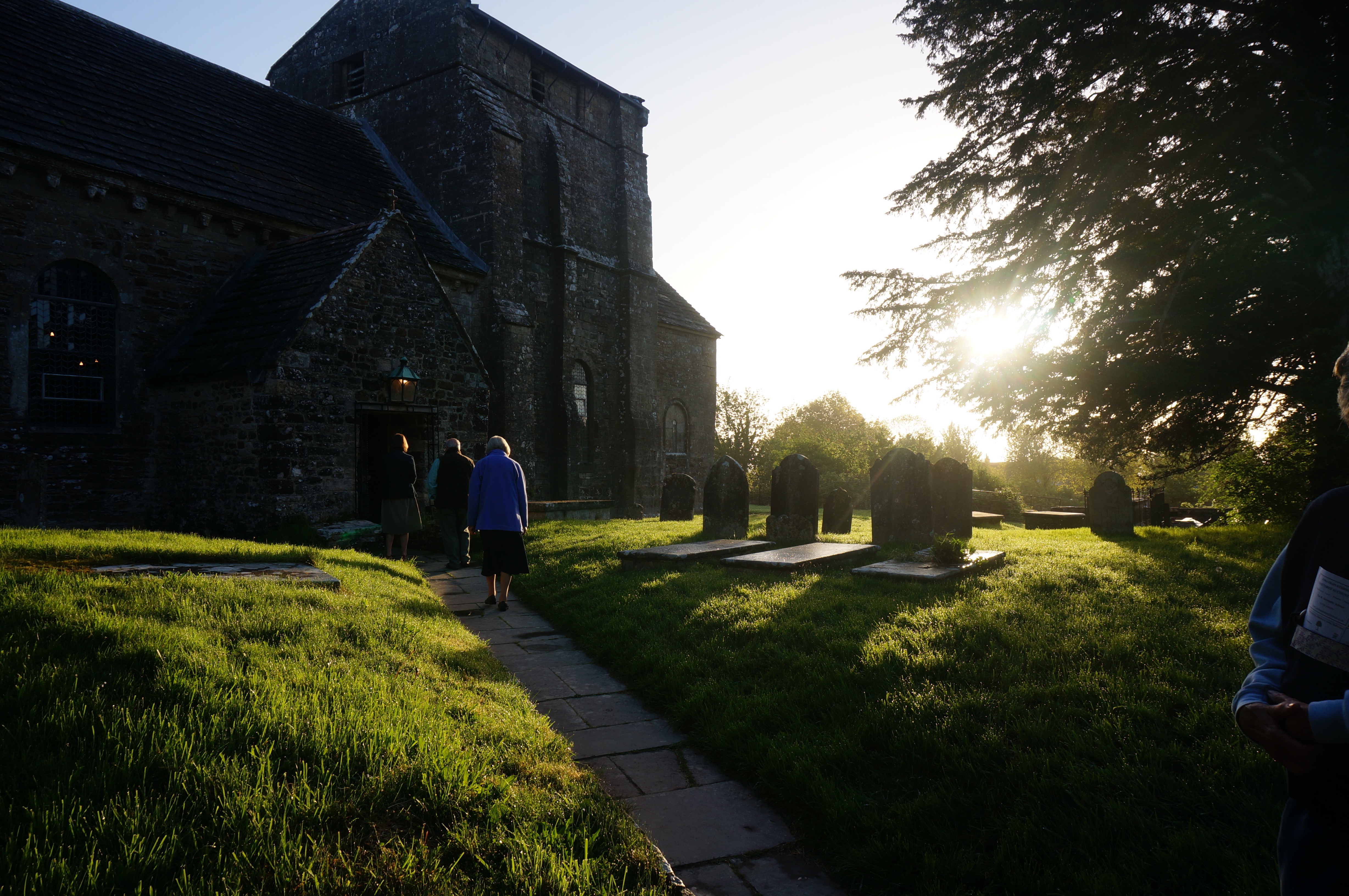 ---
A Service for the Fifth Sunday after Trinity, 12th July, 2020
Preparation:
Before beginning to read this short service, you may wish to find a space for prayer in front of a cross, a candle, or a special place.  
May the light of Christ, rising in glory, banish all darkness from our hearts and minds.
The Acclamation of Christ at the Dawning of the Day 
O Lord, open our lips
and our mouth shall proclaim your praise.
May Christ, the true, the only light
banish all darkness from our hearts and minds.
O come, let us sing to the Lord; 
let us heartily rejoice in the rock of our salvation. 
Let us come into his presence with thanksgiving 
and be glad in him with psalms.
For the Lord is a great God 
and a great king above all gods. 
Come, let us worship and bow down 
and kneel before the Lord our Maker.
For he is our God; 
we are the people of his pasture and the sheep of his hand. 
Glory to the Father and to the Son
and to the Holy Spirit;
as it was in the beginning is now
and shall be for ever. Amen.
Blessed are you, creator of all,
to you be praise and glory for ever.
As your dawn renews the face of the earth
bringing light and life to all creation,
may we rejoice in this day you have made;
as we wake refreshed from the depths of sleep,
open our eyes to behold your presence
and strengthen our hands to do your will,
that the world may rejoice and give you praise.
Blessed be God, Father, Son and Holy Spirit.
Blessed be God for ever.
The Collect
Silence is kept.
Almighty and everlasting God,
by whose Spirit the whole body of the Church
is governed and sanctified:
hear our prayer which we offer for all your faithful people,
that in their vocation and ministry
they may serve you in holiness and truth
to the glory of your name;
through our Lord and Saviour Jesus Christ,
who is alive and reigns with you,
in the unity of the Holy Spirit,
one God, now and for ever.
Amen
The First Hymn
Lord, thy word abideth:  please access Simon's accompaniment here: 
1 Lord, thy word abideth,
and our footsteps guideth;
who its truth believeth
light and joy receiveth.
2 When our foes are near us,
then thy word doth cheer us,
word of consolation,
message of salvation.
3 When the storms are o'er us,
and dark clouds before us,
then its light directeth,
and our way protecteth.
4 Who can tell the pleasure,
who recount the treasure
by thy word imparted
to the simple-hearted?
5 Word of mercy, giving
succour to the living;
word of life, supplying
comfort to the dying.
6 O that we discerning
its most holy learning,
Lord, may love and fear thee,
evermore be near thee!
The First Reading:
Isaiah 55: 10-13
Psalm 65: 8-end
Refrain:    Be joyful in God, all the earth.
8    You visit the earth and water it;  
you make it very plenteous.
9    The river of God is full of water;  
you prepare grain for your people,
for so you provide for the earth.
10  You drench the furrows and smooth out the ridges;  
you soften the ground with showers and bless its increase.
11  You crown the year with your goodness,  
and your paths overflow with plenty.
12  May the pastures of the wilderness flow with goodness  
and the hills be girded with joy.
13  May the meadows be clothed with flocks of sheep  
and the valleys stand so thick with corn
that they shall laugh and sing.
Refrain:    Be joyful in God, all the earth.
May the richness of your creation, Lord,
and the mystery of your providence
lead us to that heavenly city
where all peoples will bring their wealth,
forsake their sins and find their true joy,
Jesus Christ our Lord.
Amen
The Second Reading:
Romans 8: 1-11
The Gospel:
Matthew 13: 1-9, 18-23
Homily
The Parable of the Sower is one of the most frequently used parables of the New Testament, so easily can it be portrayed in a dramatic way.  In schools, lots of children can be incorporated as seed, birds, thistles, sun and sower, and of course, the growing plants. But, rather than analyse the parable this morning, I want us to address ourselves to the question, "What does the parable say about the relationship between grace and human effort?"
In the parable, the Word of God comes to all alike, in abundance and equally; everyone is given the same opportunity – but the growth of the seed to maturity and fruit producing perfection is dependent upon the quality of the soil.  Human effort plays a part in this.  If we have not the will to grow as Christians, there is precious little hope that we will grow, because we will constantly be unavoidably blocking the Spirit of God – and so we become hard and unyielding spiritually, so that the word of God cannot penetrate, or we clutter our lives with so many things that we simply choke him out, or we receive the Word of God in a superficial manner and end up shallow and uncommitted in our faith, leading us to give up easily, for such a course is the least line of resistance.
Our hope as Christians is to be "made like Christ", but many of those who have striven to imitate Christ would confess that the nearer they have climbed towards that pinnacle, the further from the summit they have felt themselves to be.  St Paul, after all his heroic efforts on behalf of his master, in spite of unstinting labours and mystical experiences and his single-mindedness in doing the will of Christ – he can still write towards the end of his life and from prison, "I do not claim that I have already succeeded or have become perfect.  I keep striving to win the prize for which Christ Jesus has already won for me to himself […] I run straight towards the goal."
These are frequently our thoughts during Lent, and yet these Summer months, when so much is changing for so many people, not least the transition back to services in Church - yet not for everyone - brings a chance for reflecting on the spiritual life: making a new rule of prayer, a more regular or frequent study of the Bible or, when the opportunity arises, reception of the Eucharist, some determined effort in reconciliation or a re-assessment of our commitment to justice, Christian morality and service, or the stewardship of our God-given resources of money, time and talents.  In fact there is a great deal that we can do to become more fertile soil for the Word of God, and more ready to receive the free gift of grace, transforming and renewing our lives.
John Mann
Second Hymn
I heard the voice of Jesus say: https://youtu.be/n2sXBeMAyjs
1 I heard the voice of Jesus say,
"Come unto me and rest;
lay down, O weary one, lay down
your head upon my breast."
I came to Jesus as I was,
weary and worn and sad;
I found in him a resting place,
and he has made me glad.
2 I heard the voice of Jesus say,
"Behold, I freely give
the living water; thirsty one,
stoop down and drink, and live."
I came to Jesus, and I drank
of that life-giving stream;
my thirst was quenched, my soul revived,
and now I live in him.
3 I heard the voice of Jesus say,
"I am this dark world's Light;
look unto me, thy morn shall rise,
and all thy day be bright."
I looked to Jesus and I found
in him my Star, my Sun;
and in that light of life I'll walk,
'til travelling days are done.
Prayers

 
Lord God, in the firmament of heaven may your glory be forever a source of constant wonder and awe; and though our praises be inadequate and our worship earth-bound, in your mercy let our hearts soar to the heights and our voices join with those of the angels as we give thanks for all that you give us each day that we live.  Bless we pray the Bishops and other clergy of the Church, especially Justin our Archbishop, Nicholas, Bishop of Salisbury, Karen, Bishop of Sherborne and the ordained and lay leaders of the churches of Swanage and Studland. 
Lord hear us
Lord, graciously hear us.
Father, almighty and ever-living God, preserve in your mercy all who live in danger and fear, or in anxiety over their health or that of a loved one.  We pray especially for all who have lost loved ones or home, or livelihood, or have suffered injury, due to living in a conflict situation in our world today.  Bless Elizabeth our Queen and all leaders with wisdom, justice and mercy.  May your love be apparent in public life and Christian values be heard and shared, in all meetings to review and promote the decisions of governments and nations.  Bless those who seek peace and justice in parts of the world where there is violence and oppression; bring stability and unity of purpose to all countries, and may individuals who are at risk and whose voices are unheard, have the opportunity to share their concerns safely in national debate, in order to bring a just and lasting settlement to conflict-torn nations.
Lord hear us
Lord, graciously hear us.
Father, may we in love welcome into our midst those who worship with us from other places.  Especially today, pray for all who join us through the internet from across the country and further afield.  Father bring your joy into our hearts and lift our souls to you as we reach out to each other, our neighbours and friends, those we know and those we don't, as we seek your blessing upon our town and village.  Keep us in peace and safety and help us, by our example to be sensitive to the needs of others; especially we pray for those who have no home and feel that they have no hope, or no job and feel that they have no future, or no friends or family and feel that they have no life.  May their guardian angels, who ever behold the face of God, bring comfort, support and assurance.
Lord hear us
Lord, graciously hear us.
May your mercy, O Lord, be known in the lives of those in our families and communities who are suffering today.  To the frail and elderly bring comfort and a real sense that they are loved and valued and not forgotten; for those undergoing tests or operations bring assurance and your ever-present healing touch and to those chronically ill, grant patience in the face of adversity, and strength to cope in hours of weakness.  Bring healing to those of our Church communities who are ill, especially…….. 
Lord hear us
Lord, graciously hear us.
Comfort and strengthen the bereaved and shield the dying from pain and fear; that in love we may be drawn ever closer to you, the source of our life and answer to our prayer.  We pray especially for those who have died recently from our Churches:  Doreen Pace; Nan Hart; Joy Fildes
Lord hear us
Lord, graciously hear us.
Shed the bright beams of your glory upon the downcast, and raise up the fallen, for the sake of Jesus Christ your Son, whose very presence gives us new life.
Merciful Father accept these our prayers for the sake of your Son our Saviour, Jesus Christ.
The Lord's Prayer
A few moments of silence before we pray:
Grant, O Lord, we beseech you,
that the course of this world may be so peaceably ordered
by your governance,
that your Church may joyfully serve you in all godly quietness;
through Jesus Christ our Lord.
Amen.
Conclusion
The Lord bless us and keep us:
Amen.
The Lord make his face to shine upon us,
and be gracious to us:
Amen.
The Lord lift up his countenance upon us
and give us peace:
Amen
Numbers 6.24-26
The Lord God almighty, Father, Son, and Holy Spirit,
the holy and undivided Trinity,
guard us, save us,
and bring us to that heavenly city,
where he lives and reigns for ever and ever.
Amen.
Master Tallis' Testament - Howells: https://youtu.be/mdMgj2RnApI
If you would like to make a donation to the church in Swanage, we will be most grateful. At present this is best done by BACS of which the details are:
Nationwide Building Society
Account name: Swanage PCC
Account Number: 70585005
Sort code: 07-00-55
Please give your name as reference.