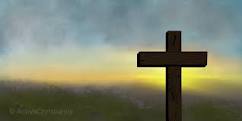 ---
A "Service on the Phone" for Passion Sunday
The liturgy and sermon are produced by Solveig Sonet
Person 1: We speak today in the name of God, Father, Son, and Holy Spirit.
Person 2: Amen
1: God be with you
2: And also with you
Opening Prayer:
1: The week has felt long, the days have felt lonely
2: The news has been worrying, and relentless
1: We might feel aimless and powerless
2: Or we might feel anxious and isolated
1: But God we want to feel your presence within and around us
2: God we want to see your light shine in the darkness of this time
1: As we long for our community to gather once more to worship you
2: God we know that when two or three meet on the phone in your name, there you are with us.  AMEN
Collect:
Gracious God, you gave up your Son out of love for the world: lead us to ponder the mysteries of his passion, that we may know eternal peace through the shedding of our Saviour's blood, Jesus Christ.  Amen
Reading:
John 11.1-45
Now a certain man was ill, Lazarus of Bethany, in the village of Mary and her sister Martha. Mary was the one who anointed Jesus with perfume and wiped his feet with her hair; her brother Lazarus was ill. So the sisters sent a message to Jesus, 'Lord, he whom you love is ill.' But when Jesus heard it, he said, 'This illness does not lead to death; rather it is for God's glory, so that the Son of God may be glorified through it.' Accordingly, though Jesus loved Martha and her sister and Lazarus, after having heard that Lazarus was ill, he stayed two days longer in the place where he was.
Then after this he said to the disciples, 'Let us go to Judea again.' The disciples said to him, 'Rabbi, the Jews were just now trying to stone you, and are you going there again?' Jesus answered, 'Are there not twelve hours of daylight? Those who walk during the day do not stumble, because they see the light of this world. But those who walk at night stumble, because the light is not in them.' After saying this, he told them, 'Our friend Lazarus has fallen asleep, but I am going there to awaken him.' The disciples said to him, 'Lord, if he has fallen asleep, he will be all right.' Jesus, however, had been speaking about his death, but they thought that he was referring merely to sleep. Then Jesus told them plainly, 'Lazarus is dead. For your sake I am glad I was not there, so that you may believe. But let us go to him.' Thomas, who was called the Twin, said to his fellow-disciples, 'Let us also go, that we may die with him.'
When Jesus arrived, he found that Lazarus had already been in the tomb for four days. Now Bethany was near Jerusalem, some two miles away, and many of the Jews had come to Martha and Mary to console them about their brother. When Martha heard that Jesus was coming, she went and met him, while Mary stayed at home. Martha said to Jesus, 'Lord, if you had been here, my brother would not have died. But even now I know that God will give you whatever you ask of him.' Jesus said to her, 'Your brother will rise again.' Martha said to him, 'I know that he will rise again in the resurrection on the last day.' Jesus said to her, 'I am the resurrection and the life. Those who believe in me, even though they die, will live, and everyone who lives and believes in me will never die. Do you believe this?' She said to him, 'Yes, Lord, I believe that you are the Messiah, the Son of God, the one coming into the world.'
When she had said this, she went back and called her sister Mary, and told her privately, 'The Teacher is here and is calling for you.' And when she heard it, she got up quickly and went to him. Now Jesus had not yet come to the village, but was still at the place where Martha had met him. The Jews who were with her in the house, consoling her, saw Mary get up quickly and go out. They followed her because they thought that she was going to the tomb to weep there. When Mary came where Jesus was and saw him, she knelt at his feet and said to him, 'Lord, if you had been here, my brother would not have died.' When Jesus saw her weeping, and the Jews who came with her also weeping, he was greatly disturbed in spirit and deeply moved. He said, 'Where have you laid him?' They said to him, 'Lord, come and see.' Jesus began to weep. So the Jews said, 'See how he loved him!' But some of them said, 'Could not he who opened the eyes of the blind man have kept this man from dying?'
Then Jesus, again greatly disturbed, came to the tomb. It was a cave, and a stone was lying against it. Jesus said, 'Take away the stone.' Martha, the sister of the dead man, said to him, 'Lord, already there is a stench because he has been dead for four days.' Jesus said to her, 'Did I not tell you that if you believed, you would see the glory of God?' So they took away the stone. And Jesus looked upwards and said, 'Father, I thank you for having heard me. I knew that you always hear me, but I have said this for the sake of the crowd standing here, so that they may believe that you sent me.' When he had said this, he cried with a loud voice, 'Lazarus, come out!' The dead man came out, his hands and feet bound with strips of cloth, and his face wrapped in a cloth. Jesus said to them, 'Unbind him, and let him go.'
Many of the Jews therefore, who had come with Mary and had seen what Jesus did, believed in him.
Sermon/short reflection:
For a few days now I've been trying to figure out what to say in this next sermon. I spotted last week that our reading was going to be the raising of Lazarus, and the irony of the timing wasn't lost on me. It feels both incredibly profound and topical, and at the same time incredibly unhelpful. In the midst of a pandemic sweeping through our world, we read about Jesus raising his best friend (who died from an illness) from the dead. It is profound because it talks about the grieving process and our eventual resurrection; but it is also unhelpful because it talks about a Jesus who knows what is coming and yet does nothing to stop his friend from dying. 
Last week was Mothering Sunday, and although we all had many lovely plans to celebrate, the week preceding that Sunday was a never ending stream of worrying news, gradually throwing us into a state of bewilderment and finally ending with our Churches closing their doors for the foreseeable future. This means that for many of us, today will be our first Sunday hitting us with the reality that Church as we have come to experience it until now, will look very different for a long time to come. 
The fact that our readings are full of death and weeping and mourning seems such a harsh timing when we are also experiencing death around us from victims of the virus, and weeping for contact with our family and loved ones, and mourning for a lifestyle that we took for granted. Interestingly our Bible is full of trauma stories, of individuals, of tribes, of entire nations. The biggest biblical trauma of all awaits us in a few weeks, with the crucifixion of Christ. But out of those traumas, arise strength and beauty, and in the case of Christ's death, arises salvation and God's unconditional love. Today's story is also full of life, and resurrection, and the promise of God's light in the world and in our lives. Although right now, perhaps, in the midst of this collective trauma we are going through as a society, perhaps that light looks very dim and feels very far.
I think, we are living in this state of limbo. Not really knowing what is going to happen next, not knowing how long from now this 'next' is going to happen. We are also in the waiting limbo time, not knowing for certain if we have caught this virus or not, waiting to see if in a week's time the symptoms turn up. It's also a strange mix of being both stuck at home with theoretically endless time on our hands, and yet everything feels so exhausting. It's not a holiday, it's not work, nothing feels normal, and we are trying to invent our new normal among this major community trauma. 
Jesus talks about walking at night and stumbling because the light isn't in us. He says all of this knowing that the time of his passion is only just around the corner. Knowing that he is about to take that very walk through the dark himself. In a way we are right now taking a walk through the dark forest, stumbling in the dark, trying to catch each other, the footpath so barely visible we are not entirely sure we are going in the right direction. 
Some of us have been there before. Trauma, however big or small, usually takes us through the deep dark woods. And despite knowing the light of God is there, we still stumble. I've been there before, and I did once manage to find the way out, but this time the forest feels thicker and darker. I think I can see the light somewhere way in the distance, but I also know there is a long walk in the dark before that.
I wonder if perhaps this weird behaviour from Jesus, about waiting a few days to go and see his dying friend, is about this strange state of limbo in the dark forest we find ourselves in. There is so much we don't know. 
Jesus knows that Lazarus' death will lead to something much greater than death, but he is still feeling the sorrow and pain and grief of bereavement. Jesus knows that the death of Lazarus will trigger a series of events leading to his own crucifixion and resurrection, leading to finish what God sent him here to do. In a way we know that this tragic and traumatic situation we are finding ourselves in today, will and has already led to seeing how beautifully kind our neighbours are, how lovingly dedicated our nurses and doctors are, how utterly committed our supermarkets and delivery service workers are. But this doesn't stop us from feeling the anxieties of life in the midst of a pandemic, or from the pain of not seeing our children and grandchildren for a long time, or from weeping at the death of our loved ones. Jesus wept too.   AMEN
Intercessions:
1: Today we pray for all those who are working to help the sick and the dying, working to find a vaccine, working to keep us safe, for those who are planning for our country to recover.
2: We are praying all those who feel worried and alone, for the many families who cannot afford their food, for the homeless and all those without shelter, for the many refugees across Europe travelling to safety.
1: God we pray for your support to all who are anxious, and depressed. For those walking through the dark forest. We pray that you may guide us to the light of your promised love; and where possible, to help those in need. Please help us come to terms with the open-ended nature of our current crisis.
2: God we thank you for our community here in Swanage, which has already shown incredible dedication and care for each other. And we pray that you keep us safe until we are once again able to meet our friends and families.  AMEN
Together: The Lord's Prayer
Dismissal:
1: Whether we are sick or healthy, may we be kept in God's loving embrace.
2: May God bless us and remain with us and everyone we love.  AMEN