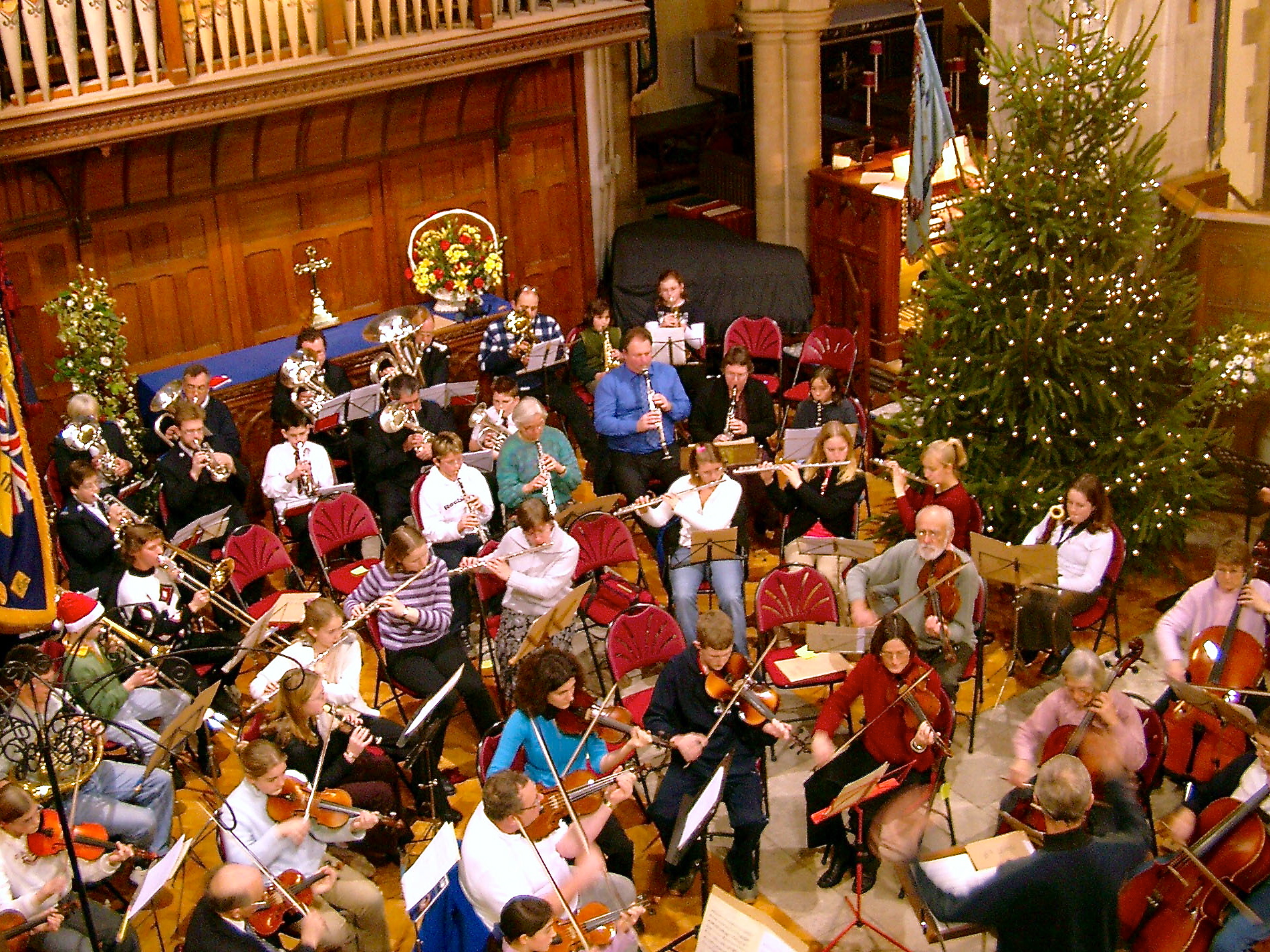 The orchestra for the town carol service is directed by Ian Pillow

---
The Town Carol Service for 2018 is an event that we have been looking forward to for some time, as the choir rehearses and the orchestra is prepared for its important contribution. The technical challenges in organising everyone to play in the same key lies with Ian Pillow, and we thank him for his work of transcribing and transposing, preparing parts for different instruments, which all pays off on the day. We are delighted too to have Simon Lole with us on Sunday evening, as he recovers from illness and builds his strength once more.
Readers of the lessons contribute their very important part to the overall flow of any carol service. They build the picture of what led to the birth of Jesus and then relate its story and meaning. As we proceed through the Old Testament history the light of hope is being proclaimed, which is then reveal through the readings from the Gospel writers.
We felt that to make our collection at this service for the homeless would be appropriate at this Christmas season. With our collection on Sunday evening, we are going to support a charity called Alabaré, working in the south and south-east of England, which you may not have heard of before. Let me give you some detail:
Who are Alabaré? It is a charity that supports vulnerable, homeless and marginalised people.  It helps them transform their lives, providing accommodation and helping them gain the skills, confidence and opportunities to live a fulfilled life. 
The Alabaré Story: Alabaré was founded in 1991 by Rev John Proctor and his wife Alicia after they befriended and offered a home to a series of people in crisis,.  They soon realised that the need was far greater than they alone could meet.  In partnership with a Christian community, they founded a new charity, Alabaré and following a year of fundraising, its first home, Barnabas House, was opened. 27 years later, Alabaré now offers support to thousands of people in need through its homes and services. It provides specialist support for young mothers and their babies, people suffering from addictions, young people and those leaving the care system, those experiencing mental ill health, adults with learning difficulties, and Armed Forces Veterans who struggle to cope with life outside of the military.  
The Alabaré Vision: In each of the homes and through its services, the vision of helping each person to live an independent life of their choosing is achieved by holding fast to the founding principles of generosity, care, compassion and respect. There is a  welcome for people of all faiths and none to its homes, and to be part of Alabaré. 
John Mann. (Team Rector of Swanage and Studland)