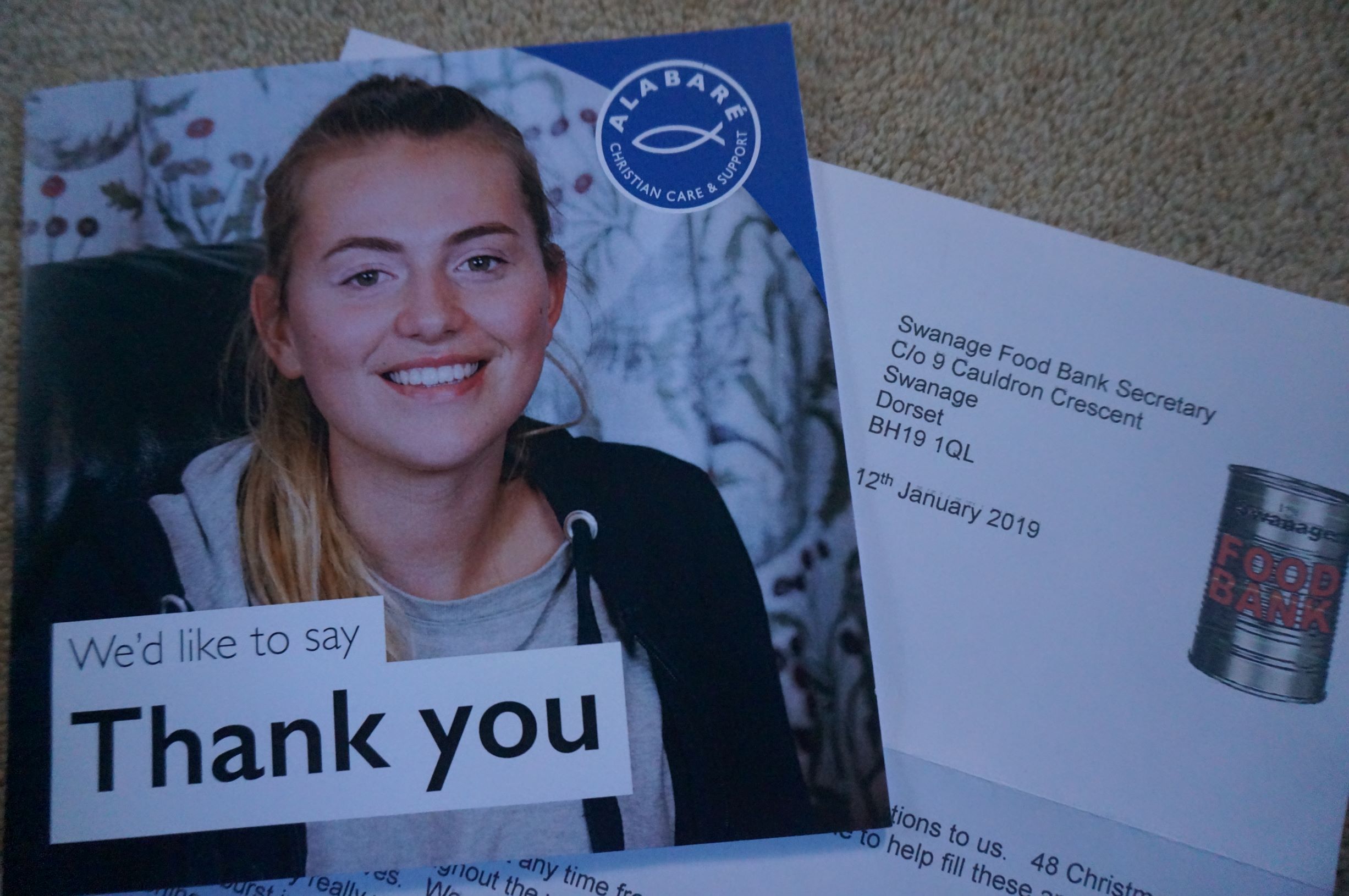 Charity thank you notes from Christmas collections

---
Thank you.
Swanage Food Bank and Alabaré Christian Care & Support have both written to thank the Church for the donations collected over the Christmas period. The support for the homeless, given at the Town Carol Service on 16th December was from that one single collection. The gifts to the Foodbank have been both financial and presents of food over a longer period.
Catriona Humpherson writes as Secretary of the Swanage Food Bank:
"A very big thank you for your wonderfully generous Christmas donations to us.  48 Christmas Hampers went out this year and your donations were well in time to help fill these and make the outgoing food parcels Christmassy too.  Wonderful!  
The quality of the food we receive at any time from you is excellent and this means that all of the food parcels we give throughout the year are of top quality and quantity that makes a difference to fractured lives.  We also manage to keep the food parcels varied and give people diverse things they really want to eat including treats - especially for children.  We often find that new clients burst into tears at the sight of the food parcel containing, as it does, such a heartening array of desirable food stuffs.
Your help to us, and to those in need whom we serve, is invaluable.  Without it, Foodbank could not deliver to the steady flow of local people and families in some form of crisis including lack of finance and temporary inability to feed their families or themselves.  Thank you very much."
Helen Inglis, Church Engagement Officer of Alabaré Christian Care & Support writes:
"I am writing to acknowledge with gratitude receipt of your donation of £484.12 by cheque, which arrived on 24th December.
On behalf of Alabaré Christian Care & Support thank you so much for this generous contribution towards work with homeless and vulnerable people.  I am enclosing a copy of a leaflet which gives a snapshot of the work that we do, which I hope is of interest.
Please pass on our thanks to the congregation of St Mary the Virgin and to those who attended the town carol service - I am sure that it was a joyful occasion.  Do encourage them to continue to support our work in their prayers and I trust that the Swanage and Studland congregations will be blessed through 2019."