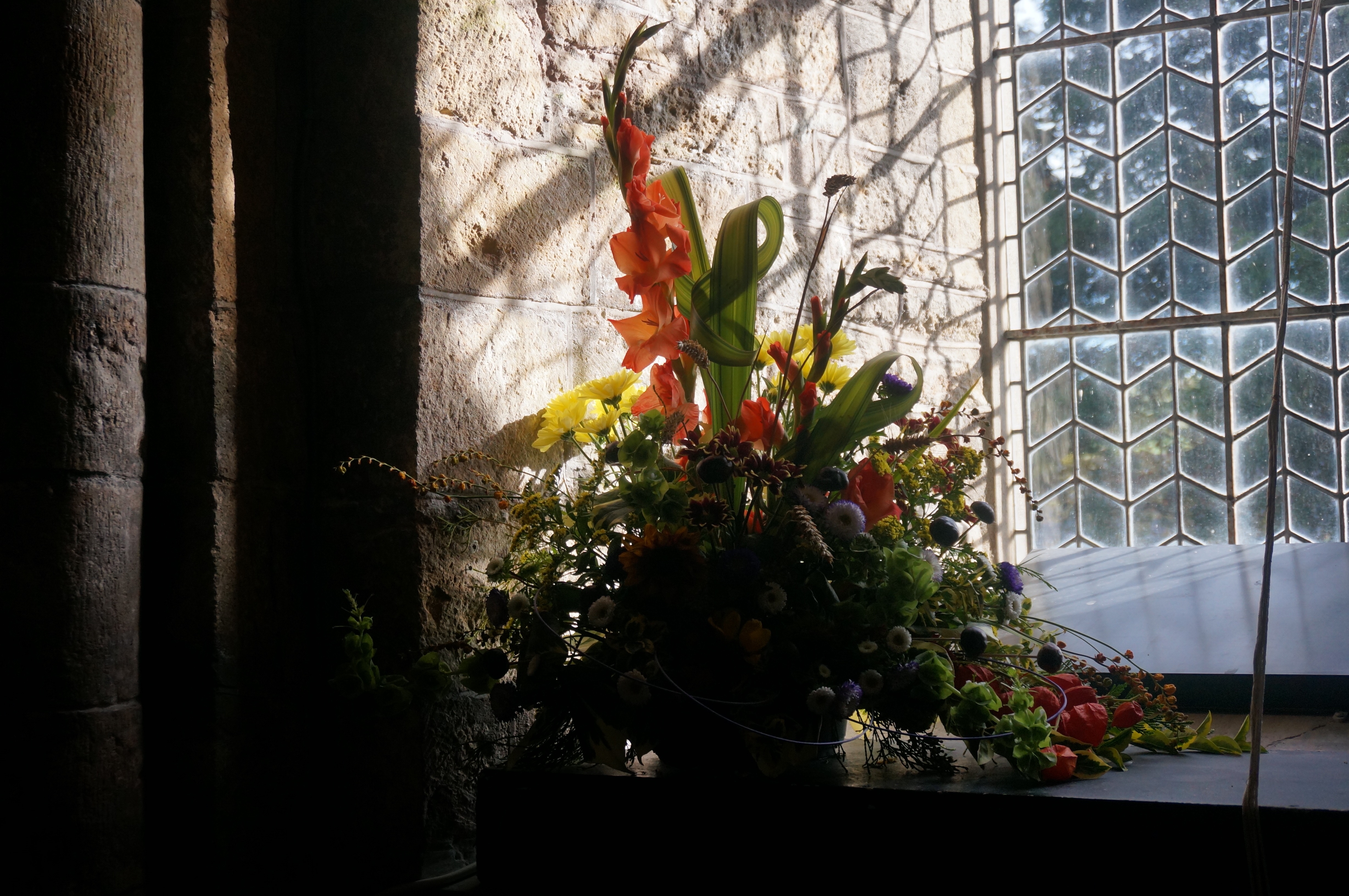 ---
A Service for the Fifteenth Sunday after Trinity, 12th September, 2021
Preparation:
Before beginning to read this short service, you may wish to find a space for prayer in front of a cross, a candle, or a special place.  
May the light of Christ, rising in glory, banish all darkness from our hearts and minds.
The Acclamation of Christ at the Dawning of the Day
O Lord, open our lips
and our mouth shall proclaim your praise.
May Christ, the true, the only light
banish all darkness from our hearts and minds.
O come, let us sing to the Lord; 
let us heartily rejoice in the rock of our salvation. 
Let us come into his presence with thanksgiving 
and be glad in him with psalms.
For the Lord is a great God 
and a great king above all gods. 
Come, let us worship and bow down 
and kneel before the Lord our Maker.
For he is our God; 
we are the people of his pasture and the sheep of his hand. 
Glory to the Father and to the Son
and to the Holy Spirit;
as it was in the beginning is now
and shall be for ever. Amen.
Blessed are you, creator of all,
to you be praise and glory for ever.
As your dawn renews the face of the earth
bringing light and life to all creation,
may we rejoice in this day you have made;
as we wake refreshed from the depths of sleep,
open our eyes to behold your presence
and strengthen our hands to do your will,
that the world may rejoice and give you praise.
Blessed be God, Father, Son and Holy Spirit.
Blessed be God for ever.
The Collect
Silence is kept.
God, who in generous mercy sent the Holy Spirit
upon your Church in the burning fire of your love:
grant that your people may be fervent
in the fellowship of the gospel
that, always abiding in you,
they may be found steadfast in faith and active in service;
through Jesus Christ your Son our Lord,
who is alive and reigns with you,
in the unity of the Holy Spirit,
one God, now and for ever.
Amen
The First Hymn
Teach Me, My God and King:   please access Simon's accompaniment here: 
Teach me, my God and King, 
in all things thee to see, 
and what I do in anything 
to do it as for thee.
A man that looks on glass, 
on it may stay his eye; 
or if he pleaseth, through it pass, 
and then the heaven espy.
All may of thee partake; 
nothing can be so mean, 
which with this tincture, "for thy sake," 
will not grow bright and clean.
A servant with this clause 
makes drudgery divine: 
who sweeps a room, as for thy laws, 
makes that and the action fine.
This is the famous stone 
that turneth all to gold; 
for that which God doth touch and own 
cannot for less be told.
The First Reading:
Isaiah 50: 4-9a
The Lord God has given me
   the tongue of a teacher,
that I may know how to sustain
   the weary with a word.
Morning by morning he wakens—
   wakens my ear
   to listen as those who are taught. 
The Lord God has opened my ear,
   and I was not rebellious,
   I did not turn backwards. 
I gave my back to those who struck me,
   and my cheeks to those who pulled out the beard;
I did not hide my face
   from insult and spitting. 
The Lord God helps me;
   therefore I have not been disgraced;
therefore I have set my face like flint,
   and I know that I shall not be put to shame; 
   he who vindicates me is near.
Who will contend with me?
   Let us stand up together.
Who are my adversaries?
   Let them confront me. 
It is the Lord God who helps me;
   who will declare me guilty?
All of them will wear out like a garment;
   the moth will eat them up. 
Psalm 116: 1-8
Refrain:    Gracious is the Lord and righteous.
1    I love the Lord,
for he has heard the voice of my supplication;  ♦
because he inclined his ear to me
on the day I called to him.
2    The snares of death encompassed me;
the pains of hell took hold of me;  ♦
by grief and sorrow was I held.
3    Then I called upon the name of the Lord:  ♦
'O Lord, I beg you, deliver my soul.'
4    Gracious is the Lord and righteous;  ♦
our God is full of compassion. [R]
5    The Lord watches over the simple;  ♦
I was brought very low and he saved me.
6    Turn again to your rest, O my soul,  ♦
for the Lord has been gracious to you.
7    For you have delivered my soul from death,  ♦
my eyes from tears and my feet from falling.
8    I will walk before the Lord  ♦
in the land of the living. [R]
Refrain:    Gracious is the Lord and righteous.
As we walk through the valley of the shadow of death,
may we call upon your name,
raise the cup of salvation,
and so proclaim your death, O Lord,
until you come in glory. 
The Second Reading:
James 3: 1-12
Not many of you should become teachers, my brothers and sisters, for you know that we who teach will be judged with greater strictness. For all of us make many mistakes. Anyone who makes no mistakes in speaking is perfect, able to keep the whole body in check with a bridle. If we put bits into the mouths of horses to make them obey us, we guide their whole bodies. Or look at ships: though they are so large that it takes strong winds to drive them, yet they are guided by a very small rudder wherever the will of the pilot directs. So also the tongue is a small member, yet it boasts of great exploits.
How great a forest is set ablaze by a small fire! And the tongue is a fire. The tongue is placed among our members as a world of iniquity; it stains the whole body, sets on fire the cycle of nature, and is itself set on fire by hell. For every species of beast and bird, of reptile and sea creature, can be tamed and has been tamed by the human species, but no one can tame the tongue—a restless evil, full of deadly poison. With it we bless the Lord and Father, and with it we curse those who are made in the likeness of God. From the same mouth come blessing and cursing. My brothers and sisters, this ought not to be so. Does a spring pour forth from the same opening both fresh and brackish water? Can a fig tree, my brothers and sisters, yield olives, or a grapevine figs? No more can salt water yield fresh.
The Gospel:
Mark 8: 27-end
Jesus went on with his disciples to the villages of Caesarea Philippi; and on the way he asked his disciples, 'Who do people say that I am?' And they answered him, 'John the Baptist; and others, Elijah; and still others, one of the prophets.' He asked them, 'But who do you say that I am?' Peter answered him, 'You are the Messiah.' And he sternly ordered them not to tell anyone about him.
Then he began to teach them that the Son of Man must undergo great suffering, and be rejected by the elders, the chief priests, and the scribes, and be killed, and after three days rise again. He said all this quite openly. And Peter took him aside and began to rebuke him. But turning and looking at his disciples, he rebuked Peter and said, 'Get behind me, Satan! For you are setting your mind not on divine things but on human things.'
He called the crowd with his disciples, and said to them, 'If any want to become my followers, let them deny themselves and take up their cross and follow me. For those who want to save their life will lose it, and those who lose their life for my sake, and for the sake of the gospel, will save it. For what will it profit them to gain the whole world and forfeit their life? Indeed, what can they give in return for their life? Those who are ashamed of me and of my words in this adulterous and sinful generation, of them the Son of Man will also be ashamed when he comes in the glory of his Father with the holy angels.'
Homily
The use of words is hardly something that we are unfamiliar with in the Church.  We preach and teach: we read services and lessons of Scripture; we hold Bible studies and discussion groups; courses and classes, workshops and such like.  The Lord God has given me a tongue says Isaiah, then James reminds us that we need to watch how we use it, and piles up his observations and warnings, such as: "With it we bless the Lord and Father, and with it we curse men, who are made in the likeness of God."
In the Gospel reading Jesus is inviting his disciples to speak, and he is responding to their words.  He is seeking to know what they think about him; who they say he is.  Words that make us pin our "colours to the mast" are important, but also can make us hostage to fortune in situations of potential critical division or misunderstanding.  
In verse 31 Jesus is warning his disciples that "the Son of man must suffer many things, and be rejected by the elders and chief priests and the scribes, and be killed, and after three days rise again."  He does this more than once in these mid chapters of St Mark's Gospel and so is inviting comment, if not criticism.  Peter gives the kind of negative reaction to our Lord's words that we might do under similar circumstances.  Jesus' followers just do not want to hear this.
So the door is opened for Jesus to speak to them plainly of what is not only to happen to him, but also to them.  He brings it round to talk about life itself and the call of discipleship.  It will produce its challenges, as we know that life does, but also, that the answer is not the striving for gain.  Many people who have gone through difficult days will understand what Jesus is trying to teach his disciples here, that life itself is the gift; and it is truly a gift.  Like love it grows when it is given and used, not hoarded to oneself and held in some kind of storage in case it's lost.
John Mann
Second Hymn
Bread of Heaven: https://youtu.be/HEk0lNhyRp8
1 Bread of heaven, on thee we feed,
for thy flesh is meat indeed.
Ever may our souls be fed
with this true and living Bread,
day by day with strength supplied
through the life of Christ who died.
2 Vine of heaven, thy blood supplies
this blest cup of sacrifice.
Lord, thy wounds our healing give,
to thy cross we look and live.
Jesus, may we ever be
grafted, rooted, built in thee.
Prayers
Lord, we pray for your Church in all the world, and for the churches of town of Swanage and Studland. Bless Karen our bishop and Church leaders.  Especially we pray for guidance for those in authority as they face difficult decisions affecting the future mission and ministry of the Church of England, particularly in this diocese of Salisbury.  
Lord, in your mercy
hear our prayer.
We pray for nations of the world, especially those at conflict one with another, or within their own land, and for the many vulnerable individuals brought to a state of utter desperation and hopelessness.  Grant to aid agencies and all who are bringing relief the strength and resources to meet the needs of all people on this earth, and to peacemakers the wisdom and determination to end war.  We continue to pray for the people of Afghanistan and for those who have fled that country, and for those who are attempting to bring them relief and support.
Lord, in your mercy
hear our prayer.
Lord, we commend to your continual care the homes of this town of Swanage and the village of Studland. Put far from our homes every root of bitterness and the single-minded desire for worldly success, that the common good of all people may be furthered in these challenging times, with fear for health and jobs and security shared by those who through a compassionate word, or direct action, are able to help. Fill the hearts of the people with faith and the love of you. Bless the work of our Swanage town council and Studland parish council, and all organisations that are working for the good of the community. 
Lord, in your mercy
hear our prayer.
Lord, we bring before you those who suffer. May we be aware of those around us who are in mental or physical distress. And give us the insight which will lead us to a way in which we can help them.
Lord, in your mercy
hear our prayer.
Lord, from whom neither life nor death can separate those who trust in your love,  and whose love holds us all in your embrace; so unite us to yourself that in fellowship with you we may always be united to our loved ones. Give us courage, constancy and hope, through him who died and was buried and rose again for us.
Merciful Father accept these our prayers for the sake of your Son, our Saviour, Jesus Christ. Amen
The Peace
The risen Christ came and stood among his disciples and said, "Peace be with you."  Then were they glad when they saw the Lord
The Lord's Prayer
A few moments of silence before we pray:
Keep, O Lord, your Church, with your perpetual mercy;
and, because without you our human frailty cannot but fall,
keep us ever by your help from all things hurtful,
and lead us to all things profitable to our salvation;
through Jesus Christ our Lord.
Amen.
Conclusion
The Lord bless us and keep us:
Amen.
The Lord make his face to shine upon us,
and be gracious to us:
Amen.
The Lord lift up his countenance upon us
and give us peace:
Amen
Numbers 6.24-26
The Lord God almighty, Father, Son, and Holy Spirit,
the holy and undivided Trinity,
guard us, save us,
and bring us to that heavenly city,
where he lives and reigns for ever and ever.
Amen.
Voluntary: Postlude in C - Henry Smart: https://youtu.be/vuSD0Cdsj0c
Common Worship: Daily Prayer, material from which is included here,
is copyright © The Archbishops' Council 2005 and published by Church House Publishing.
If you would like to make a donation to the church in Swanage, we will be most grateful. At present this is best done by BACS of which the details are:
Nationwide Building Society
Account name: Swanage PCC
Account Number: 70585005
Sort code: 07-00-55
Please give your name as reference.